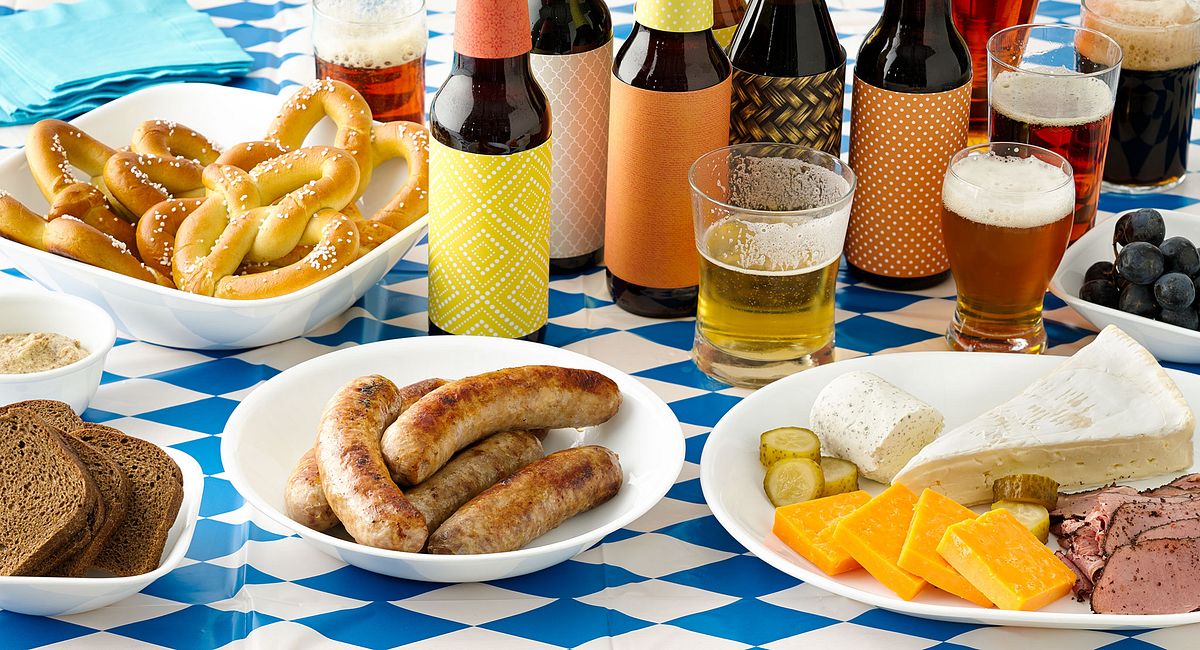 How to Host a Beer-Tasting Party
Can't make it to Germany this fall for Oktoberfest, the famous Bavarian beer and food festival? Get in the spirit—and suds—by hosting your own beer-tasting bash instead!
Start with our overview of different beer styles, as well as suggestions for tasting and describing each one. Have friends, neighbors and family members each bring a new brew they'd like to taste, and offer snacks and small plates to complement the assortment of beers.
PRE-PARTY TIPS
When planning your tasting, make sure you find out which styles of beer your guests are bringing, so you can plan the food pairings ahead. Opt for a range of beers. We'd recommend at least one of each of the following styles, as they offer a good mix of the two main beer types: ales (hoppy, malty, made with top-fermented yeast) and lagers (lighter, fruitier beers made with cold-brewed, bottom-fermenting yeast). Now get ready to raise a glass (or growler) to the occasion. Prost!
HEFEWEIZEN
All together now: say "hey-fuh-vite-sen!" This Bavarian ale, which translates literally to "yeast wheat," is an unfiltered wheat beer that's ideal for beginners and aficionados alike. Because it's sweetly refreshing and relatively low in alcohol, Hefeweizen is an ideal way to start a tasting. Note the beer's light golden, cloudy appearance, mild flavor and strong effervescence. Smell the beer: Do you detect lemon, orange or banana in the aroma, or wintry spices like cloves and nutmeg? Take a sip. How sweet is the beer? Is it smooth and viscous?
Wheat beers take particularly well to cheese, so bust out your board and offer creamy textures and strong flavors like triple-cream Brie, herbed goat cheese or a blue-veined variety.
PILSNER
Pilsner is the world's most popular style of beer, and rightly so: this light yellow lager has an unmistakably clean flavor. When trying pilsners, pay close attention to the flavor from the hops: Is there a bitter or spicy quality to each sip? Are there any caramel flavors?
With its crisp finish, a pilsner works well with lighter fare. Think seafood or grilled vegetables.
INDIA PALE ALE
India Pale Ale (IPA) is having a moment amongst craft beer enthusiasts, and for good reason: It offers complex flavors with a bite. When tasting one of these, swap answers with fellow drinkers on these questions: Does this IPA have a strong aroma of citrus or pine? What's the bitterness level? Do the hops lend the beer a flavor that's spicy, grassy or herbal? Are there any caramel malt flavors?
The bitterness from an IPA lends itself to cutting the fat in salty, fried foods. Consider pairing it with chips and a cheese-bacon-infused creamy dip.
IRISH RED ALE
Thanks to the addition of roasted barley, Irish red ales beckon with their signature deep-red color. With a subtle aroma, caramelized malt flavor and dry finish, these ales tend to be well-rounded and balanced. Take a sip, and observe the ale's rich, smooth quality. Do you detect sweetness or bitterness? Are there any toasted, tea-like or toffee-esque flavors?
Try this easy-to-please beer with spicy grilled sausages like bratwurst or rich deli meats like pastrami.
MÄRZEN
Don't miss out on Märzen, as this Bavarian favorite is the beer of choice at Oktoberfest. Expect a copper color, toasty flavor and dry finish. When tasting, observe the head of foam: Is it substantial? Also look out for toasted malt flavors, low to medium bitterness and a full-bodied heaviness. Warning on the alcohol content: Märzen can pack a punch!
Drink a Märzen with savory roasted meats, such as lamb, pork or this simple roast chicken.
BOCK
Bocks, which are brewed for extra months, are the darkest of lagers in both color and flavor. You'll notice they have a deep amber color, a robust malt scent and taste, and high alcohol content. When tasting, ask: Is this a beer that stands up on its own, with flavors that knock your socks off? How much carbonation can you detect? Is there any hop flavor at all? How sweet is it?
With their qualities of fresh-baked bread, bocks are the ideal pairing for soft pretzels and mustard. Sweeter bocks also complement fall desserts like the pumpkin whoopee pies.
STOUT
Dark, satisfying and rich, stouts are the desserts of the ales category. Take a whiff: Do you get notes of coffee, oatmeal, chocolate or licorice? Is the texture thick and creamy, the flavor strong and sweet?
Sip a rich and full-textured stout with chocolate desserts such as this luscious caramel molten chocolate cake from or baked treats like decadent gingerbread chocolate cupcakes (made with stout!).
EXPERT TIPS FOR HOSTING A BEER-TASTING EVENT
For even more variety, try a mix of beers, from mass market to small craft, that hail from all over the world.
Keep beer stored away from heat and light. If your party is outdoors, set out coolers or tubs filled with ice.
Keep crackers or plain bread on hand to cleanse your palate in between beers.
Share your opinion and don't be afraid to make observations. We all taste a little differently—there's no "right" answer when tasting beer!
SHOW YOUR SPIRIT AS YOU GRIN AND BEER-IT
If weather permits, be authentic and host a Biergarten-style tasting outdoors. Set patio tables in light blue and white, the colors of Bavaria. Both the Corellereg; Livingware™Country Cottage and the Corelle® Livingware™ Provincial Blue fit the traditional color scheme nicely. Compile fun beer facts for a lightning round of trivia with your fellow partygoers. Encourage guests to rank their favorite beers, and name a winner. You could even make this an annual occasion and promise to tap the people's choice at next year's beer bash!
YOUR TURN: Which favorite beers would you include at a beer-tasting party?