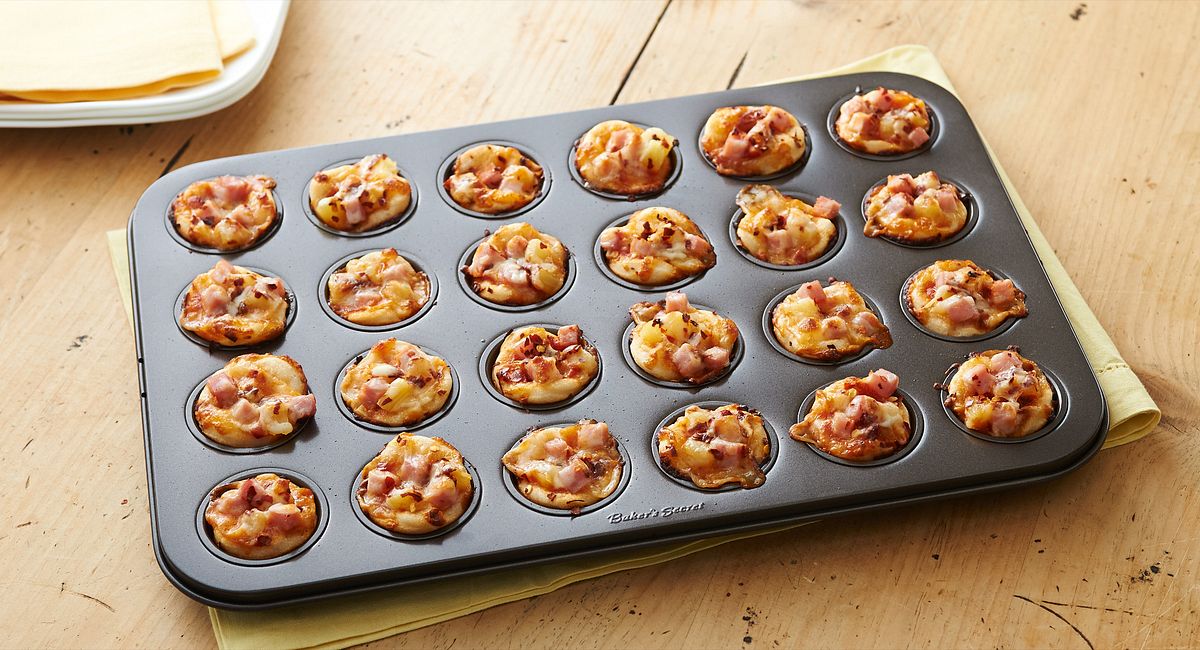 Mouthwatering Mini Appetizers in a Muffin Pan
Why is it that anything mini is automatically adorable? Golf, cars, dogs, donuts…even beauty products (hello, sample-size!). Of course, petite desserts are a no-brainer (how else do you rationalize trying a bit of everything?), but we were excited to discover that the trend toward tiny has hit the other categories of the cooking world, too. (Awwwwww!)
Get in on the fun by using one of our favorite baking tools, the BAKER'S SECRET® SIGNATURE 24-CUP MINI MUFFIN PAN, to create single-serve treats that are perfect for parties, snacks or anytime. Here are a few simple tips and tricks that'll help you easily turn many of your favorite recipes into delicious bite-size appetizers.
FEATURED RECIPES
EASY TRUFFLE MAC 'N CHEESE CUPCAKES
Our favorite part of homemade mac 'n cheese is mixing the crispy browned crust with the rich, melted cheese to create the ultimate texture combo. Make them as little muffins and you'll have an even better crusty-to-cheesy ratio. You can use your own recipe, or give our decadent Gruyère and truffle-infused version a go! GET THE RECIPE
HAWAIIAN DEEP-DISH PIZZA BITES
An entire deep dish is a big commitment, but these diminutive bites help you pace yourself. Sweet pineapple and savory ham is a classic tropical combo, but the beauty of making pizzas in a muffin tin means it's easy to customize the flavors. GET THE RECIPE
MORE MINI TO LOVE
ITTY-BITTY BREAKFASTS For up 'n at 'em mornings, slow eaters or little fingers, these breakfast ideas are also freezable sanity-savers.
Can you eat a granola and yogurt parfait without a spoon? Sure! All you need is your handy muffin pan and this recipe from Muffin Tin Mania.
Make spuds for your small fry (or yourself) by spraying the muffin cups and lightly packing in seasoned shredded potatoes and cheese for yummy hash brown bites.
Even with a fork, sticky syrup seems to get everywhere. Why not try baking pancake muffins and mixing the syrup right in? Or fold in a little fruit, chocolate chips or bacon crumbles.
Eggs and cheese are the simple foundation for a mini frittata—from veggies to herbs to breakfast meats, the other fillings are up to you!
SCALED-DOWN SALADS "I'll just have a little salad" takes on a whole new meaning, and edible cups make them fun and fork-free.
Conquer a single-serve Caesar. Press shredded Parmesan cheese into the wells of each muffin cup and bake to make delicate Parmesan crisps, then fill with salad.
More of a crouton fan? Take thin slices of bread, season with butter, garlic and herbs, and bake them in a muffin pan to make crouton baskets.
Tuck small tortillas into the muffin cups and toast 'til crunchy for bite-size tostadas, then fill with your favorite Mexican salad ingredients.
Wonton wrappers work well, too! Thanks to their light texture and flavor, wonton cups are a versatile complement to almost any kind of salad (or other filling).
CASSEROLE CUTIES Use refrigerator biscuits (or cut pieces of ready-made pie crust) to hold the goodness of comfort-food casseroles together like a warm hug.
LI'L LOAVES Dress up mini meat loaf bites with a delicious whipped mashed potato "frosting" and chopped herbs for "sprinkles."
TEENY-WEENY SAMMIES With a corn bread mix or refrigerated bread dough, you can whip up mini sloppy joes or Philly cheesesteaks, or use bacon as the cup and croutons in the filling for an inside-out BLT.
EXPERT TIPS
Although Baker's Secret bakeware is nonstick, be sure to spray or oil the cups, too, for extra insurance and flavor.
Don't take sides: Try flipping your Baker's Secret® muffin pan over and use it as a larger cup mold.
Play with different sizes of muffin tins, but remember to adjust the bake times accordingly.
In a world where bigger is often better, it's a relief to find that good things still come in small packages. Plus, it's better to be cute than intimidating, especially when it comes to tasty food!
YOUR TURN: What's your favorite mini food—and can you make it in a muffin pan?