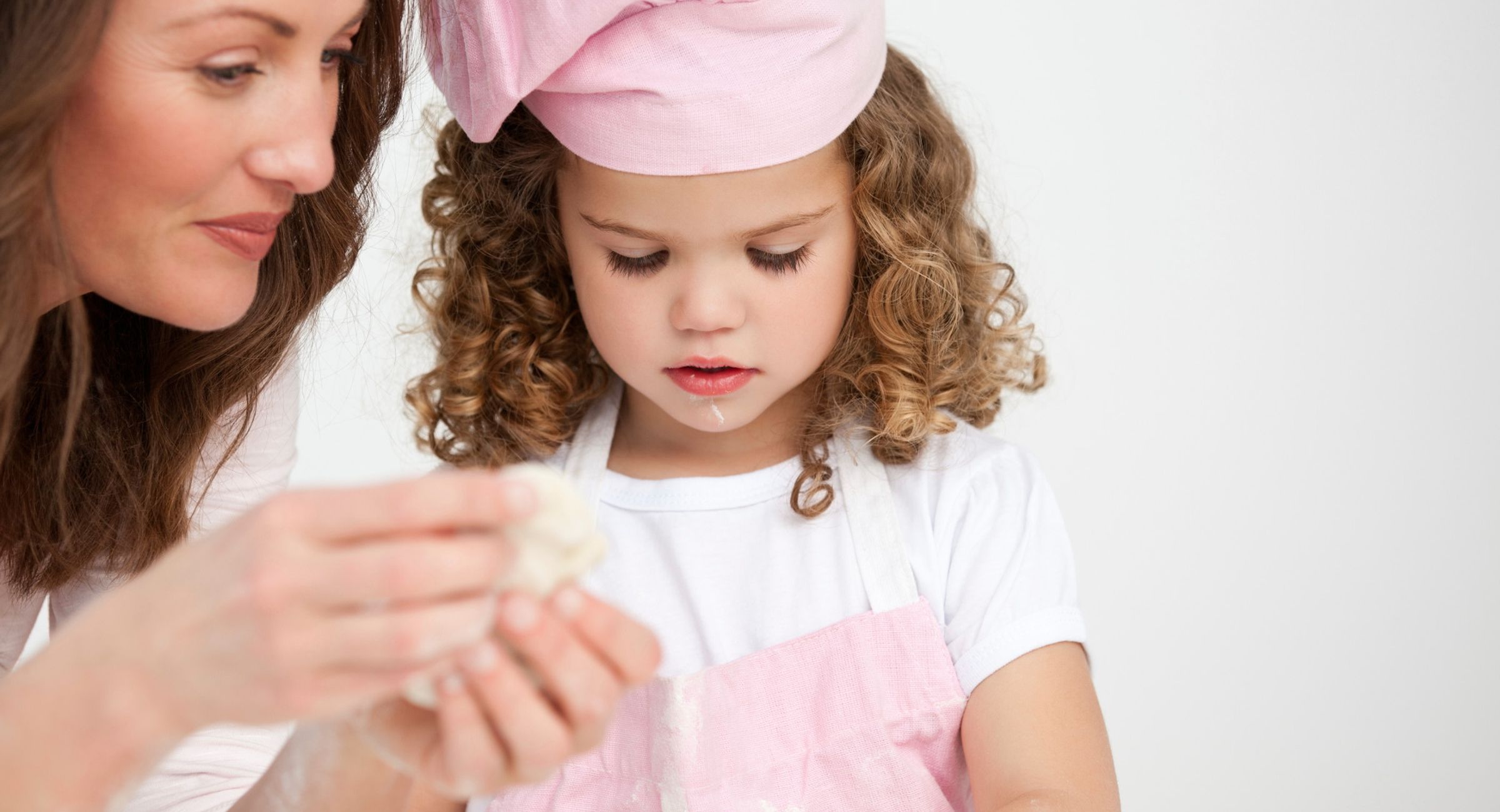 Awesome Snacks Kids Can Make Themselves
They bound off the bus, burst through the door and fling their backpacks to the floor. The first words out of most kids' mouths after a long day of learning? "I'm starving! Can I have a snack?" You just got home from work. Or maybe you just finished a marathon day of running errands. The last thing you feel like doing is making them one. But if you won't, who will? Here's the good news: With these easy ideas and recipes, they can. Learning how to make their own snacks gives kids confidence in the kitchen, teaches them a little something about being independent and is super fun. It's a win-win for everyone!
AGES 5 TO 8
They may be small, but their enthusiasm for trying to do things themselves makes up for it. Keep things simple by coming up with no-cook snacks that only require some light mixing or assembling. For example:
GIVE 'EM A SLAM DUNK. Dips are a good option for little ones. Let them scoop some hummus into a dish, then sprinkle crumbled feta on top. Dip in baby carrots, crackers or precut cucumber slices. Or they can do the same by pouring (or buy a squeeze bottle to make it even easier) a small amount of low-fat ranch dressing. Fruit-friendly dips, such as this Creamy Nutella Dip recipe from Six Sisters Stuff, will also please pint-size snackers.
HELP 'EM MIX AND MINGLE. Snack mixes can be made to fit any taste and are a great way to use up odds and ends. Keep items like dried fruit, pretzels, nuts and cereal on a low shelf, where kids can get to them to make their own mix. This S'more Snack Mix from Frosting and a Smile is sure to be a new favorite.
LET 'EM BUG EACH OTHER. Ants on a log is a classic snack with endless varieties. Start with cleaned celery sticks and have them use a butter knife or small slim spatula to fill with any kind of nut butter, cream cheese or Greek yogurt. Then let them have at it with toppings—raisins, chocolate chips, mini marshmallows, small veggie chunks and more! Check out Make the Best of Everything for more fun ideas.
AGES 9 TO 12
Kids this age can handle cooking that requires a bit more skill and complexity. Some budding chefs may even be mature enough to do some light baking (with an adult nearby).
ENCOURAGE PARFAIT PLAY. Yogurt parfaits are fun to make and a healthy option when you use the right ingredients. Keep a variety of flavored yogurts on hand—vanilla, blueberry, strawberry—and mix-ins. Dried fruit, granola, fresh berries and nuts are good choices. Let them layer as they wish into a fancy glass or mason jar.
TACKLE CRACKER STACKERS. No, we're not talking about a hunk of cheese between two crackers. We're talking mini masterpieces. Spreadable herb cheese, sliced smoked turkey, sprouts and a cucumber slice. Premade chicken salad topped with a thin slice of Cheddar and a green apple wedge. Or try these Rolo Stuffed Ritz crackers, a guilty pleasure from Lick the Bowl Good.
AGES 13 TO 17
Sure, they could make microwave popcorn or heat up a frozen burrito. But where's the creativity in that? These snacks give them experience with the oven and encourages them to bring out their inner baker.
UNITE THE BEST OF BOTH WORLDS. Cookie pizzas. Need we say more? This snack combines two of their favorite food groups! Start with premade cookie dough or a super-simple cookie recipe they can whip up themselves. Once the cookies are baked, "frost" them with sweetened cream cheese or nut butter. Top with fresh fruit—sliced green apples and bananas, berries and mandarin oranges. Try these Mini Sugar Cookie Fruit Pizzas from Six Sisters Stuff, and be sure to use a Baker's Secret® 9" x 13" Cookie Pan for even, consistent baking.
NEW SHAPE, SAME GO-TO. We've already accepted that they just can't get enough. Pizza dough cups are easy to make and can be stuffed with their fave ingredients. To make the cups, fill a Baker's Secret® Signature™ 24 Cup Mini Muffin Pan with pieces of refrigerated pizza dough. Bake for 8 to 10 minutes until the dough is lightly browned. Remove cups from pan and let cool. They can fill them with traditional pizza sauce, meat and veggies, then top with cheese. Or they can get a little more adventurous and try smoked salmon and cream cheese, chicken salad or these Easy Appetizer Hummus Cups from Inspired Taste.
Let them master snack time and then move on to other meals. It's like the "teach them how to fish" adage—and the more they branch out, the more confident they'll be in the kitchen and eventually, on their own. (Sniff.)
YOUR TURN:
What kinds of snacks do your kids make on their own? (Opening a bag or box doesn't count!)