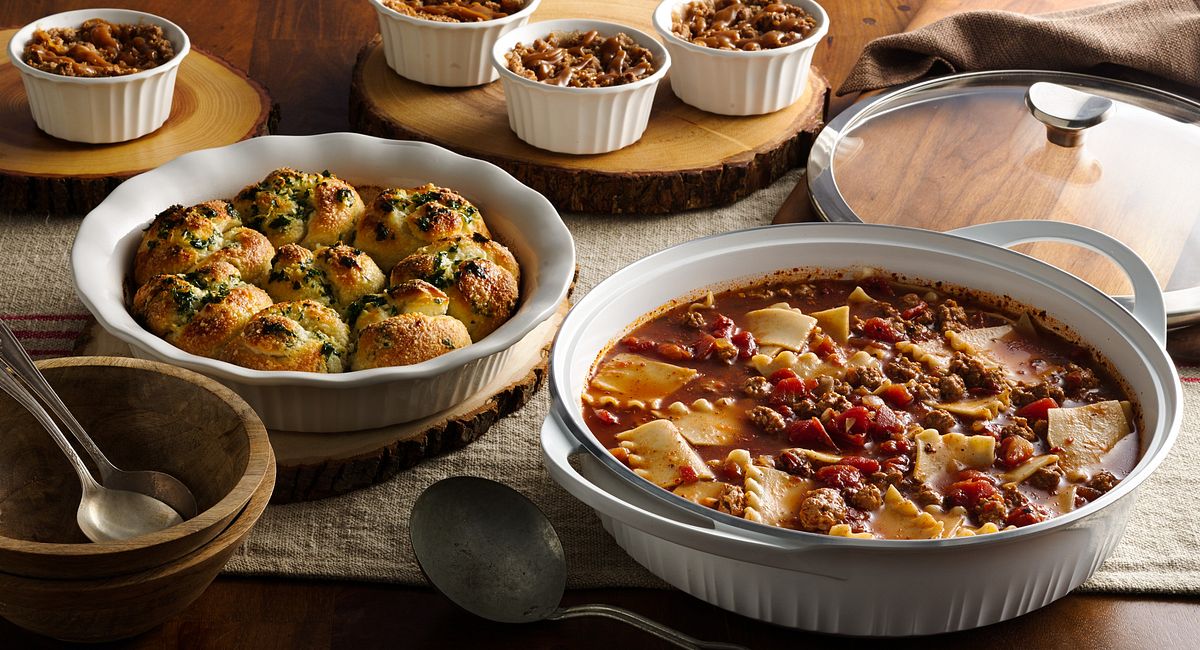 Mix & Match Bakeware: Part II
Autumn is a great time to gather friends and family for an evening of home-cooked comfort. As the weather cools down and busy holiday schedules begin to ramp up, it's always nice to have an excuse to slow down, sit down and spend some time enjoying hearty, homey eats.
With CorningWare® bakeware, hosting a casual gathering is simple and fuss-free. Pull together a few beautiful pieces and you'll have both the makings of a delicious meal and a gorgeous fall-themed color palette for your kitchen table.
On the menu: a favorite riff on One-Pot Pasta—savory Lasagna Soup; fresh-baked Garlic Parmesan Knots; and mini ramekins filled with a sweet, cinnamon-scented Apple Pie Dump Cake. The best part? To make this entire meal, you need just three dishes (and two mixing bowls)! Plus, the prep work is minimal, so you can sit down and enjoy your evening just as much as your dinner guests do.
One-Pot Perfect: Lasagna Soup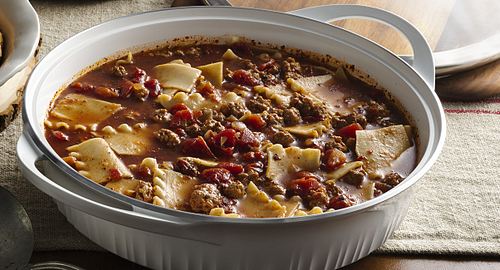 Bright red and beautiful, this Lasagna Soup could only be made better when stirred together and served in an equally gorgeous pot, like the CORNINGWARE® FRENCH WHITE® CAST ALUMINUM™ 4 QUART WHITE ROUND BRAISER W/ GLASS COVER. Available in tomato red or classic white and designed with decorative fluted edges, which match classic CorningWare® French White® pieces, you can add a pop of fall-inspired color to your kitchen table while keeping it all coordinated.
GET THE RECIPE
Did You Know: CORNINGWARE® CAST ALUMINUM™ offers fast, even heating, and the ceramic nonstick interior cuts down on cleanup time. Stylish and sturdy, the pieces can go straight from stovetop to tabletop.
Savory Side Dish: Garlic Parmesan Knots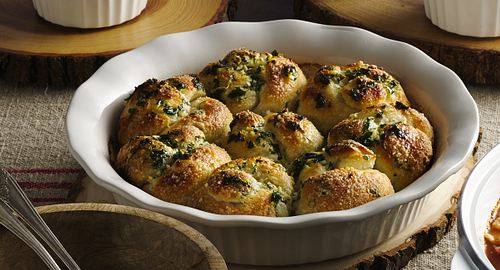 Perfect for dunking into piping-hot bowls of Lasagna Soup, these Garlic Parmesan Knots are the side dish you'll want to eat every night. To keep things quick and easy, these buttery two-bite breads start with store-bought biscuit dough, which is then twisted into yummy little knots and baked until golden in a CORNINGWARE® FRENCH WHITE 9″ PIE PLATE. To serve, simply pull them from the oven and place on your table. This is one pie plate pretty enough to present to a crowd.
GET THE RECIPE
The Good Stuff: CorningWare® French White Stoneware is safe to use in the microwave, oven, refrigerator, freezer and dishwasher. Truly versatile, this bakeware brings new meaning to the idea of "one-pot cooking"!
Delish Dessert: Mini Apple Pie Dump Cakes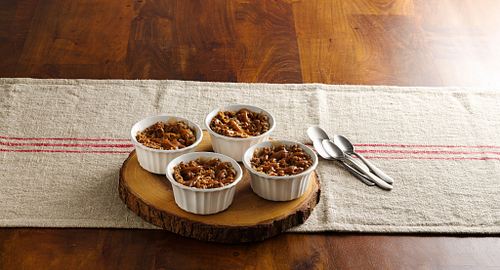 During dinner, pop these Mini Apple Pie Dump Cakes into the oven. By the time you're ready for dessert, your kitchen will be bursting with the aroma of sweet cinnamon. Lucky you! All you have to do is grab your four freshly baked cakes, made mini-size in CORNINGWARE® RAMEKINS top with a scoop of ice cream and enjoy!
GET THE RECIPE
Style Tip: With three beautiful, coordinating baking dishes on your table, it's easy to finish off a fall-inspired look with just a few simple accessories. Fire-orange napkins and copper utensils look stunning with this fluted bakeware. Fill tall vases with fresh-cut branches of colorful fall leaves, and don't forget to set out a few candles for extra warmth and ambience.
Share Your Style! We'd love to hear your quick tips for autumn dinner table décor. Let us know in the comments section below how you set a stunning fall-inspired table.