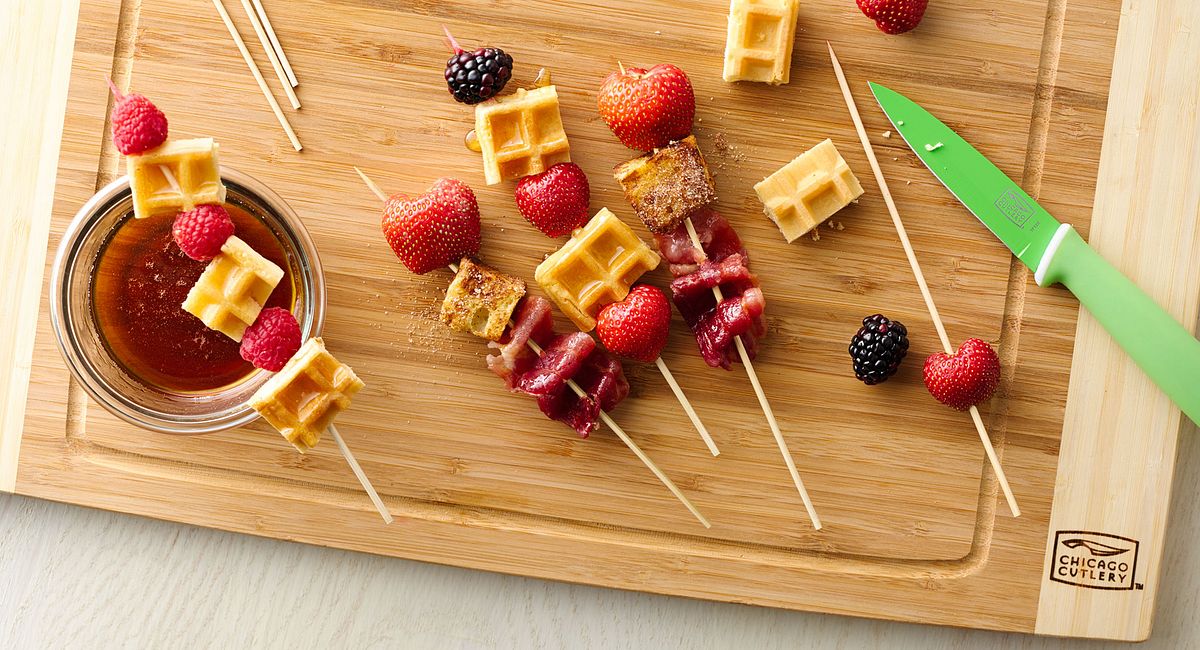 4 Totally Creative Ways to Make Brunch Kabobs
Take a stab at a new tradition this weekend, by serving your family's breakfast favorites on a stick! The tasty kabobs are fun to make and perfect for dipping into sauces and syrups. Whether you are hosting guests or enjoying the weekend with your kids, these delightful combos will have you embracing your inner child, one bite at a time.
CHICKEN AND WAFFLES
The sweet and savory Southern classic stacks perfectly on a skewer.
To Make: Use your CHICAGO CUTLERY® DESIGNPRO™ 8″ CHEF KNIFE to dice a chicken breast into 1-inch cubes. The knife's indented bolster provides maximum control so you don't have to worry about the chicken slipping away mid-slice. Season with salt and pepper, roll cubes in flour and sauté until golden brown. Next up, make waffles using your favorite waffle recipe. Cut the baked waffles into bite-size pieces and alternate the chicken and waffle bites on the skewers. Serve with maple syrup for dipping and a dash of hot sauce, if you'd like.
Simple Shortcuts:
Go Ready-to-Go. Use frozen boneless chicken wings (or look for them in your supermarket deli) for super-quick prep so you can enjoy this delish combo fast. All you have to do is heat them up.
Freezer Options. Don't have time to make waffles from scratch? Use premade freezer waffles or waffle minis instead.
STRAWBERRY SHORTCAKE
The arrival of spring is the perfect excuse to revamp a favorite dessert for the breakfast table.
To Make: To turn into a skewered treat, cut pound cake into cubes and set aside. Remove the strawberry stems and slice in half. Thread a cube of pound cake onto the skewer, topping with a small dollop of whipped cream before adding the strawberry. Repeat to fill the skewer, finishing with pound cake.
More Delish Ideas:
Swap Your Sweets. For a super, special treat, try replacing the pound cake with doughnut holes.
Go Seasonal. The fruit can be swapped out with any seasonal selection. Peaches, pears or even grilled pineapple would be divine!
SKEWERED FRENCH TOAST
A breakfast classic turns into the perfect portable food when skewered.
To Make: Prep your family's favorite French toast recipe or make one of our favorites found in French Toast Makeovers—Flavors to Savor. Cube the French toast. Slice an assortment of seasonal fruits. For fruits that need stems or skins removed, try using your CHICAGO CUTLERY® VIVID™ 3.5″ PARING KNIFE. The blade is designed to make the job easy and precise to leave you with more of the fruit. Prep the skewers, interchanging French toast cubes and fruit, or invite family members or guests to build their own.
Try These Twists:
Upgrade Your Flavors. Add coked breakfast meats, like sausage and bacon, to your stick to make a complete breakfast classic.
Even More Options. To accompany the maple syrup, try serving with chocolate syrup or honey-sweetened Greek yogurt.
BREAKFAST POTATO KABOBS
If savory fare is more your speed, try skewering breakfast potatoes for a complementary side.
To Make: Cut red potatoes into quarters and red bell peppers and onions into strips. For recipes that call for a lot of slicing and dicing, reach for your CHICAGO CUTLERY® KINZIE COLORS™ 7″ SANTOKU KNIFE, BLUE. Its comfortable handle and nonstick blade means you don't have to slow down until the job is done. Once all the vegetables are cut, place in a large bowl, season with a drizzle of olive oil, a minced garlic clove, salt and pepper, then give it a good toss to coat. Thread the skewers, intermixing the potatoes, peppers and onions. Place in a shallow pan or on a cookie sheet. Bake at 400°F for 20 minutes or until the potatoes are tender.
Very Easy Variations
Try This for Tiny Bites. If your breakfast needs to feed a crowd, swap the skewers for toothpicks and make small breakfast bites.
Get Creative. Chop your potatoes in all sorts of new ways with these 7 Ways to Cut a Potato .
Brunch has never been so fun! With these creative ideas for kabobs, you can enjoy breakfast favorites on a stick in totally new ways—every one is worth a try!
EXPERT TIPS