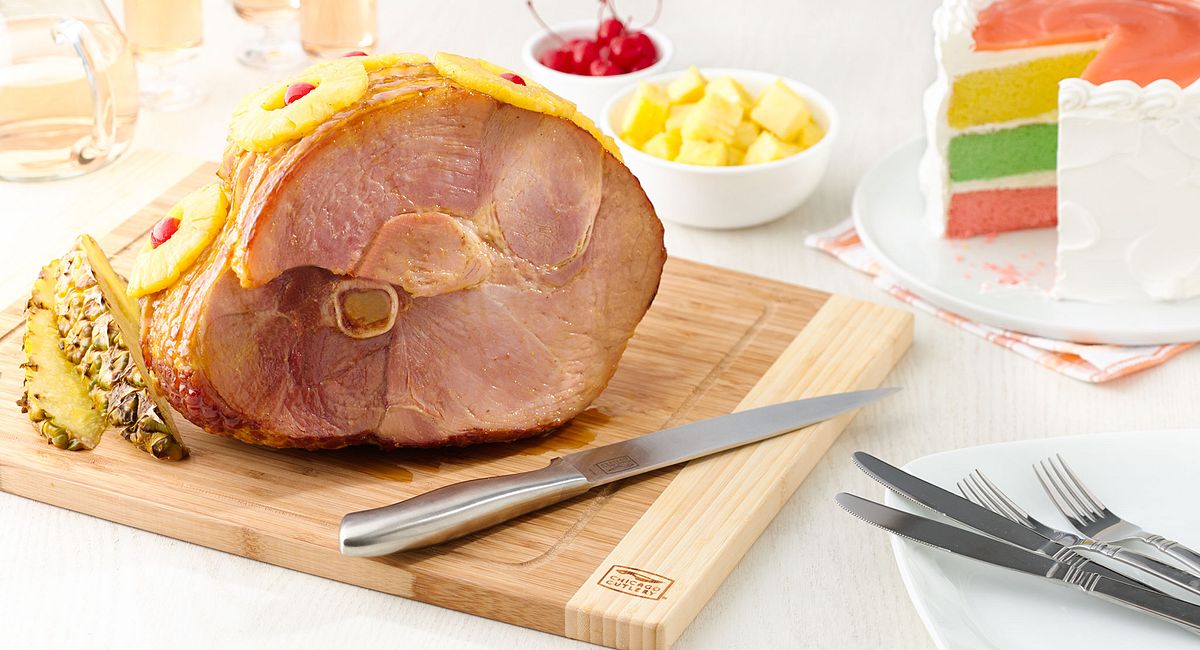 Hawaiian-Style Holiday Ham
Dream of warm temperatures and cool crashing waves while you're putting together your Christmas dinner this season! We're taking you to Hawaii with this tropical twist on a classic holiday ham feast, because while it might be cold outside—inside, the luau is just getting started.
Your family and friends will forget that it's the middle of winter with this stunning and fun to prepare meal. Start with the theme. Bring in all of your favorite elements of the beach with festive décor that will really set the mood. Give these decorating suggestions a try:
Set the table with an ocean blue table runner to evoke the Waikiki Beach.
Use palm leaves and other tropical leaves as place settings.
Mason jars of various sizes filled with sand, seashells and tea lights combined with tiny seashell snowmen make a pretty centerpiece.
Dress up driftwood with floral accents to bring in a fresh, sophisticated look.
Give your guests fresh flower leis when they arrive for that finishing touch.
Tiki cocktails are a must for any luau—and the best part is you can make them nonalcoholic so everyone can enjoy a piña colada or strawberry daiquiri with their dinner. Whip up piña coladas by blending together 4 ounces of cream of coconut with 4 ounces of pineapple juice and 2 cups of ice. For the adults, add in 4 ounces of rum and be sure to top with a pineapple ring, maraschino cherries and, of course, a paper umbrella! Strawberry daiquiris are just as easy. Start with a handful of strawberries, ¼ cup of sugar, a squeeze of lemon juice and a cup of ice, and blend it all together.
Hawaiian Holiday Glazed Ham
Showcasing the perfect combination of sweet-and-salty goodness, this succulent ham hums with tropical flair for your holiday feast. And, while it looks spectacular, it's a breeze to make (but you can keep that little secret to yourself!).
GET THE RECIPE
While the pineapple-adorned and sweet-glazed ham is the centerpiece, offering a selection of tropical themed side dishes will make the meal complete.
Hawaiian sweet bread rolls are not only a great appetizer, they also work perfectly for making ham sandwiches the next day.
All Hawaiian meals must include macaroni salad and rice, so try out this recipe for a great macaroni salad.
Fresh tropical fruit will remind your family of those lovely beachside flavors, plus it will look beautiful as part of the spread.
Guava, Passion Fruit and Lime Layer Cake
To round out your festive spread, serve this colorful layer cake. It features deliciously exotic tropical fruit flavors combined with a light whipped cream frosting that's sure to please.
GET THE RECIPE
EXPERT TIPS
Create a music mix of your favorite beachside tunes to play throughout the meal. It will be a nice break from all of the Christmas music!
Pineapples might seem a little daunting, but with a sharp knife, they're easy to cut up. Start by cutting off the top and the bottom, and then with the bottom down, you can slice off the rest of the prickly sides easily. Then either cut it into cubes, or core it and slice it to make pretty rings. To learn more about how easy it actually is to cut a pineapple, click here.
Carving a spiral-slice ham is relatively easy since it's already been partially cut into ¼-inch-thick pieces. All you need to do is use a long sharp knife, like the CHICAGO CUTLERY® INSIGNIA® STEEL CARVING KNIFE from the sleek, professional 18-piece block set with a built-in sharpener, to cut from the dressed exterior of the ham to the bone. Then cut around the bone. The meat should come off in three wedge-shaped, sliced sections that you can easily separate into individual pieces of ham.