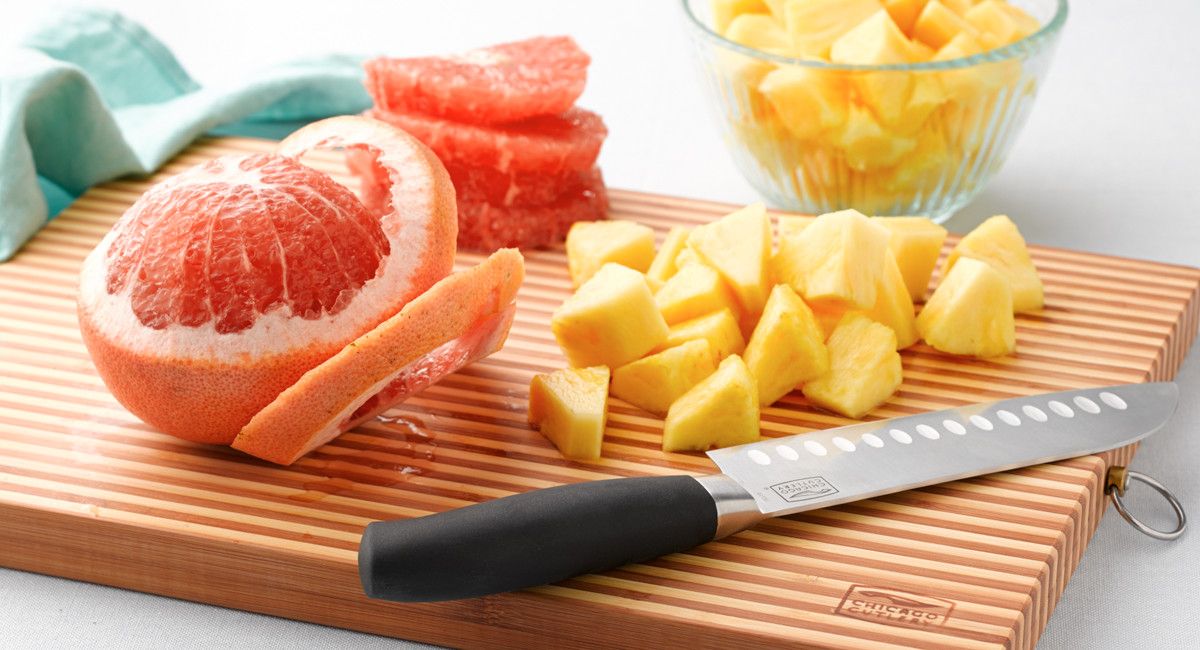 How to Cut and Cook With Fruit
Fruit has been sweet to us over the years—in treats like pies, muffins and pancakes. And who doesn't love sinking their fork into the first strawberry shortcake of summer? But have you flirted with fruit's savory side? Get ready for a few simple knife skills and a few adventurous recipe ideas that will change the way you chop and cook with fruit. For anyone who's attempted to peel and slice a slippery mango or fussed over cutting out the eyes of a juicy pineapple, it's time to learn some easy techniques for getting the most flesh out of your fruits. Below, we've referenced some great how-tos from our talented friends at The Kitchn.
START WITH A CLEAN CUT
When working with fruit, it's best to use a cutting board with a perimeter groove to catch any juices before they hit the countertop. One that's also reversible, such as the CHICAGO CUTLERY® WOODWORKS® BAMBOO CUTTING BOARD, is even better since you can use one side for meats and the other for fruits and veggies—a habit that reduces the risk of food contamination.
TOOLS, TIPS AND TRICKS TO TRY
MANGO
This baby adds a taste of the tropics to anything it touches. But a mango is not like other fruits—the flesh clings to a large flat seed that runs down the center. Here's a simple step-by-step process for dicing a mango into perfect cubes. Best Tools for the Job: One large and one small knife, like the CHICAGO CUTLERY® DESIGNPRO™ CHEF KNIFE and PARING KNIFE. Recipe Tips: Mangoes lose some of their floral flavors when heated, so use them raw to brighten spicy salsas or top curries and tacos. Stir mango chunks into rice or couscous along with fresh herbs, onions, tomatoes and seasonings for a quick and easy side dish.
GRAPEFRUIT
If you've given up on grapefruit for breakfast because it's either too difficult to scoop out or too bitter to bear, it's time to give this zesty fruit a second chance. Here's a quick look at how to free up the grapefruit segments from the inner membrane for effortless eating. Best Tools for the Job: A 5-inch serrated knife, like the CHICAGO CUTLERY ASHLAND™ UTILITY KNIFE, is the most effective, but a paring knife will work too. Recipe Tips: Counter the fruit's bitter flavor by adding a dash of salt and a drizzle of olive oil (about 1/2 teaspoon should do the trick) to half a grapefruit—this makes a great side dish for lunch or an afternoon snack. For breakfast, try drizzling grapefruit halves with honey and spices like ginger, cardamom or cinnamon. Then place the halves on a foil-lined baking pan and broil for 5 minutes.
WATERMELON
Summer picnics and large wedges of watermelon go hand in hand, but for those of us who enjoy popping a bite-size chunk or two throughout the day, keeping a container of cubed melon in the fridge will come in handy. Follow this simple method to quickly cube a whole melon. Best Tool for the Job: A large, heavy chef's knife, like the CHICAGO CUTLERY BELDENTM CHEF KNIFE. Recipe Tips: Grill it! Skewer chunks of watermelon and grill on high heat for a few seconds on each side, then season with salt and pepper. (If using wooden skewers, remember to soak your skewers in water for at least 30 minutes first!) Serve the watermelon skewers with cubes of a strong cheese, such as feta or goat cheese, and sprinkle with chopped fresh mint.
PINEAPPLE
The pineapple is perhaps the most intimidating fruit to slice, and people often choose precut chunks or canned rings over the fresh whole fruit. But don't let its funky, spiky exterior scare you away from experiencing its tangy, tropical flavor. Get in there with this cut-by-cut guide on how to slice a pineapple. Best Tool for the Job: A larger knife, such as a Chef or Santoku, and a paring knife, like the CHICAGO CUTLERY VIVIDTM SANTOKU/PARER KNIFE SET. Recipe Tips: Use pineapple rings to top pulled pork sandwiches and burgers. Stir pineapple chunks into coleslaw or cook them with your favorite stir-fry recipe. Top a pizza or flatbread, or add them to homemade salsa. Convenient, precut fruit has its time and place, but nothing beats the flavor of fresh. Now that you've learned the easiest ways to prep these tricky fruits, sharpen those knives and get cooking! YOUR TURN: What's your favorite unexpected way to cook with fruit?