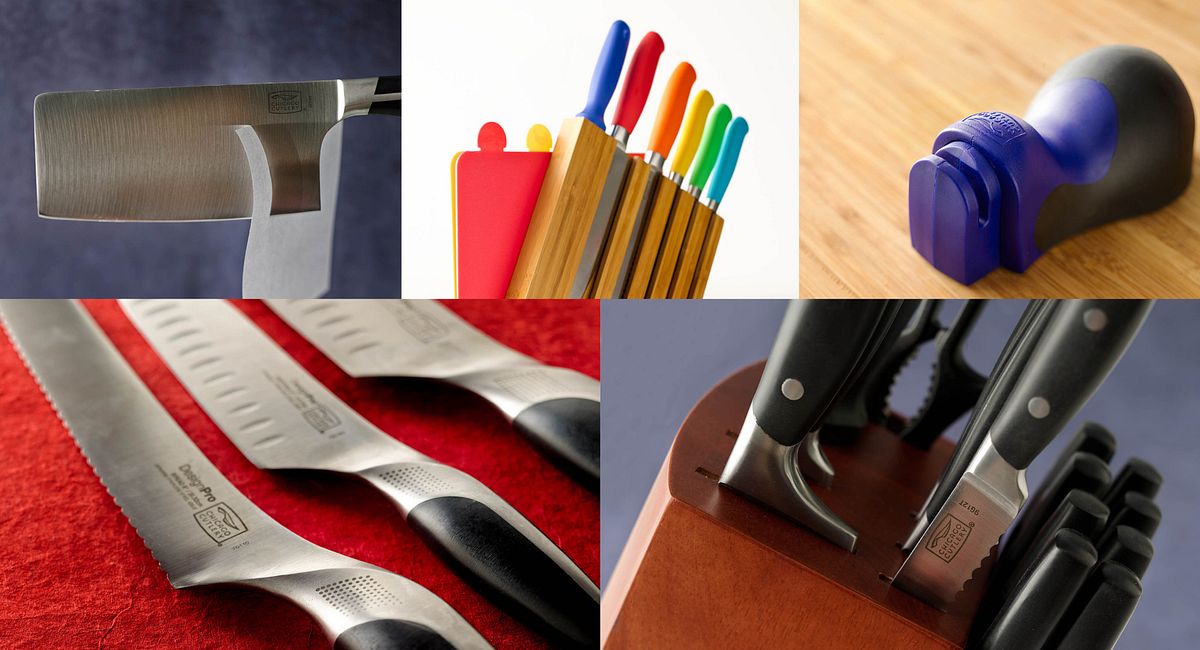 Knives (and More!) for Every Cook In Your Life: Part II
Whether you're just getting started in the kitchen or you've been cooking up a storm for years, one of the first things you most likely noticed was that bigger isn't necessarily better when it comes to knives. For example, when slicing and dicing veggies, precision is key. That, and a sharp, well-honed blade.
From there, learning new skills and settling on your preferred knife styles comes with time and practice. To help, we'll show you knife sets that best meet the needs of cooks at different skill levels, and offer tips to improve your cutting techniques and add to your know-how.
STILL LEARNING THE BASICS
Make mastering those first essential knife skills more exciting with the snappy CHICAGO CUTLERY®KINZIE COLORS™ 9-PC KNIFE SET. Colorful and fun, this set has everything you need to prepare dinner, from chopping broccoli for a simple stir-fry to mincing garlic for a savory sauce. Not sure exactly how to use each of the knives once you've got 'em? Practice makes perfect! Learn the five most common ways to cut vegetables and which knife to use.
LET'S GET THE PARTY STARTED!
Once you're comfortable with the fundamentals, it's time to start showing off those skills. The CHICAGO CUTLERY® AVONDALE™ 16-PC BLOCK SET is just what you need to take your dinner party or neighborhood BBQ to the next level. Engineered for high performance at the counter, the set also includes 8 steak knives for tasting the goods at the table. And if you're gonna walk the walk (or chop the chop), you'd better be able to talk the talk. Get better acquainted with the anatomy of your knives and why they're built that way.
READY FOR ANY CULINARY CHALLENGE
Could you brunoise onions turbo-speed in a reality cooking show battle? Then you need a serious set to stand up to your expert techniques. The CHICAGO CUTLERY® DESIGNPRO™ 13-PC BLOCK SET is our premium line, designed to meet professional standards with maximum control, and the new CHICAGO CUTLERY® BELMONT™ 6.5" CLEAVER makes a great addition for the heavy-duty chef's kitchen.
When all the chopping is done, grab the CHICAGO CUTLERY® MAGNA SHARP™ KNIFE SHARPENER, an essential for keeping your knives in peak condition and performing their best. Get a handle on why and how to hone knives and maintain their sharpness.
THE NECESSARY SUPPLEMENTS
Food? Check. Knives? Check. Beyond that, the cool extras and fun gadgets are your call, but we have a couple of favorites.
EXPERT TIPS
Weigh Your Options: You are the only one who can decide if you prefer to work with the force of a heavier chef's knife or the agility of a lighter utility knife. Become familiar with general recommendations, but in the end, go with what feels most comfortable in your hand.
Practice Makes (the Cut) Perfect: And…the best way to become comfortable with your new knives is by using them. Need ideas? Check out these recipes featuring garden-fresh veggies.
Clean Sans Machine: Hand-wash your knives rather than tossing them in the dishwasher. The automatic action can cause nicks on the blade edges, and heat and detergent could have a corrosive effect as well. Instead, use a soft soapy cloth and dry immediately.
With color and style options galore, the best way to know what knives will be your go-to choices is to use them, so cut to the chase and get cooking!
YOUR TURN: Which knife do you reach for most often and for what?