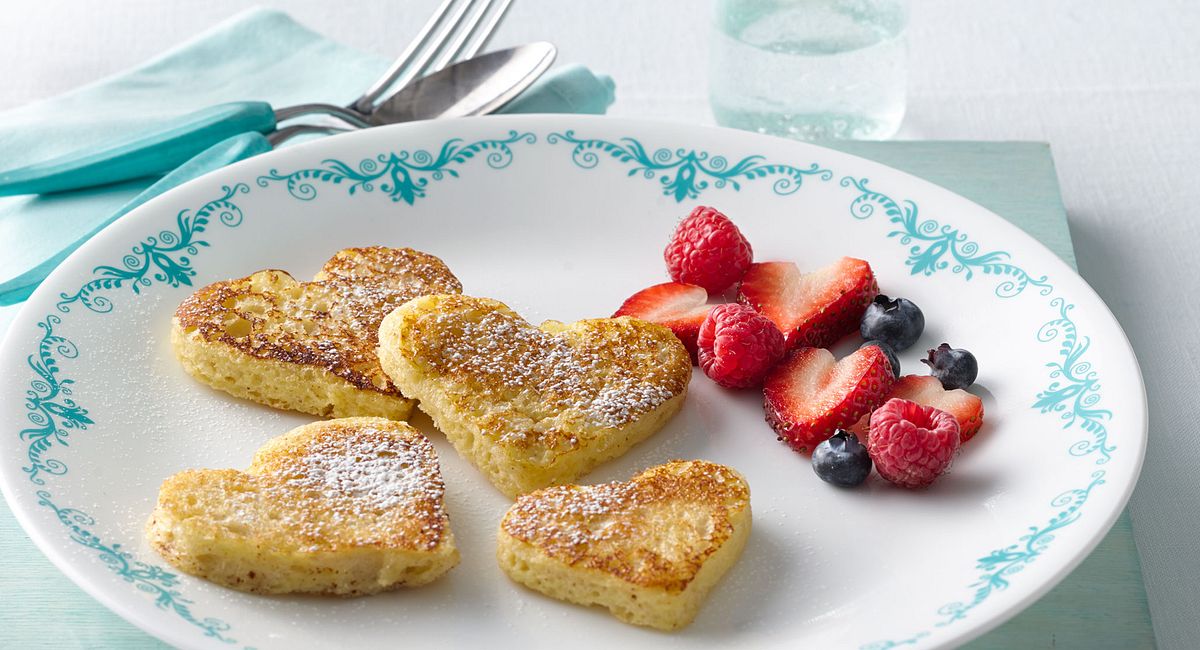 6 Creative Ways to Serve Your Valentine Breakfast in Bed
If you're looking for a meaningful way to show your truelove just how special they are, we've got some ideas you'll fall in love with. Put a spin on the traditional romantic gesture—breakfast in bed—with one of these sweet ideas. The totally fresh twists are a sweet way to make your Valentine's Day morning truly memorable.
1. SERVE A SUNRISE PICNIC
Re-create the fun of your first date with a romantic picnic atop your bed. Lay a checkered tablecloth over the sheets and serve up a simple cheese plate. A just-baked baguette, fresh fruit and bubbly mimosas make for one sweet sunrise. Cut strawberries into hearts for an extra-lovely touch.
TIP: Brighten the Day. Bring back the bright memories of outdoor summer parties by arranging your eats on a CORELLE® COORDINATES® HAPPY DAYS TRAY.
2. MAKE IT A FAMILY AFFAIR
Entertain the whole family with an a.m. baking contest. Invite everyone to put on oven gloves and see which kid can dish up the most delicious French toast. Pile everyone into your bed, serve the contest submissions (with mom and dad deciding the winner) and spend the breakfast hour sharing stories about the first time you met. Everyone's a winner with this fun idea!
TIP: Family-Sized Surprise. Give a gift that you can use right away. A brand-new set of CORELLE® BOUTIQUE CHERISH™ dishware is a timeless way to celebrate everlasting love.
3. SAY IT WITH CAKE
If your sweetheart has a sweet tooth, forget the rules and start the day off with dessert. This homemade Cinnamon-Red Velvet-White Chocolate Heart Cake is sure to please any chocolate lover. Personalize your pastry by writing a romantic note on top with red icing.
TIP: Boost Your Breakfast. Present your cake on a CORELLE® COORDINATES® SIMPLE LINES SERVING TRAY with bacon and eggs arranged on the side. Finish it off with a vase of fresh red roses (or a box of truffles) for a stunning presentation.
4. MAKE LOVE MUFFINS
If you're the sort of couple that loves standing side by side, hop out of bed and head to the kitchen! Instead of serving each other, bake up breakfast together. These delicious Cinnamon-Walnut Tres Leches Muffins are a tried-and-true favorite.
TIP: Make Lovely Leftovers. Keep the Valentine's Day vibe going all week long. Pack extra muffins in a SNAPWARE® TOTAL SOLUTION™ PYREX® GLASS FOOD STORAGE 4-PC SET and send them with your sweetheart for lunch. Don't forget to tuck a love note inside!
5. DINE BY CANDLELIGHT
It may be morning, but that doesn't mean you can't bring out the romance of twilight! Before your darlin' awakes, cover the windows of your bedroom with dark sheets. Arrange candles around the room, then wake your honey up with a classical playlist and gourmet menu. Serving fresh treats from a favorite local bakery is an extra-easy option.
TIP: Get the Look. Elevate your morning of elegance by arranging everything on the CORELLE® SQUARE™ TIMBER SHADOWS 16-PC DINNERWARE SET. When breakfast is over, this versatile set is casual enough for everyday dining and classy enough for dinner parties.
6. RENEW YOUR HONEYMOON
Travel back in time! Relive your love story with a breakfast that brings back flavors from your honeymoon. Whether you took a tropical getaway, backpacked across Europe or vacationed in the States, make a menu that reflects those first fun times together. While you eat breakfast, flip through old photos and celebrate just how far you've come together!
TIP: Match Your Memories. Scroll through our line of CORELLE® patterns and serve breakfast on the design that best reflects your honeymoon. Once breakfast is over, your truelove will have something beautiful to remember the day by.
Celebrate love that lasts this year by putting a twist on tradition. With so many creative ways to start the day, your Valentine's Day is sure to be a lovely one!
EXPERT TIPS
Put something new on the menu! These must-try breakfast favorites are some of our best:
BREAKFAST FOR EVERYONE. If your whole family is dining with you for Valentine's Day, this French Toast Casserole is a splendid way to feed a crowd.
TRY THIS TWIST. Make Morning Rolls, winding them into heart shapes instead of spirals for an extra-sweet treat.
FARMHOUSE FAVORITE. The Brunchers Casserole tastes like it came straight out of your favorite bed-and-breakfast. Served with fresh fruit, this dish is destined to become a classic.