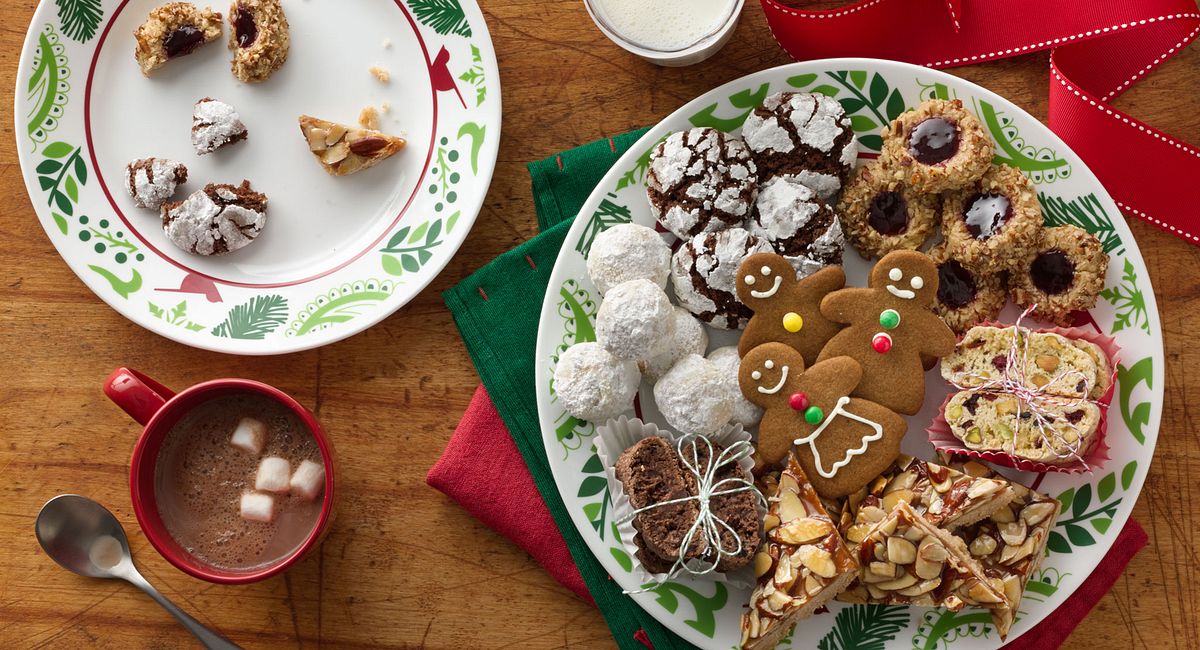 Girls' Night Out Cookie Exchange
'Tis the season of cookies (cue the collective cheer)! And a good, not-so-old-fashioned cookie swap sounds like the perfect excuse for a Girls' Night Out. Haven't hosted one before? No worries. All you need is your favorite recipe plus your nearest and dearest, and you have the makings of a night your crew will be talking about for endless Christmases to come. Here's how to throw a cookie exchange that makes the cut.
The Right Invite
Online invitations are easy, but set a more personal tone by mailing or dropping off a custom invite. Make your own with festive cardstock or attach a note with party details to a holiday cookie cutter, container of sprinkles, mini rolling pin or classic wooden spoon.
The holidays are a busy time, so send invitations at least a month and a half out. Depending on the amount of space you have, keep your guest list to about 15 people. That number is large enough to create a festive atmosphere, yet still intimate enough to encourage merry mingling.
Sharing Is Sweet
Avoid those inevitable Pinterest fails by asking each of your friends to bring a batch of their favorite holiday cookies. This will not only save you hours of researching recipes and baking, but it's also a good opportunity to try cookies you may not have thought of making.
A few "rules" you may want to consider: Ask that cookies be homemade (no premade mixes) and that they bring a few dozen to share—enough so that each guest gets one or two, plus extras for the take-home goodie boxes. Also ask that they arrange the cookies on a platter or in a basket…and that they bring copies of the recipe to pass out to other party guests.
Set the Scene
Chances are good that your space will already be decorated for the holidays, so setting up a festive atmosphere for your BFFs should be a snap. But setting up the party area with a specific theme in mind helps set a cohesive look and feel—from invite to front door to tabletop. A few ideas:
Once your guests arrive with their goodies, set cookies up buffet-style on a large table with the written recipe nearby. Create interest by using cake stands to showcase cookies, or hide shoe boxes under table linens or holiday fabric to create levels to rest platters on. Invite guests to try whatever cookies they wish and make sure to provide a to-go box (Chinese take-out boxes work great) so they can take some home.
Oh, and don't forget to throw on some girls-just-wanna-have-fun holiday tunes!
Cookies & Cocktails
It's Girls' Night Out, after all! Let's turn this party into an evening the ladies will love. Round out the evening's offerings with these 6 Ideas for Quick, Easy Holiday Apps and Cocktails or make your GNO a merry morning event with our Barista Bar Brunch.
Another fun idea: Consider setting out a hot chocolate bar with adult add-ins, such as RumChata, Bailey's Irish Cream, Godiva Chocolate Liqueur or peppermint schnapps. Don't forget to offer some toppings like mini marshmallows, crushed candy canes and flavored syrups.
Martinis with a holiday twist will also bring on the happy. Get creative with festive flavors—gingerbread, cranberry, eggnog, etc. Or embellishments like a green sugar rim on the glasses, rock candy swizzle sticks for stirring, or floating sugared cranberries. Cheers!