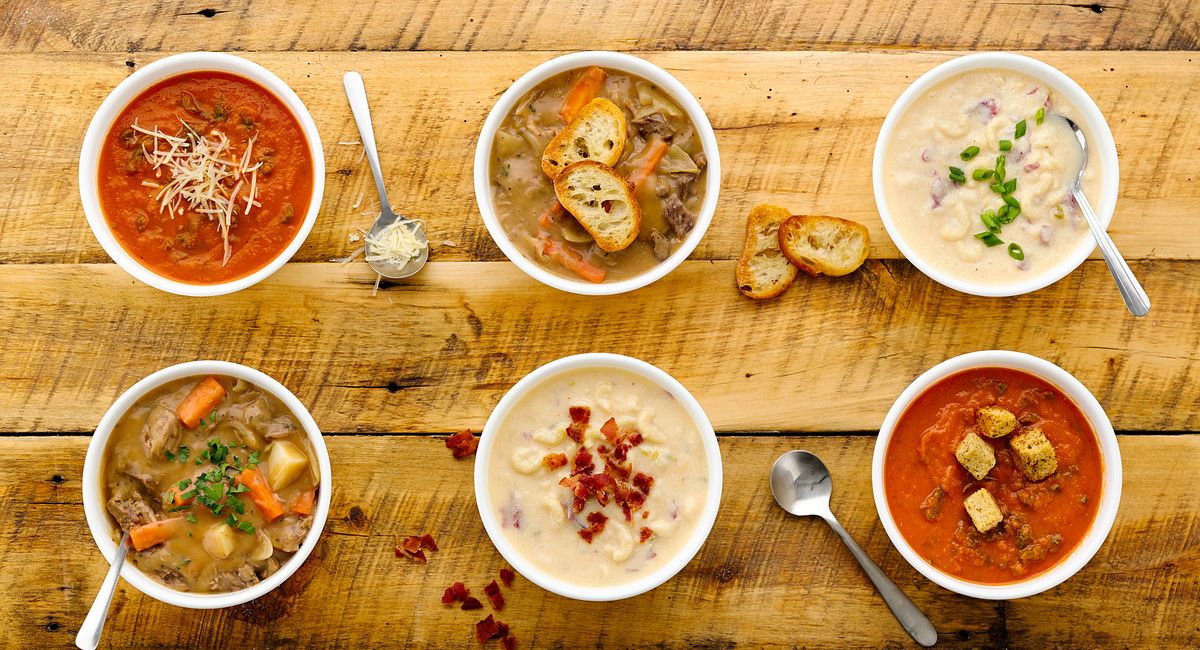 Soup's On, No. 2: New Recipes To Slurp Up
Sweater? Check. Socks? Check. Stocking cap (indoors!)? Check. Still chilled? You need to warm up from the inside out! Spooning up a steaming bowl of soup can stop the shivers in a hurry. Ready-made is fine in a pinch, but homemade just plain tastes better. And when you control the ingredients and seasonings, your versions will have everything you want and nothing (artificial) you don't.
For our second feature in a special series to celebrate National Soup Month, we've created 3 delicious new soup recipes. (Be sure to check out our first feature: Soup's On, You In? We also have some great time-savers, so grab your stockpot and you'll be slurping up a soothing bowlful soon!
Without further ado, we introduce this year's super soup trio:
BACON MAC 'N' CHEESE SOUP Meet your new favorite cold-weather comfort food: A satisfying mash-up of creamy mac 'n' cheese and a loaded baked potato, swirled together in spoon-ready form.
GET THE RECIPE
TOMATO-SWEET POTATO SOUP WITH KALE Packed with color and antioxidants, our vibrant veggie soup gives you a dose of just about every vitamin out there. (We're exaggerating, but we'll bet it's close!) Fresh and full of flavor, this one can be a full-on vegetarian option if you use vegetable broth.
GET THE RECIPE
POT ROAST SOUP-STEW
Like a classic Sunday dinner in a soup bowl. Tender chunks of beef mingle with potatoes, carrots and onions. Horseradish kicks in a little zip while fresh thyme imparts a subtly sweet, fragrant note.
GET THE RECIPE

For more on how to get from here to there:

STOCK UP ON SHORTCUTS. Assemble all your ingredients before getting started and try these tricks to cut down on time in the kitchen.
Grab precut fresh or frozen veggies and meats when you're in a big hurry. (Keep in mind that cooking time might be slightly longer if starting with frozen veggies.)
Use a food processor for finely chopping vegetables or herbs.
Ditch the dried beans and use rinsed and drained canned beans instead.
Use an immersion blender to puree soups quickly right in the pot, rather than doing it in batches in the blender.
Use the pan specified in the recipe—if it's too small, it will take longer to cook the soup.
STIR IN SOME SECRETS. Adopt these key soup-making secrets to make the process easier and the results more delicious.
Cut veggies and meats into similar sizes to cook evenly.
Heat cream or cheese soups slowly—boiling can cause separation or curdling.
Add cooked rice or pasta right before serving or it will absorb some of the liquid from the soup, making it thicker.
Refrigerating soup 6 to 8 hours or overnight will make it super-easy to remove the fat because it will rise to the top and harden on the surface. Carefully scoop it off and discard. Bonus: The extra time allows flavors to mingle and you'll have even better-tasting soup!
STORE WISELY AND SCORE. Follow these guidelines for smart and efficient ways to keep the extras safe and sound.
Chill soups in shallow containers (with the lids loosely over the tops) to cool quickly. Shallow containers also help prevent overcooking when reheating and spoilage. Once cooled, cover securely to store in the fridge or freezer.
Leave 1/4 to 1/2 inch of space at the tops of containers to be frozen, as the soups will expand as they freeze.
Keep cream-based soups in the refrigerator for no more than 2 days; broth-based soups made with meats or veggies will be good for up to 3 days.
Freeze veggie or meat soups and stews 2-3 months; plain broth for up to 6 months.
SEPARATE FOR SUCCESS. If frozen, the consistency or texture of cream, cheese and potatoes will change. Instead, add these when reheating.
THROUGH THICK AND THIN. Thick soups will get even thicker during storage, so add a little broth or milk while reheating until the desired consistency is reached.
TAKE AND MAKE STOCK. Having a rotisserie chicken for dinner? Once you've carved all you can, use the rest to make a simple homemade stock in just a few easy steps.
Place the chicken carcass in a stockpot or Dutch oven and cover with water. Add stalks of celery, fresh herbs, quartered onions or whole carrots for extra flavor.
Let it come to a boil uncovered, then reduce the heat and simmer for 2-3 hours.
Carefully scoop out the carcass and any veggies, letting any broth drain back into the pot, then pour the broth through a strainer or colander to strain small pieces out.
Chill to help with skimming fat (as mentioned above), then portion out and store.
TOSS IN, NOT OUT. Although great recipes are always a good place to start, soup is also easy to improvise. Just use whatever leftovers you have on hand—cooked chicken, turkey, beef or pork; herbs and veggies; pasta, rice or potatoes. That's actually why some restaurants have "Soup of the Day"—so their leftovers aren't wasted!
Ready to serve and enjoy? From wide-rimmed and elegant to deep and sturdy, Corelle® LivingwareTM Winter Frost White soup bowls complement any decor…and any soup, for that matter! From a simple chicken noodle when you get the sniffles, to a hearty and savory stew, a bowlful of homemade soup always hits the heat spot.
YOUR TURN: When it comes to soup, what's your favorite winter warm-up?