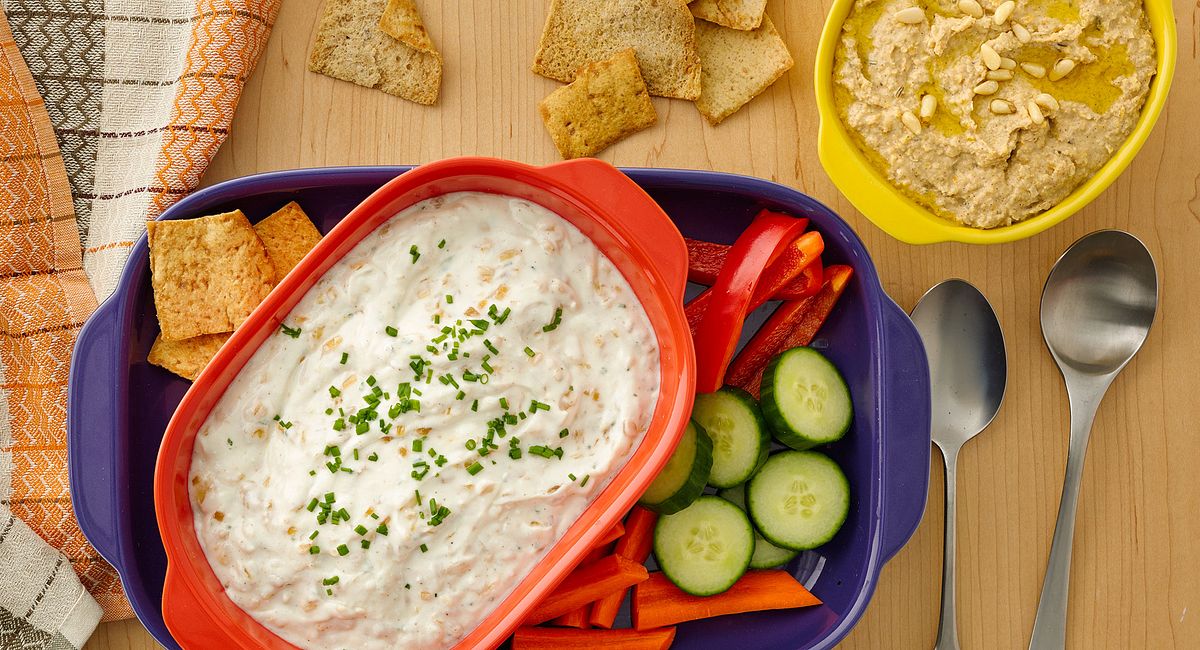 Appetizers to Make the Night Before
'Twas the night before the party and all through the house, not a creature was stirring…not even you! Your appetizer is tucked in the fridge with care, so the next day you can concentrate on what outfit you'll wear!
Too good to be true, you think with chagrin. Pre-party, I spread myself a little too thin. Well, this isn't a dream, we'll have you know. Here are some tasty make-ahead options so you'll be ready to go:
SEREN-DIP-ITY
At a party, most people are drawn to a good dip! Warm or cold, dips are easy crowd-pleasers that can almost always be made ahead.
We love the festive colors and big flavors in our warm and hearty Roasted Red Pepper and Kale Artichoke Dip, and our sweet and spicy Mango Jalapeño Salsa. Whip 'em up early, and make sure you have tortilla chips and crudités on hand.
Want to tempt them with seasonal flavors instead of colors? Try our featured recipe:
CHRISTMAS SPICED HUMMUS
Take taste buds on a holiday joyride with this spin on a party classic that mixes in fragrant toasted rosemary and sweet orange peel, and then gives it a spicy little kick in the chickpeas with cinnamon and ginger. Serve with pita chips and veggies. GET THE RECIPE
And if you're craving something lighter but still full of flavor, go with our other featured recipe:
GREEK YOGURT CARAMELIZED ONION DIP
A zesty combination of onion, garlic and shallots is swirled in a thick yogurt base with a savory shot of Worcestershire sauce and a sprinkle of chives. Serve with multigrain baked crackers. GET THE RECIPE
CRISP UP CROSTINI
Preparing these little baguette toasts and their toppings ahead of time is a real time-saver. At the party, simply crisp up in the oven for a few minutes before serving, and quickly assemble.
To make crostini, rub thin slices of crusty bread with garlic, brush them with olive oil and add a little bit of salt and pepper. Bake them until they start to turn golden brown and are lightly crisp. Cool completely and store in an airtight container.
For the toppings, go classic with chopped tomatoes, garlic and basil, give them Mediterranenean flair with artichoke hearts, kalamata olives and feta, or try something a little more unique like our sweet and tangy Cranberry Feta Bruschetta recipe.
STRUT YOUR STUFF
Deviled eggs are actually better prepared slightly ahead of time as it allows the flavors to mingle. Plus, they can be served without reheating! The classic version is always a hit, but you can also try putting a fun twist on them by topping the creamy stuffing with crumbled bacon, diced avocado or even a sprinkle of pomegranate seeds.
MIX AND MINGLE
Spiced nuts and party mixes can usually be made in batches ahead of time so you can have jars ready to go whenever you're invited to a last-minute party. You can even wing it and use your favorite ingredients and flavors: Simply warm a skillet over medium-high heat, toast your choice of nuts with a little bit of butter or oil, chopped herbs and spices. Feeling sweet? Add a bit of brown sugar to candy them. Or make up your favorite crunchy party mix with cereal, pretzels, nuts, dried fruits and other bite-size snacks, and store it in convenient Corningware® Pop-Ins® Mugs —you'll be ready to go whenever and wherever the party takes you.
ROLL WITH IT
Cheese logs and cheese balls may seem like an old-school option, but they're a party hit for a reason. Tasty and easy to make ahead of time, plus you only need a handful of ingredients, crackers and a couple of pretty serving dishes, like those in the CW by CorningWare™ 4-PC CASSEROLE SET. Our current simple fave is goat cheese or cream cheese decked out in dried red cranberries and chopped green pistachios.
EXPERT TIPS
Dress for the Occasion: Presentation matters, so use containers that not only have lids to make for easy transportation, but also are party ready and easy to serve.
Play It Cool: Consider recipes that are best served cold or at room temp so you can place them right on the table without jockeying for last-minute oven space.
Hit the Bar: Many grocery stores have serve-yourself bars with olives and other marinated vegetables. If you're really crunched for time, scoop out an assortment and serve with toothpicks.
Finally, streamline your party prep even more by settling on an option or recipe that you can re-create throughout the season and bring to each and every gathering.
YOUR TURN: What are your time-saving tips for make-ahead appetizers?