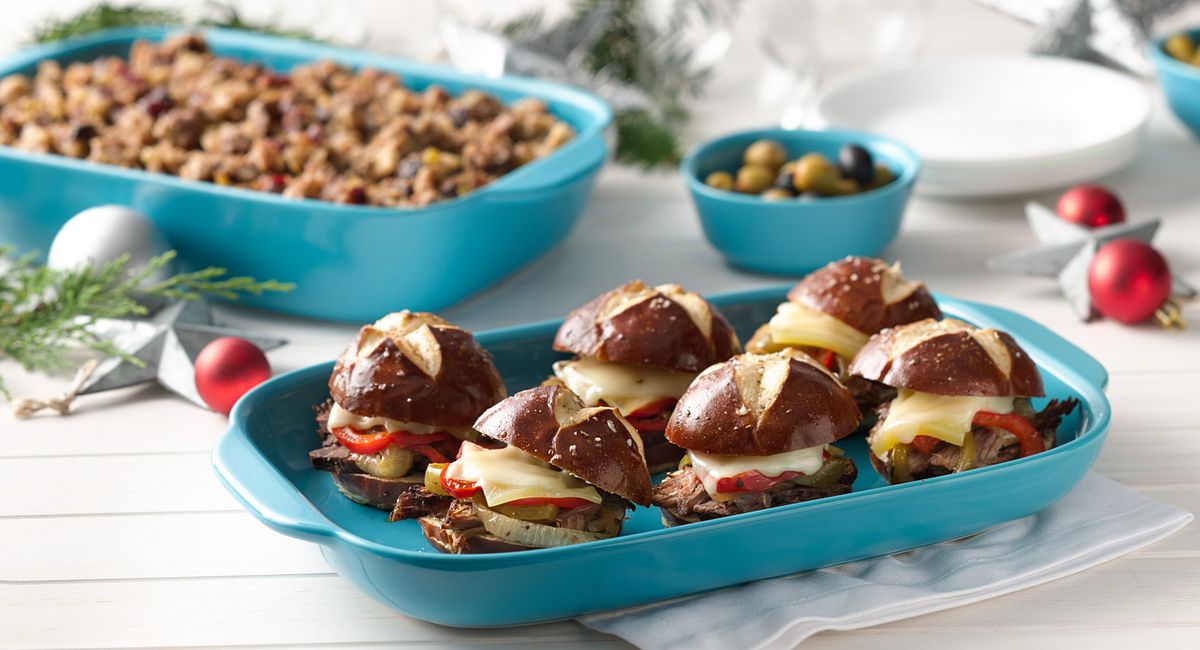 Boldest Holiday Buffet Ever
The holidays are here and it's your turn to host. If serving a traditional holiday spread leaves your ho-ho a little ho-hum, fear not! Your colorful personality will shine with our ideas for a buffet so bold, even Mrs. Claus will be taking notes.
TOP WAYS TO MAKE A MEMORABLE BUFFET
A brag-worthy buffet begins with a stunning spread. Create a chic stage for your party table with these top tips.
DAZZLING DÉCOR
Break out of the same-old and select an avant-garde color theme for your buffet table. The modern brilliance of CW BY CORNINGWARE™ bakeware is a great place to start. Try any one of these party palettes for a fresh, original look:
Merry and Bright. Drape strands of multicolored holiday lights around a table set with the vibrant four-color CW BY CORNINGWARE™ 4-PC SET. The deep blue, turquoise, red and yellow hues are a fun way to add an unexpected color pop.
Blue Christmas. Bring a snow-inspired sparkle to your buffet with our custom CW BY CORNINGWARE™ TWILIGHT BAKERS and POOL BAKERS. Set these blue-hued bakers on a sheet of glittery cotton to create an instant indoor winter wonderland.
Glow White. Dress up classic Corningware® bakeware by setting your favorite CORNINGWARE® FRENCH WHITE® pieces on top of a solid pink tablecloth. Hang lime-green Chinese lanterns and set out matching paper plates and utensils. Don't forget the pink and green glow sticks. A fun way to embrace a new-fashioned neon holiday!
SET THE STAGE
Save time and minimize pre-party stress by preparing your buffet display ahead of time. Set out all dishes and nonperishable decorations on your table, then place a paper label on each plate so you can easily remember which dish goes where.
Hot Tip! Hot baked recipes such as Sausage, Fig and Cranberry Stuffing can go right from the oven to the buffet when served in Corningware® casseroles. Just remember to leave a spot for them when setting up your serving table!
VISUAL INTEREST ROCKS!
Serving everything on flat dishes is so 2014. Yawn! It's time to get creative. Sturdy platters and bowls can be used under a tablecloth to display foods at different heights. Or look for items laying around the house—boxes, bowls, even kid's sand pails make terrific 3D displays.
Above the tablecloth, create a simple DIY pedestal server by stacking CORNINGWARE® POP-INS® 20 OUNCE MUGS between large plates. Available in classic colors like Tomato Red or Green Tea, as well as bright Sprout Green or Vermillion Red—whichever you choose—they'll make an extra-adorable holiday platter.
Tiny Trimmings. Stemmed glassware is great for serving small items such as nuts, candies or garnishes like chives or crumbled bacon.
MAKE IT COZY
If your buffet spread is going to be served on a table, move the chairs away so guests don't have to reach over them to plate up. Plan the buffet to keep traffic moving and have it end near where you want guests to sit.
Easy Trick. Stacked dishes indicate the start of a buffet; end the buffet with silverware and napkins—that way guests don't have to juggle these items while serving themselves.
THINK OUTSIDE THE SERVING STATION
Rather than serve a traditional holiday buffet with dozens of items on one table, consider a few serving stations that encourage guests to move and mingle while creating visually exciting food displays. Maybe you serve your holiday meat and salad in the kitchen and then have a mashed/sweet potato bar and dessert bar at other locations.
Get Guests Involved. Why keep all the fun to yourself? Invite different guests to be in charge of specific stations. Ask them to bring side dishes, salads or desserts to be served from their own personal party corner. You could even turn it into a friendly competition—who can make the best station?
PUT A TWIST ON TRADITIONAL
The holiday season is so often steeped in tradition, it's fun to shake things up a bit. Rather than serving the usual cocktail meatballs and hot toddies, surprise your guests with a fresh and stylish menu. Here's how to create a hip buffet that gives nod to tradition with a touch of trendy taste.
FESTIVE FOOD TRUCK MENU
Gather your guests around a buffet inspired by Food Truck fusion! We've taken classic holiday flavors and turned them on their heels. The result? A modern menu that recalls the favorite flavors of yesteryear. Easy to prepare and absolutely delicious, this bold buffet is chock-full of holiday cheer.
Make It Your Own

With these terrific recipes in hand, now it's time to customize your own menu! Add other easy-to-prepare snacks and sides. When selecting additional foods, appeal to all the senses with a variety of different colors and textures. Serve a crisp salad…put out a pack of kettle chips…offer bowls of gourmet roasted nuts.

Whatever you add to your buffet, keep it simple. You've already created a stylish affair, now it's time to sit back, grab a slider and enjoy your evening!