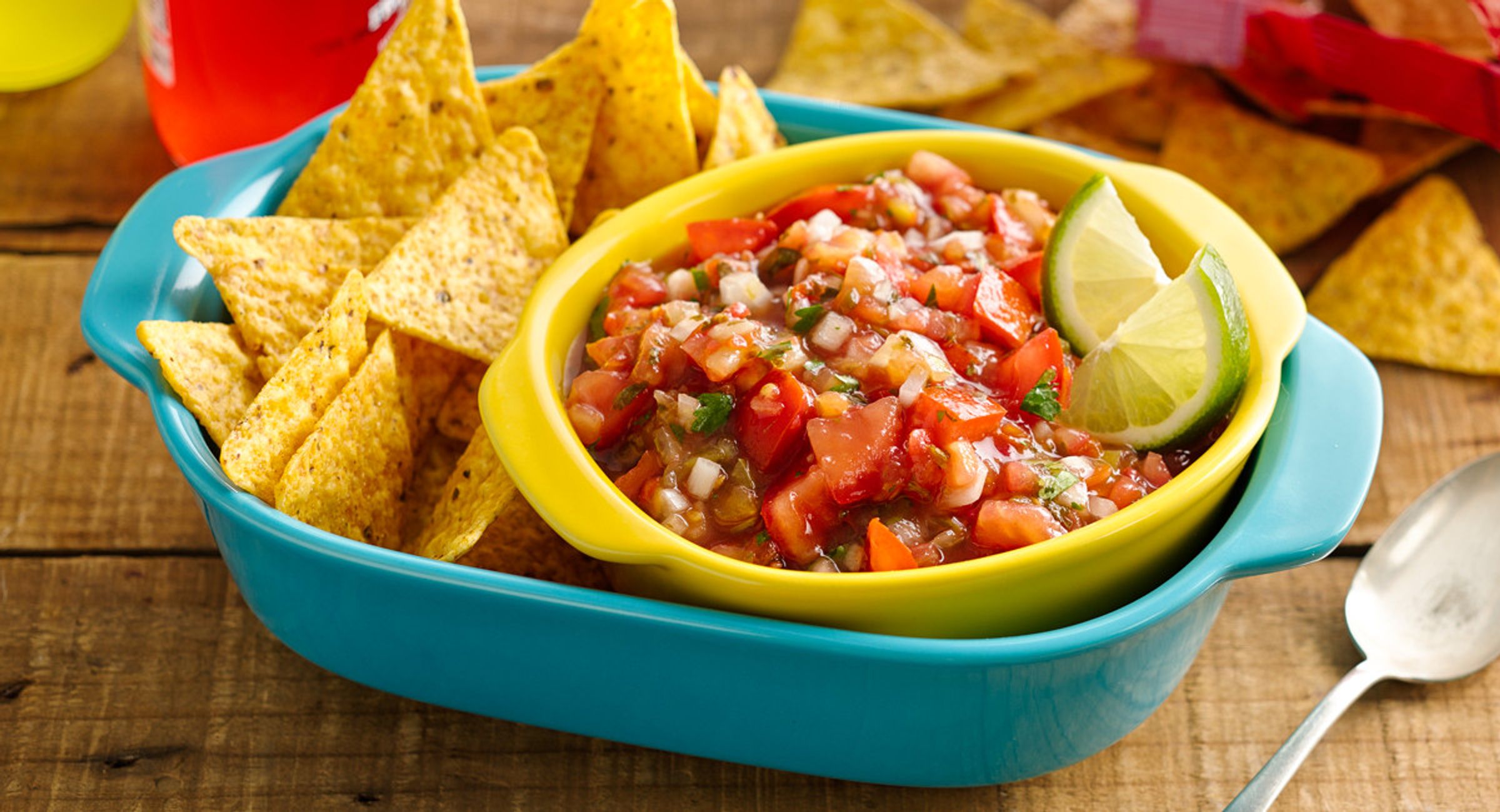 Get the Scoop on Super-Fresh Homemade Salsa
Warning: Once you've had homemade salsa, store-bought will never measure up. Fresh salsa is so easy to make, and that invigorating taste is like scooping up a bit of summer. Use this simple recipe to make an irresistible salsa—or tweak it to satisfy your flavor cravings—then grab your favorite chips. Whether it's just you or a whole crew, this is reason enough to party! Amp up the festive vibe and set the salsa in the small baker and the chips in one of the larger bakers from the colorful CW BY CORNINGWARE™ Bakeware Collection, then start snacking.
WHAT YOU'LL NEED
8 to 10 medium tomatoes, seeded and diced (or one 28-oz can of diced tomatoes, drained)
2 onions (use white or yellow for a stronger flavor, red for sweeter), diced
1 red bell pepper, diced
1 jalapeño (hot) or habanero (hotter) chile, minced
1 teaspoon ground cumin
1/4 cup chopped fresh cilantro
1 tablespoon fresh lime juice
1 teaspoon kosher salt
WHAT TO DO
Simply blend the ingredients in a food processor or blender until the salsa is your desired consistency, or stir together in a bowl for a chunky-style salsa. Serve immediately or store covered in the fridge. Makes about 2 cups.
MAKE IT YOUR OWN
…Ready for something different? Here are some fun and easy options.
FOLD IN SOME FRUIT
Create a sweeter salsa by adding fresh fruit. Try diced mango, peach or pineapple. Pomegranate arils add a sweet and tangy texture. Or add chopped strawberries for a summery version.
TURN UP THE HEAT
If you're looking for more kick, add minced serrano chiles. Note: Since these are smaller than other chile peppers, they can be tricky to core and seed, which is where the heat lies. (Be sure to wear rubber or plastic gloves when seeding and chopping hot peppers.)
GIVE IT A SHOT
Mix in a shot of tequila and squeeze even more fresh lime juice to intensify the flavors of the tomatoes and peppers.
MAKE IT THEIR WAY…
Our favorite bloggers shared their delicious and inventive salsa recipes: Semi-spicy and perfectly refreshing on a hot day, this Red Radish Salsa from the Arcadia Center for Sustainable Food and Agriculture is a great way to use those radishes you picked up from the farmers market. Beautiful, bright and easy? Yes, please! Chop up this brilliant five-ingredient Pear-Pomegranate Salsa recipe from Gimme Some Oven in minutes, and enjoy. For a hearty make-it-a-meal kind of salsa, check out Julia's Album and give this Southwestern black bean and pineapple version a go. The texture is chunky but the flavor is smoooooth. This salsa from Dinners Dishes & Desserts is made with sweet roasted corn and creamy avocado, and if we ran out of chips, we'd finish it up with a spoon. We could get passionately involved in a discussion of which kinds of chips are best with which salsa, but we'd be slacking if we didn't remind you that salsa is awesome with so much more—chicken, fish, potatoes, eggs, rice and beans, to name just a few. Just saying the word "salsa" makes us smile, so experiment, have fun, and try again and again! YOUR TURN: What flavor is a must-have in your favorite salsa?