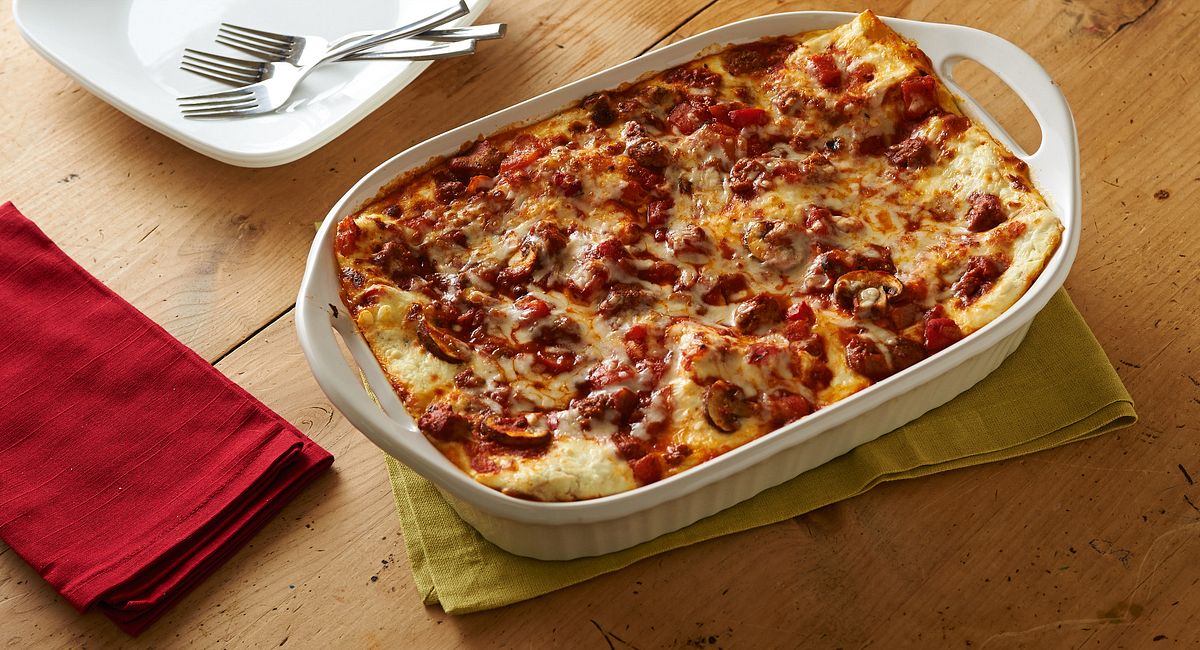 Layers of Love: The Christmas Eve Lasagna
Hearty homemade lasagna fills a home with savory aromas that bring warmth to a cold night—and family members running. Serving lasagna on Christmas Eve may have started as an Italian-American tradition, but it's now anticipated and enjoyed by families of all backgrounds.
With layers of tender noodles, flavorful sauce, brightly colored vegetables and gooey cheeses, lasagna is the ultimate in family comfort food. Plus, it can be prepared ahead, customized to taste and enjoyed by a few or a crowd, which makes it especially well-suited to this holiday night.
CELEBRATE YOUR CHOICES
Classic meat ragu with mozzarella and ricotta? Tons of veggies instead? Gluten-free noodles? There are so many ways to build this tasty dish. Right now, we're loving this heart-healthy version with ground turkey and roasted red peppers.
FEATURED RECIPE: ROASTED BELL PEPPER AND TURKEY LASAGNA
Sweet and smoky, roasted red bell peppers mingle with a creamy mixture of lower-fat ricotta cheese, cottage cheese and mozzarella, making taste buds sing. Ground turkey and fresh mushrooms up the good-for-you factor even more, so it'll be easy to rationalize helping number two! GET THE RECIPE
With an ultra-versatile lasagna on your menu, you've got plenty of ingredient options for a variety of delicious combinations, and your durable CORNINGWARE® FRENCH WHITE® 3 QUART OBLONG CASSEROLE works for all of them. Read on to learn a little more about how to put it all together.
LAY ON THE NOODLES
Acting as both the foundation and the support system of the dish, sheets of noodles keep the more mobile ingredients (somewhat) in place.
No-boil noodles save a ton of time and make assembly super easy.
The best vegetarian options can be sliced thickly—try eggplant, portabella mushrooms or squash (especially zucchini, yellow or spaghetti varieties).
Want the pasta flavor and texture without the gluten? Go for those made with rice, almond or corn flour.
SHOW YOUR SAUCY SIDE
If the noodles are the responsible ones, the sauce is life of the party.
Uphold tradition and create a meaty bolognese with tomatoes, bechamel sauce, and a combination of ground beef, pork or veal.
Wanna feel the heat? Mince a jalapeño or habanero pepper, give it a couple shakes of your favorite pepper sauce, or simply toss in a couple teaspoons of crushed red pepper flakes.
Make a vibrant vegetarian marinara sauce with tomatoes, garlic, onion, fresh herbs and seasonings.
If you're in the mood for seafood or chicken, a delicate white sauce will let the milder flavors shine.
CHEESY DOES IT
Truth is, almost anything goes, but you do want to include cheeses that melt easily for that mouthwatering creamy texture. Ricotta and mozzarella are the classic duo, but other flavors to try include tangy provolone, sharp Parmesan and delicate mascarpone. And many recipes benefit from the richness of a bit of cream cheese or cottage cheese.
TO VEG OR NOT TO VEG?
Garlic and onions always hit the right note of authentic flavor. From there, chop leafy greens like spinach or kale, dice peppers and squash, slice mushrooms or shred carrots. Sprinkle any or all of them in between layers.
ALL TOGETHER NOW
Assembly is easy and a little messy, so it's well-suited for the kids! First, hands washed and baking dish front and center. Next, put the ingredients in line, and go! Start with a bit of your sauce on the bottom, and then add a layer of lasagna noodles (or the vegetable "noodles"). Top with your combination of cheese, vegetables and meat, and then more sauce. Repeat with another layer of lasagna noodles and your chosen fillings, and then repeat one more time. And the top that draws the ravest reviews usually has yet another generous measure of cheese.
ON A SIDE NOTE
With so many flavors and textures dancing in your dish, we recommend keeping the accompaniments simple. A green salad with vinaigrette or Caesar dressing, a dish of marinated olives and a loaf of warm crusty bread will enhance, not upstage, your main event.
EXPERT TIPS
Estimate a 3-inch-square serving size for each of your guests, but allow for extra servings!
Bake the lasagna covered for the majority of the time, then remove the cover to let top bubble and slightly brown.
Store portion-sized leftovers in the fridge or freezer for easy lunches or midnight cravings.
Your December 24th may be quiet and cozy or lively and busy, but a warm and comforting lasagna will add another layer of love to all who share in it.
YOUR TURN: How would you make a Christmas Eve lasagna your own?