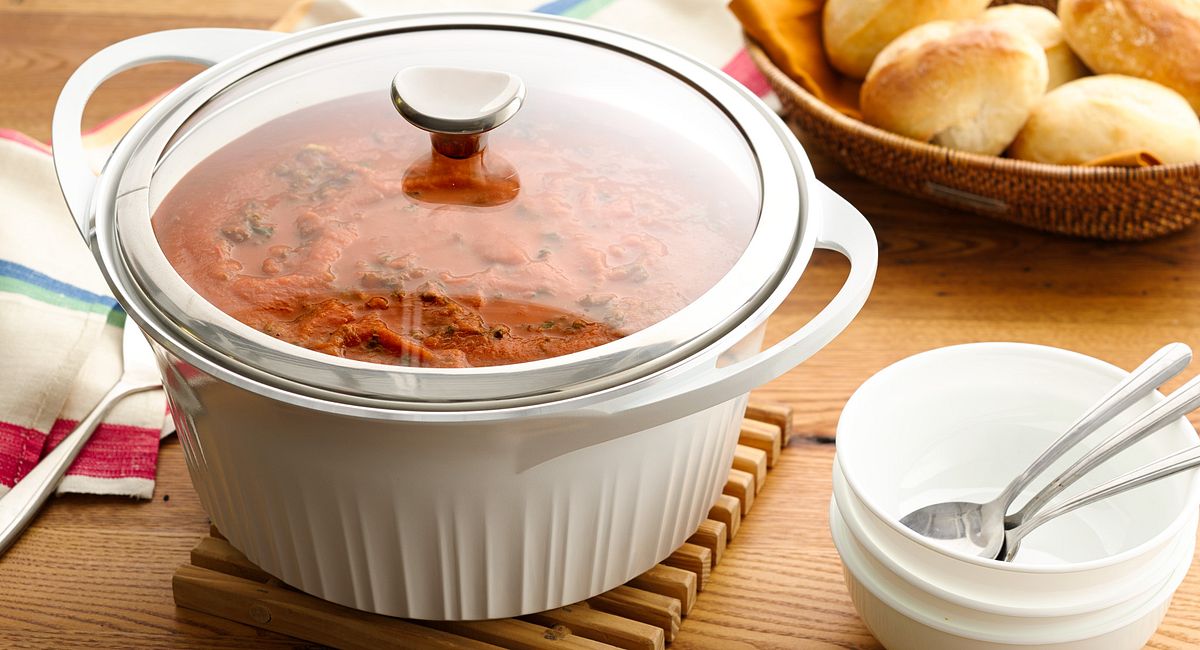 One-Pot Wonderful! From the Pantry to the Dinner Table
We've all been there…standing in front of the pantry thinking, what's for dinner? But before you reach for the pizza coupons, consider the possibilities of what you already have on hand. Most likely, it's the makings for an easy one-pot dish using those essential common goods that just happen to be hanging around.
A simple can of tomatoes and a box of instant rice might not seem like much on their own. Together, though, they pack a punch in the form of a hot meal you can mix up and put on the table in minutes. Let these ideas we've gathered for you here inspire you to be resourceful with what you have in stock and start making your own one-pot solutions tonight.
In the Pantry
Give your stock of ingredients a quick once-over. A few favorite pantry basics serve as the building blocks for quick and affordable one-pot dinners. Items like canned cream of mushroom or cream of chicken soup go the distance in meal-making, as do canned tomatoes, corn, beans, chiles, tuna and chicken. Other basics to consider include bread crumbs, no-cook lasagna noodles, instant rice, refried beans, spaghetti sauce, corn or flour tortillas (which freeze well) and tortilla chips.
Spicing up meals is a cinch. Taco seasoning mix, Cajun or Creole spice blends and Italian seasoning will work wonders. Even basics like basil, lemon pepper and garlic and onion powder can serve as go-to kitchen helpers for boosting flavor in quick meals.
8 One-Pot Dinners!
Get ready—dinner à la pantry is on the way! Here are 8 ideas to use your goods for a family-pleasing one-dish meal…plus a sweet idea for dessert.
Lasagna. Layering marinara or spaghetti sauce with no-cook lasagna noodles, cheeses, meat and seasoning in a CORNINGWARE ® FRENCH WHITE 3 QUART OBLONG BAKER couldn't be easier. Try this Creamy Chicken-Spinach Lasagna.
Broccoli Tuna Casserole. Mix together 1 can cream of mushroom or celery soup with 2 cups cooked egg noodles, 1/2 cup milk, 2 cans of tuna (5 oz each), drained, and 1 to 2 cups frozen broccoli (chopped or florets), thawed, in a CW BY CORNINGWARE® 1.5 QT BAKER. Bake at 400°F for about 20 minutes. Sprinkle with bread crumbs tossed with melted butter and bake for an additional 5 minutes.
Instant Rice and Beans. Microwave instant rice and add your favorite taco seasoning. Layer the rice in a colorful CW by CorningWare baker with drained cans of corn, black beans or kidney beans, tomatoes and green chiles. For an extra creamy dish, stir in some sour cream (or cream cheese) and shredded cheese. Bake at 350°F for 10 minutes or until warm and cheese is melted on top.
Nacho Bake. Cover the bottom of a greased casserole dish with tortilla chips; cover with drained and rinsed canned pinto, kidney or black beans. Top with drained canned olives, drained canned corn and shredded cheese. Bake at 400°F for 5 to 6 minutes until cheese is melted and beans are heated. Serve immediately for an easy nacho night.
Soup's On! Need a quick soup for one? In a CORNINGWARE® POP-INS® 20 oz. MUG WITH VENTED COVER, mix 4-1/2 teaspoons dry vegetable soup mix with 3 tablespoons instant rice, 1 teaspoon chicken bouillon granules and a dash of onion powder. Then top with boiling water and let sit for 5 minutes. Or, if you have a bigger crew to feed, you can accommodate with a recipe that pulls from your pantry. This Tomato-Sweet Potato Soup with Kale tosses canned goods, seasonings and a few on-hand, fresh ingredients into a CORNINGWARE® FRENCH WHITE® CAST ALUMINUM 5.5-QT. DUTCH OVEN to a make a savory dinner in short order.
Tortilla Casserole. Cover the bottom of a greased casserole dish with corn tortillas cut into strips. Top with a combination of 1/2 can condensed cream of chicken soup, 1/2 can (10 oz) diced tomatoes with green chiles, drained, and shredded cheese. Add another layer of tortilla strips; top with the other half of the soup-tomato mixture. Top with more cheese and drizzle with ranch dressing. Bake at 375°F for about 20 minutes or until hot and bubbly.
Macaroni Bake. In a CW BY CORNINGWARE® 1.5 QT BAKER, combine 4 cups macaroni that you've cooked for about half the time, 1 can condensed tomato soup, chopped pepperoni, canned chopped olives, drained, and 1 cup of shredded cheese. Bake at 350°F for about 20 minutes.
One Easy Dessert. Believe it or not, you can pull off a hot homemade Fruit Crumble using pantry-friendly ingredients, too. In a greased CW BY CORNINGWARE® 1.5 QT BAKER, add 2 cans of your favorite pie filling (21 oz each), then top with 7 oz of crushed vanilla wafers or gingersnaps mixed with 1/2 cup melted butter. Bake at 350°F for about 15 to 20 minutes or until golden brown.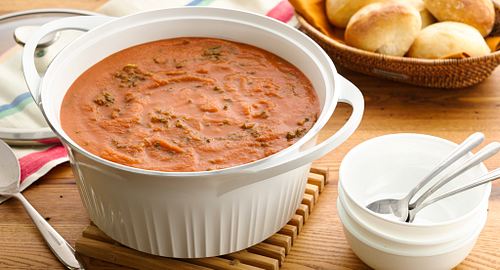 TIPS FROM THE EXPERTS
When preparing one-pot meals, make sure ingredients are uniform in size to ensure everything is heated through. Check out these handy techniques from Chicago Cutlery.
When nonperishable items go on sale, stock up! These items are guaranteed to save the day on nights when you need a quick and easy dinner.
Don't need the whole can? Measure the leftovers and place them in an airtight container or freezer bag, label with the ingredient name, date and amount and pop in the freezer.