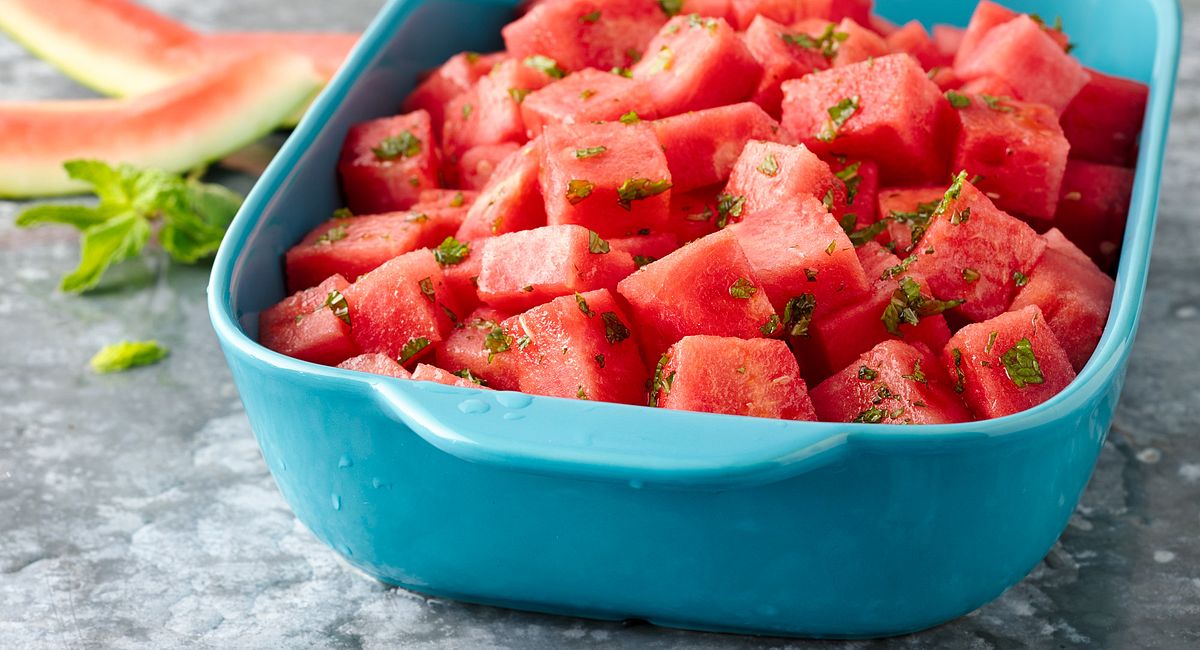 Refresh with Herbal Upgrades
You already freshen up summer recipes with a hit of flavor from just-picked herbs, like that little bit of fresh basil on your Pizza Margherita, that hint of rosemary in your roasted chicken and that sprinkling of dill on your grilled salmon. Do you find yourself searching for more ways to add warm-weather zest to your meals and snacks? Time to get ready for a new crop of ideas!
Everything, and we do mean everything—from scrambled eggs to fruit salad—can be brought to life with a few snips from the herb garden. Get ready to experience all the aromatic tastes of summer, because we have a few uncommonly delicious pairings you have to taste to believe.
BRIGHTEN UP YOUR MORNING
Didn't wake up refreshed? Here's an easy way to energize your taste buds. The same zesty herb that gives egg salad that punch of flavor can be used to add excitement to your scrambled eggs. Whisk 1 tablespoon chopped fresh dill and 1 tablespoon chopped fresh chives with 4 to 5 eggs before adding them to the pan. (Or try folding a bit of your favorite fresh herbs into an omelet.)
LIVEN UP YOUR SNACK MIX
Believe it or not, there's a way to make the perennial party staple even more addictive. After you prepare your favorite recipe and pop it in the oven, mix 1/2 cup grated Parmesan cheese with 1/2 cup chopped fresh basil and 2 teaspoons chopped fresh thyme. When your mix comes out of the oven, toss it quickly with the cheese and herb mixture. For entertaining a small crowd, serve in CorningWare® 7-oz. square ramekins and scatter around for easy snacking access.
JAZZ UP THE SUMMER COMBO
Every king or queen of the grill has an evolving burger recipe that gets better as the seasons go by. This summer, add a little zip by mixing in 2 teaspoons of your favorite fresh herb (thyme, for example) along with 1 tablespoon of fresh chives for every pound of beef. If you're planning to have fries with that—and why wouldn't you?—try this simple recipe for homemade fries using, you guessed it, fresh herbs. Combine 1 tablespoon olive oil with 1 teaspoon each chopped rosemary and oregano. Cut two potatoes into French fry-sized strips, place on a greased baking sheet and drizzle with the herb and oil mixture. Bake at 400°F for 40 to 45 minutes. Bring it all together in breezy summer style by serving your burgers and fries on the CorningWare® French White® platter with bamboo insert.
PERK UP SALAD
Caesar salad commands attention when you add handful of freshly chopped basil. Make a taco salad more festive with torn cilantro. And while parsley has been pigeonholed as a ubiquitous garnish, when you toss a healthy amount with baby field greens and drizzle with a lemon juice, olive oil and minced shallot vinaigrette, you'll be amazed at how robust this simple summer salad becomes. (Use the flat-leaf variety, not curly, for richer flavor.)
PEP UP PESTO
We're not kicking out the traditional basil by any means, just suggesting you invite a few friends once in a while. Parsley, oregano, cilantro and mint all play well with the big "B."
FROM SWEET TO SPIRITED
Nothing says refreshing like cool, juicy watermelon, but wait until you add some fresh mint. Use about 1/4 cup of chopped fresh mint for 8 cups of watermelon chunks. Then mix together 1 tablespoon olive oil, 1 tablespoon lemon juice and 1 teaspoon sugar to drizzle over the top. Show some summer patriotism by serving this colorful fruit in a CW by CorningWare™ 3-Qt. pool baker. Other unconventional but fun fruit 'n herb partners to try: cherries and thyme, peaches and lavender, grapes and rosemary, or cantaloupe and tarragon.
EXPERT TIPS
When cooking with fresh herbs, add them closer to the end of the cooking process for the freshest flavors.
Avoid overchopping. A "chopped" herb should measure between 1/8 and 1/4 inch across.
When doubling a recipe, do not double the herbs. Instead, use one and a half times the amount.
Inspired to invigorate even more? This summer, experiment with nearly everything, from marinades and dressings to sauces and salsas to popcorn and Popsicles(!). Simply grow a few more varieties in your herb garden or pots and tweak your favorite recipes with a fresh new flavor infusion.
YOUR TURN: What's your favorite, but most unusual, way to use fresh herbs?