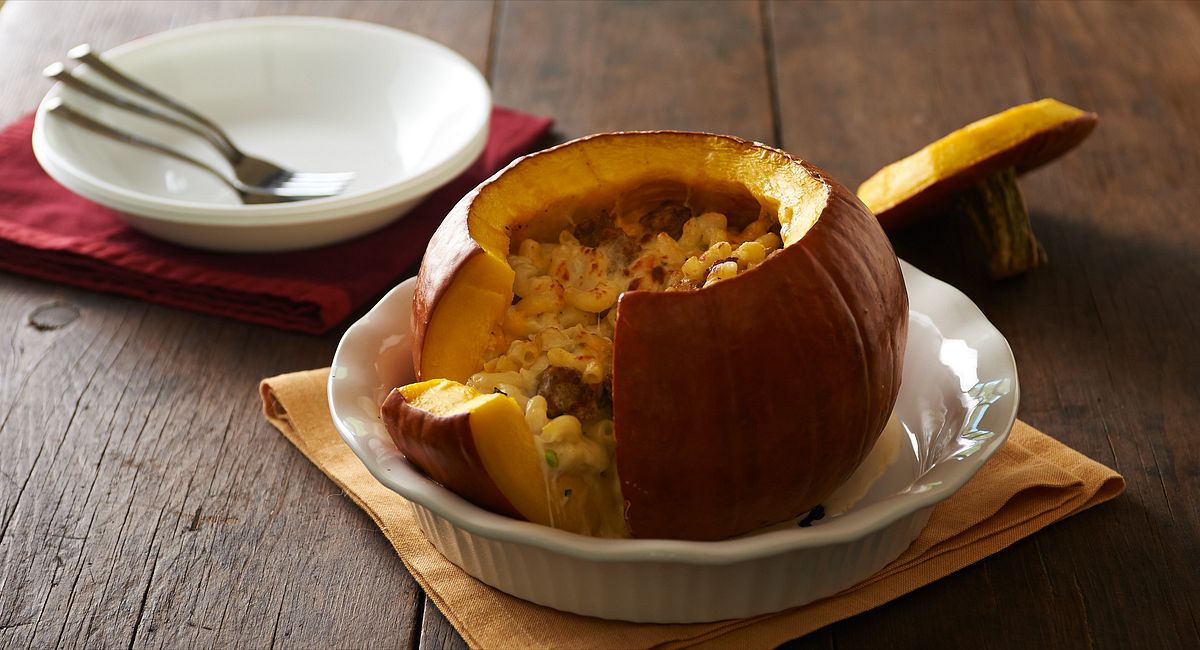 Stuffed Pumpkin Dinners
Ever since Dorie Greenspan shared her "rough recipe for a really good stuffed pumpkin" in 2008, bloggers, food writers and cookbook authors have been reinventing this playful concoction using all kinds of flavorful fillings. We found three ingenious combinations that are easy to customize to your liking. We'll also show you how to pick the perfect pumpkin for baking and how to prep it for stuffing.
And, as pumpkins aren't just for pie anymore, neither are your pie plates! Many of us own this multipurpose piece of bakeware, but only pull it out of the cabinet for a specific dish—and what a shame. Let's put an end to this pigeonholing and reveal your dish's true versatility. The CorningWare® French White® Pie Plate is the perfect size and shape for baking (and serving!) these savory stuffed pumpkins—and okay, maybe a couple of pies as well.
PICK THE RIGHT PUMPKINS
Sugar pumpkins, or pie pumpkins, are slightly sweeter and better for cooking and baking than your average jack-o'-lantern pumpkin. They're about 6 to 8 inches in diameter and usually weigh between 4 and 8 pounds. As you select your pumpkins, choose those that are bright orange in color with firm, blemish-free rinds. When you're ready to stuff them, recruit a little help from the family. Kids love scooping out the pumpkin guts! Use a sharp knife to remove the tops from each pumpkin. Next, remove the insides and seeds (if desired, save the seeds and check out our quick how-to on the quickest way to roast them). Lightly season the inside of the pumpkin with salt and pepper and set aside until ready to be stuffed and baked. Now on to the yummy part.


CHOOSE A FLAVORFUL FILLING
HERBED MAC & CHEESE HACK. Who doesn't love baked mac & cheese? And just wait until you try it served in a pumpkin! In this inventive recipe on the blog The Culinary Life, food writer and cookbook author Stephanie Stiavetti shares a dinner the whole gang will be talking about for years to come. She suggests using whatever kinds of cheese you like best (although we love her choices of Fontina and Gruyère) and pairing them with your favorite fresh herbs. Her tasty version also includes Italian sausage, but you can easily make yours meatless, if you choose.
VEGGIE OVERLOAD! If ever there was an ultimate cool-weather vegetarian meal, this could be it. Garlicky sautéed spinach is mixed with baguette cubes and shredded Swiss cheese to make the filling for this scrumptious veggie-filled baked pumpkin featured on Kiersten Frase's vegetarian food blog, Oh My Veggies. To get a head start, the pumpkins and vegetables can be prepared up to a day in advance.
YOUR NEW CORNUCOPIA. We think that just about every ingredient you want in your Thanksgiving meal could be mixed together and baked inside a pumpkin shell. But family food blogger Meredith Steele has a festive combination that will make you wish pumpkins were available year-round. Check out the recipe on her blog, In Sock Monkey Slippers.


SAVE ROOM FOR DESSERT
What could possibly be more comforting than a savory stuffed-pumpkin dinner? If you said pie, we like the way you think!
For unconventional chocoholics, Katie from Katie at the Kitchen Door features a luscious pumpkin pie with creamy milk chocolate and a zingy gingersnap crust .
Nutella lovers, take note: Sally from Sally's Baking Addiction gives an otherwise traditional pumpkin pie a can't-go-wrong twist that just might become your favorite new tradition.
If it's a familiar flavor you're after, why mess with a good thing? Simply follow the foolproof recipe for the Libby's Famous Pumpkin Pie you know and love.
EXPERT PUMPKIN TIPS
1 small pie pumpkin (about 3-4 pounds) will yield about 2 cups of puree.
Whole pumpkins can be stored in a cool, dry place for up to 1 month.
Cut pumpkin can be covered in plastic and stored in the refrigerator for up to 1 week.
Now that we've pumped you up to try stuffed pumpkin (or whet your appetite for pie), it's time to hit the patch! And next year, why not try growing your own?
YOUR TURN: What's the best baked-pumpkin dish you've tried?