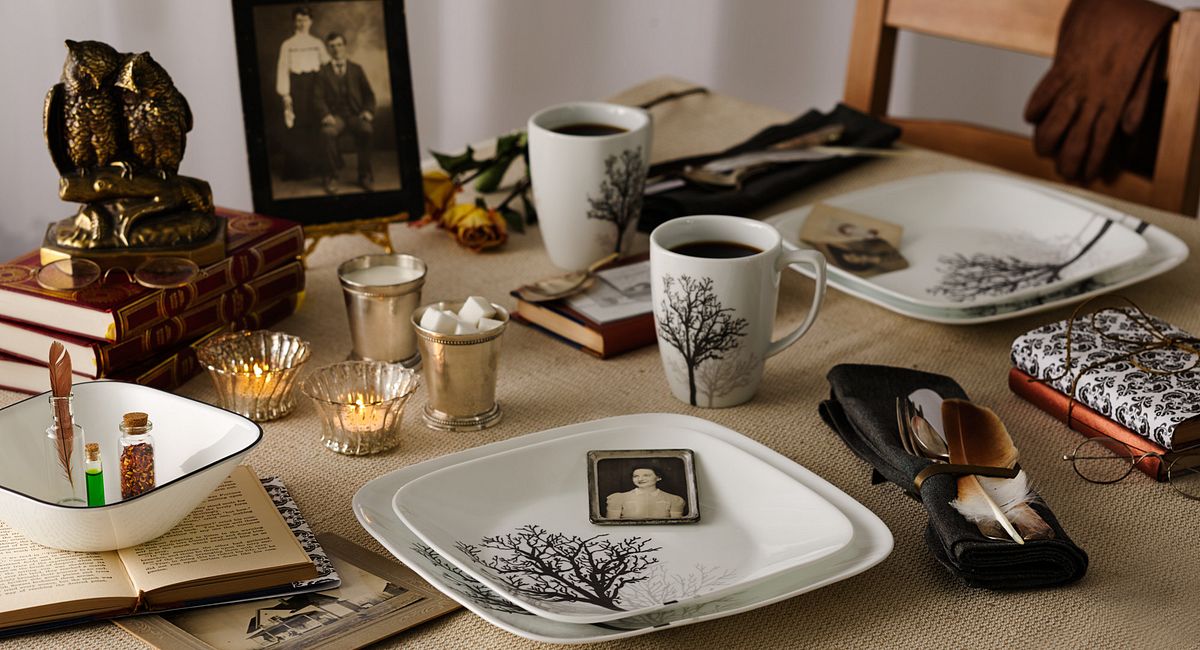 Book Club Bites
Eventually the time would come: It's your turn to host book club. As much as you may not want to admit it, you want your get-together to be the greatest yet. Good thing you're not only a ravenous reader, but a fabulous foodie as well. Show off your cooking chops with a jaw-dropping book club menu that's sure to leave 'em wanting a sequel.
Here are four simple ways to bring your book club bash to life:
1. Savor the Setting. Whether it's the 1960s American South (Kathryn Stockett's The Help) or today's Cambodia (Camron Wright's The Rent Collector), the place where the plot plays out is an easy source of inspiration. If you're unfamiliar with the setting or surrounding culture, use your remarkable reading chops to do a little research. Learn about the place your characters live and breathe, then aim to re-create the ambience for book club.
Party Pick: Platform B for Book Club Buffet
Paula Hawkins' The Girl on the Train—The thriller's protagonist rides a London-bound
commuter train each day. Take a cue from her daily surroundings by planning a bang-up British menu.
Bites: Cucumber tea sandwiches, rosemary shortbread cookies with lemon curd, smoked salmon and cream cheese canapés, and a pretty platter of English cheeses.
Décor: Set a scene of understated elegance with fresh flowers and the Corelle® Boutique™ Emma Jane 16-PC Dinnerware Set.
2. Let the Characters Choose. Count on the book's cast of characters to drive the menu. Maybe they're royalty (Dan Jones' The War of the Roses). Or a computer visionary like Steve Jobs (Brent Schlender's Becoming Steve Jobs), who was known to have some pretty wellness-centric eating habits—carrot and apple fasts, fruit smoothies, etc. Whatever the preference, serving up snacks inspired by your leading or support characters' palates is a fun way to invite everyone into the flavors tucked between the pages.
Party Pick: "People who love to eat are always the best people."
Julia Child's My Life in France—In this memoir, master chef Julia Child dishes on the struggles she faced becoming one of the world's most recognized, self-taught chefs.
Bites: Julia's most quintessential dishes, of course! Beef bourguignon, coq au vin, French onion soup and chocolate soufflés.
Décor: Feast on dinnerware with a froufrou French vibe, such as the Corelle® Vive™ Enhancements 16-pc Dinnerware Set.
3. What's the Word. Here's a fun idea! Every time you come across the mention of food or drink in the book you're reading, jot it down as a possible menu idea. For example, "pea soup" in Markus Zusak's The Book Thief or "caviar deviled eggs" in Robert K. Massie's Catherine the Great: Portrait of a Woman. Whatever you decide to serve, be sure to include a small placard next to each dish with a reference to the chapter, sentence and page number.
Party Pick: "Mystery Food Trail"
Dashiell Hammett's The Maltese Falcon—A detective novel that has haunted readers for more than three generations. The ingredients in this classic tale include a renegade private eye, a beautiful woman with questionable loyalties and a pair of murders begging to be solved.
Bites: Set the scene with a mystery menu! Pack a variety of book-inspired nibbles in black party boxes—guests don't get to see what's inside until the party begins! Serve up blood-red sangria and red velvet brownies or cupcakes for dessert.
Décor: Re-create the eerie ambience of the book with a timeless black-and-white table setting, inspired by the classic silhouette on the Corelle® Square™ Timber Shadows 16-PC Dinnerware Set.
4. Recipes for Any Read. If you're short on time or creativity, here's a theme that will work for any book. Its inspiration comes from the very idea of books themselves and a little alliteration (a favorite of authors everywhere).
Party Pick: Wordsmith Wonderful
Simply serve your favorite party recipes or look online for a few that fit the bill. Then change the names of your recipes into book-inspired titles. Better yet, hold a contest for the best book-inspired recipe title for each dish.
Bites: Page-Turning Potstickers, Best Seller List Bruschetta ( try this version ), Tearjerker Thai Chicken Satay and Better-Than-Fiction Fruit Salsa. For drinks, how about Protagonist Pear Martinis or Rave Reviews Red Wine Sangria?
Décor: Keep it simple by showcasing your menu on stark-white dinnerware, such as the Corelle® Boutique™ By Corelle® Swept Embossed 16-PC Dinnerware Set.
A FEW EXPERT TIPS
As with most things, proper prep is the key to success. Ensure that everyone has fun by keeping these insights in mind:
They're friends, not food critics. Don't stress…keep everything fun and simple. Your party will go smoothly as long as there's plenty of wine and coffee on hand.
Appetizers are best. Finger foods work. Always. They're easy to grab and nibble between discussion points. Mini mason jars make great individual-size serving vessels.
Park the phones. Ask guests to leave their cell phones at the door. Or invite everyone to put their phones on vibrate. Book clubs are meant to be intimate gatherings. Keep the conversation going by silencing those cellies.