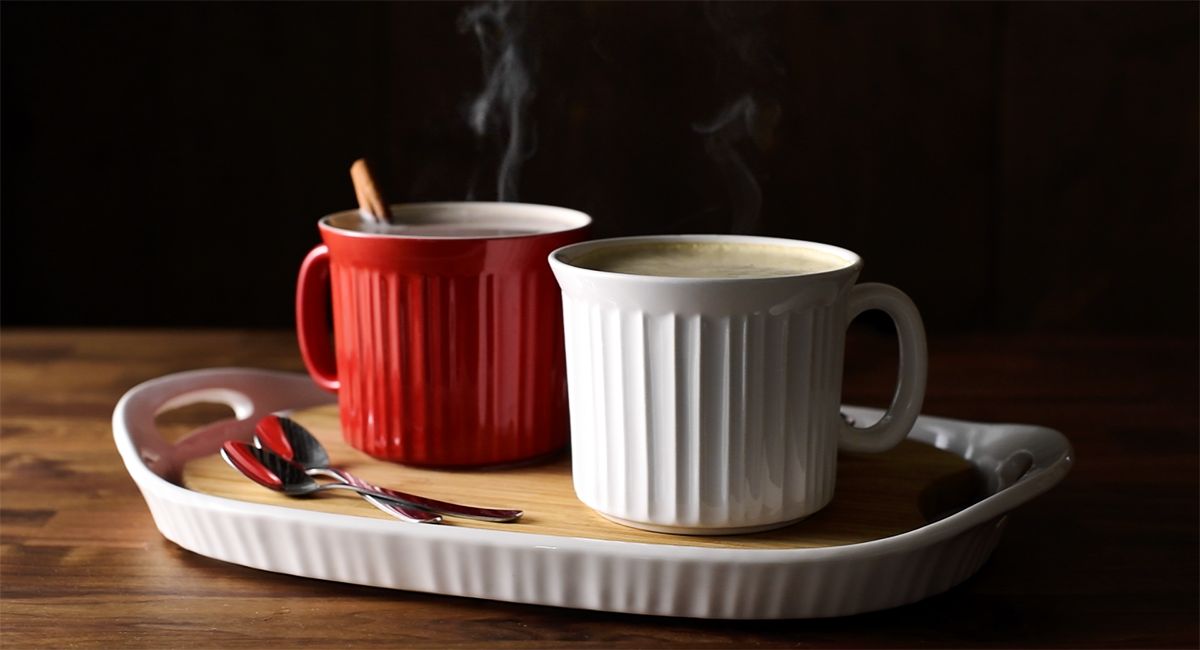 Mug Shots: 5 Healthy Ways to Hack Your Coffee
Pumpkin Spice Coffee season may be officially over, but the winter chill is here for a few months more. Which means hot drinks are still an essential! Instead of heading to the corner coffee shop, stay out of the cold and prep a signature cup o' joe at home. We've rounded up some deliciously simple hacks that'll instantly turn you into a DIY barista.
To get started, grab your favorite CW BY CORNINGWARE™ 20-OZ STONEWARE MUG or CORNINGWARE® COLOURS® POP-INS® 20-OZ MUG with a patented venting tab on the lid, specifically for microwaving.
Designed to keep contents warmer longer, their generous size is perfect for even the biggest coffee cravings. Plus, with snap-tight plastic lids that are made to be microwave-safe (no misshaping when you heat!), these mugs make it easy to tote beverages anywhere you go.
Get ready to say bye-bye to your barista! Here's how to get crafty with your coffee at home.
ONE HOT HACK
Does your fave coffee drink call for steamed milk? If you don't have an espresso machine or handheld frother at home, no worries! You can still make your favorite coffee concoction with a little home hack—no special equipment needed.
TO MAKE: Pour 1 cup of milk (dairy or non-dairy) into a mug, snap on the plastic lid. Shake vigorously for 45 to 60 seconds. The milk will become frothy and double in size. Remove the lid, microwave for 45 seconds and voilà! Hot milk with beautiful, fluffy foam.
THE FAUX LATTE
With your new frothing skills, it's time to treat yourself to a coffee-shop favorite—the cafe latte. Use skim milk or dairy-free milk alternatives like almond or hemp milk to make this one extra light.
TO MAKE: Fill a mug, with 1 cup of freshly brewed coffee. Once heated, slowly pour 1 cup steamed milk into your mug and spoon foam over the top. For a touch of sweetness, add a few drops of stevia.
HONEY CHAI LATTE
On cold and frosty days, the ultimate comfort comes in the form of a spicy chai latte—such a sweet way to warm up. Luckily, a healthy homemade version can be quickly whipped up with this technique.
TO MAKE: Steep 2 bags of chai tea and 1 cup boiling water in a mug. Allow the tea to steep for 5 to 7 minutes (longer steeping = stronger flavor). Once your tea reaches the preferred intensity, remove the tea bags and slowly pour 1 cup steamed milk into the mug. Add stevia to sweeten, if you please.
MORNING MEXICAN COFFEE
Mocha lovers will love sipping this drink! Traditional Mexican coffee is spiked with liquor, but our morning version has all the warmth and flavor of the original, without the hangover (or the boozy calories)!
TO MAKE: Whisk together 1 cup hot coffee, 1 tablespoon unsweetened baking cocoa, 1/2 teaspoon vanilla, 3 to 5 drops of stevia, plus a pinch of cinnamon and cayenne in a mug. Stir in 1 cup steamed milk and top with whipped cream, if desired.
ROCKET FUEL COFFEE
Some days call for extra energy. On those mornings, a blend of butter and coconut oil may sound like an unexpected combination. But, it's inspired by a traditional drink made by ancient sherpas to fuel themselves through bitterly cold winters high in the mountains of Everest. Try this one! It's absolutely delicious and full of healthy fats that'll keep you going for hours.
TO MAKE: In a large bowl, combine 2 cups coffee, 2 tablespoons coconut oil, 2 tablespoons butter and 1/4 teaspoon vanilla. Use a handheld blender to froth for 15 to 20 seconds. Pour into a mug. Sweeten with stevia, if desired.
GOURMET HOT CHOCOLATE
For those nights when you need to warm up but not wake up, fill your mug with rich hot chocolate. This wintertime classic can be upgraded to gourmet in a number of creative ways. A few of our favorites:
PEANUT BUTTER CUP. Add a spoonful of quality creamy peanut butter; blend with a handheld mixer to combine.
SPICED HOT CHOCOLATE. Add a cinnamon stick and a pinch of cayenne pepper.
SALTED CARAMEL. Stir in 1/2 teaspoon coarse sea salt, 1 teaspoon vanilla and 1 tablespoon sugar-free caramel topping.
With so many simple ways to upgrade basic cups of coffee at home, we predict it's going to be a deliciously warm winter. Grab a big mug and mix up your favorite tonight!
EXPERT TIPS
If these ideas are too involved for go-go-go mornings, try one of these quick flavor boosts to instantly get a better brew:
SPRINKLE ON SPICE. Cinnamon adds natural sweetness to coffee, which may cut down on the need for cream and sugar. As an added bonus, it's been shown to boost the immune system, which we can all use during winter months.
SAVORY ADDITION. Add a pinch of salt to the grounds before brewing. This simple tip can soften the bite of a bitter brew.
SWEET TREAT. Stevia is a great natural, low-calorie sweetener. So is mesquite powder, which adds a hint of caramel flavor. Look for it online from natural retailers for a fun new flavor twist!