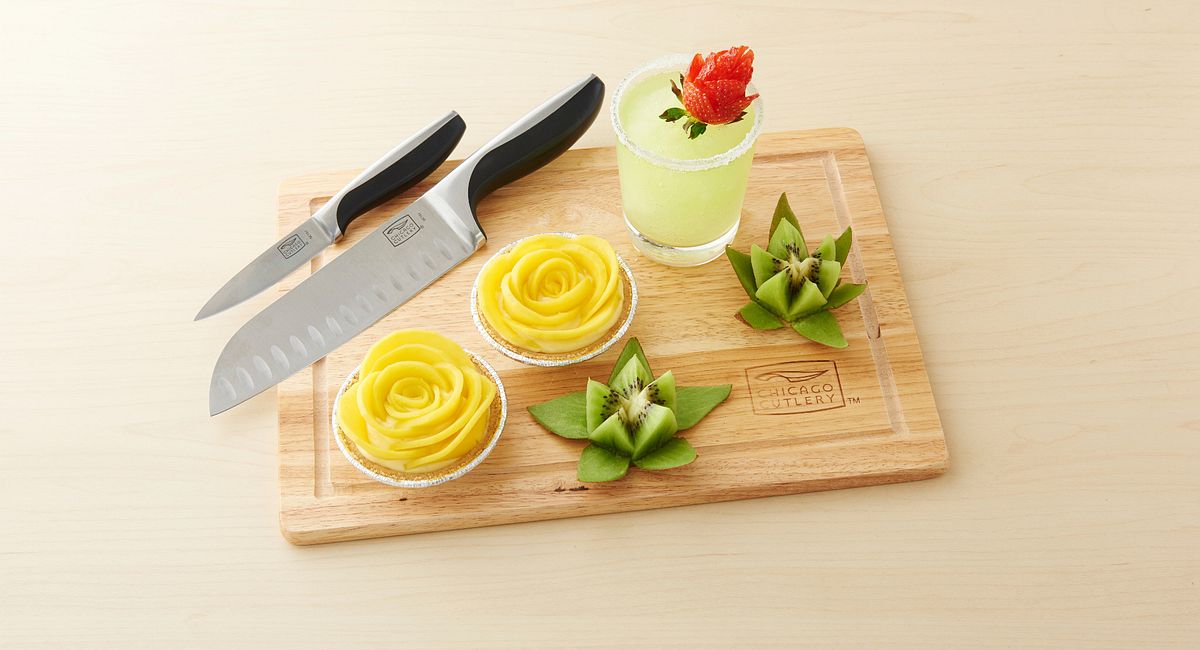 Cutting Class: 3 Easy Ways to Cut Fruit Flowers
Whether you're hosting a group or just bringing a dish, when gathering with friends you want your platter to pop. For a fresh approach to decorating your dish, try carving these impressive fruit flowers. With a little practice, you can master these simple techniques, creating bouquets of adorable edible blooms in minutes.
CUT KIWI INTO LOTUS BLOOMS
Colorful kiwi looks like a delicate lotus flower with this simple cutting trick. Here's how to make perfect petals every time:
Grab a ripe but firm kiwi and a CHICAGO CUTLERY® AVONDALE™ 3.5″ PARING KNIFE.
Slice a small tip from the top and bottom of the kiwi to flatten the ends.
Place your knife in the middle of the fruit and cut diagonally into the center of the kiwi.
Rotate the knife to create a zigzag incision, repeating all the way around the kiwi. With the zigzag complete, separate the two halves.
Slice the skin away from the top of each zigzag to the bottom of the fruit. Repeat all the way around. Gently pull the skin down to create petals.
SNIP A STRAWBERRY ROSE
Create a beautiful bunch of strawberry roses with this easy technique. All you need is a knife! These pretty strawberries are sure to be showstoppers at your next shindig. What to do:
Wash and dry large strawberries.
Starting on the bottom third of the strawberry, cut angled slivers around the outer edge of each berry with a CHICAGO CUTLERY®UPTOWN® PARING KNIFE. Do not slice all the way through the fruit. At the bottom of each incision, use your knife to gently pull each slice away from the center of the fruit, creating a petal.
Repeat, continuing around the strawberry to complete a row of petals. Start your next row of petals near the center of the strawberry, going between the petals you've already created. Continue all the way to the top.
If desired, insert a small wooden skewer through the berry greens, pressing it about halfway through the fruit.
MAKE A MANGO ROSETTE
Beautiful little rosettes look lovely on top of cakes, pies and tarts. Though they look fancy, you'll find this technique is surprisingly simple. For best results, use a just-ripe mango (slightly soft but not overly squishy). Here's how:
With a CHICAGO CUTLERY® DAMEN™ 6.75" SANTOKU KNIFE, peel the mango. Cut two large slices from each side of the pit.Discard the center piece.
Working from top to bottom, cut each piece into very thin slices (about 1/8 inch or thinner).
Start each rosette by rolling a small slice of mango into a tight spiral.
Wrap several slices around the spiral to form a rose shape.
EXPERT TIPS:
SO-CUTE KIWIS. Float kiwi lotus blooms on top of a fruit salad or serve alongside brunch dishes.
SWEET SKEWERS. Use the skewered strawberries as drink stirrers or centerpieces, or serve alongside melted chocolate for dipping.
CLASSY COOLERS. Freeze mango rosettes on a parchment-lined cookie sheet and use them to chill party beverages such as wine spritzers or lemonade.