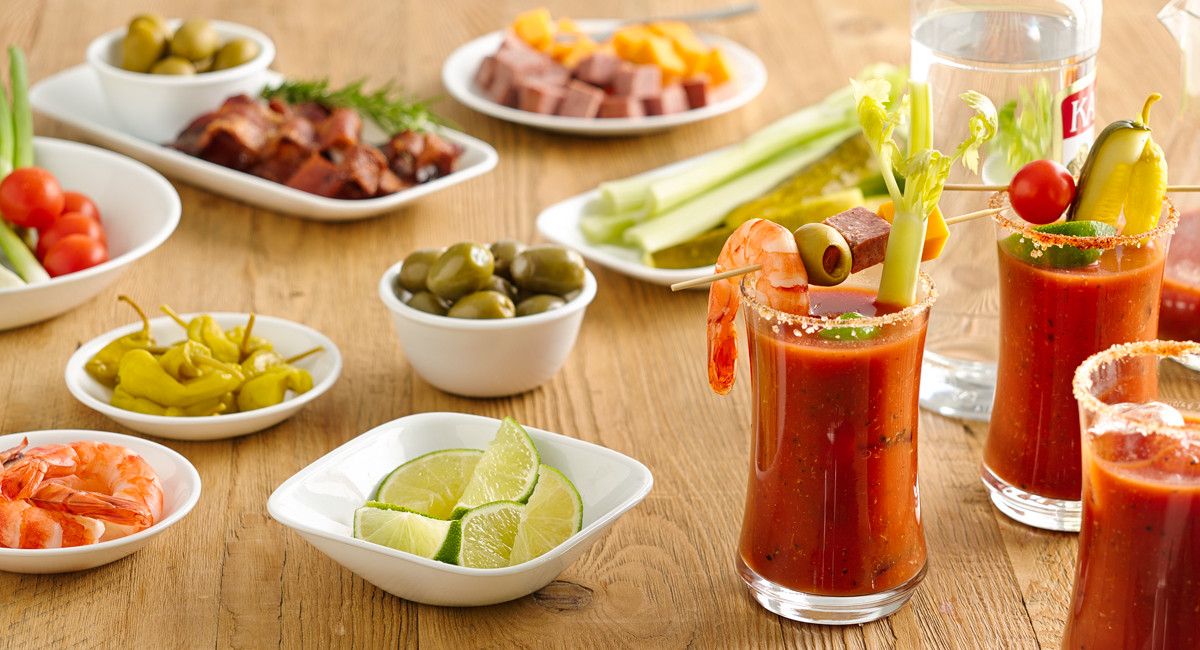 Set Up the Ultimate Bloody Mary Bar
Spicy, savory and even a little sweet—nothing kicks off Sunday brunch like that first sip of a perfectly seasoned Bloody Mary. And the garnishes are half the fun! Whether you like the pucker of a pickle or prefer to swirl the ice cubes with your celery stalk, the add-ons make it personal...and sometimes even count as a full-on meal! First things first, a good Bloody Mary depends on the right mix, and we've got the ultimate recipe, complete with a zesty chile-infused vodka.
ULTIMATE BLOODY MARY
Forget going out to brunch for the best-ever Bloody Mary. We created the ultimate Bloody Mary experience by fusing two recipes together to mix up a Sunday Funday tradition to perfection!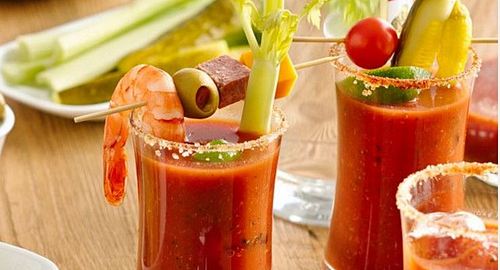 GET THE RECIPE
ASSEMBLE YOUR SUPPORTING PLAYERS
Now that you have an optimal base, it's garnish go-time. Most aficionados agree that a celery stalk is a Bloody Mary essential. They add a crunchy palate-cleansing bite after every sip, and they double as the perfect way to keep your drink stirred and fresh. From here on out, creativity rules! From the tame to over-the-top, here's a list of fun and tempting toppings that'll entice your friends to belly up to the bar. Make it easy to DIY by setting them out in slim trays and small bowls—the CORELLE® SQUARE™ PURE WHITE SERVING BOWL and CORELLE® SQUARE™ PURE WHITE SQUARE PLATES are sized just right for skewer-sized portions.
VEG HEAVEN.
Easy ways to get in some of our recommended veggie servings...or so we tell ourselves.
Stuffed olives: Pimiento, garlic, almond, jalapeño, blue cheese, etc.
Pearl onions
Scallions
Marinated peppers / pepperoncini
Cucumber spears
Dill pickles
Pickled green beans
Pickled baby corn
Carrot sticks
Cherry tomatoes
PROTEIN POWER.
Because now your stomach can handle two Bloodys.
Cheese cubes: Cheddar, pepper Jack, Colby
Pepperoni or beef sticks
Hard-cooked egg
FAST FOOD ON-A-STICK.
With these items cut into bite-size pieces, we say why not add a little substance?
Candied bacon
Fried chicken and mini waffles
Mini sliders
Grilled cheese sandwiches
Onion rings
FROM UNDER THE SEA.
Seafood swimming in tomato juice works on so many levels.
Shrimp
Scallops
Lobster tails
Smoked oysters
Need more to nosh on? We surfed through our favorite bloggers' recipes and compiled some savory appetizers to complement the taste of your ultimate (and soon-to-be-legendary) Bloody Mary:
Whether you're watching a game or just hanging on the patio, you've got all you need for a relaxing (or restorative) Sunday. Time to stir up some fun!
YOUR TURN: What's your mandatory Bloody Mary mix-in or go-to garnish?