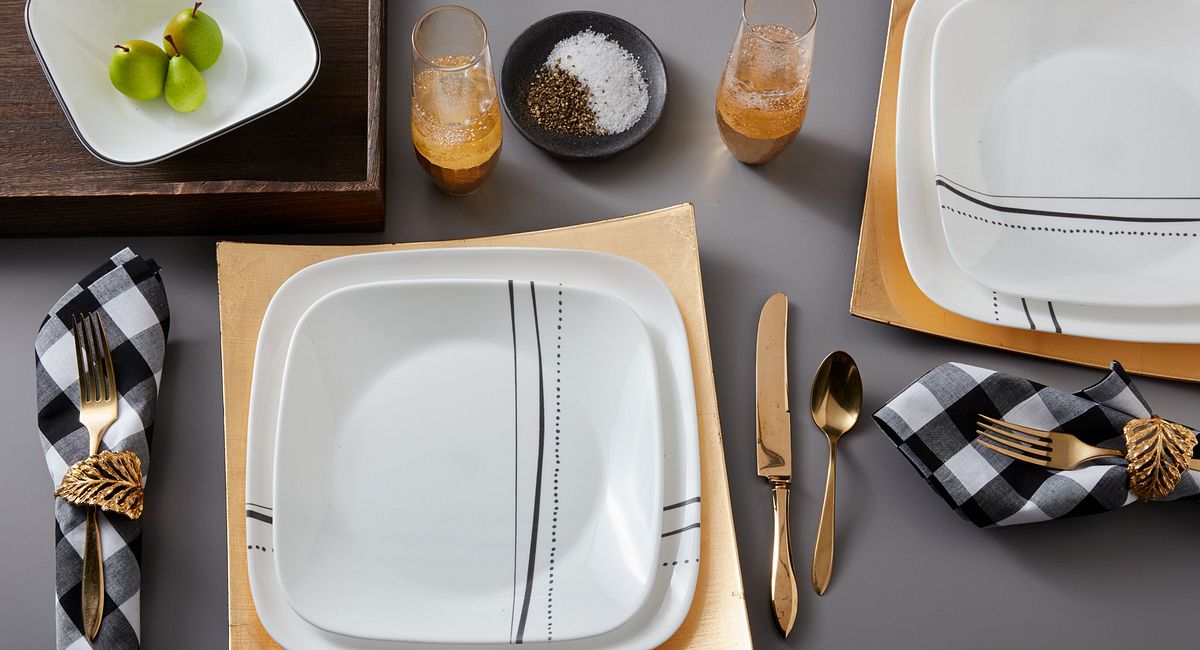 Pattern of the Month: Cascading Lines
With fall just around the corner, we're focused on keeping you—and your table—comfy and cozy. This month, Corelle® dinnerware has selected the CORELLE® SQUARE™ CASCADING LINES collection as our autumn pattern of the month.
If you're accustomed to traditional red-and-golden autumnal décor, this pick may come as a surprise. Cascading Lines is a basic white plate, set off with simple black and an irregular dotted line. Uncomplicated and modern, it's not your usual autumn leaves pattern. Here are a few fall occasions begging for this stylish set.
MODERN AUTUMN
Offset a seasonal palette of warm colors with the cool, crisp addition of black and white. Start by setting your table with checkered linen—either large or small checked patterns work nicely. Place Cascading Lines dinnerware atop colorful chargers or table mats and coordinate with harvest-themed accessories, such as white or gold pumpkins, sunflower bouquets or colorful cobs of dried corn. For added visual interest, you can even tie the place setting with a large black-and-white checkered bow.
A versatile décor option, this look works for everything from everyday settings to holiday parties.
GOLDEN AND GLOWING
Simplify the bright, bold hues of autumn into just three colors—black, white and gold. Perfect for dinner parties and elegant nighttime events, this style brings sophisticated simplicity to your table.
Set tables with black, white or black-and-white striped tablecloths. Arrange a full set of Cascading Lines dinnerware at each place setting. Add crystal glassware and gold utensils. Keep centerpieces classic, using gold spray paint to coat mini pumpkins, pinecones, autumn branches or wine bottles.
CANDLELIGHT COCKTAILS
The Cascading Lines pattern makes a lovely accent for a wine and cheese party.
Pick a night when friends can gather without hurried schedules. Invite each to bring a bottle of wine. Keep hosting duties breezy with a basic layout. Cover the kitchen table with black butcher paper, set out several plates of cheese and use chalk to label the offerings. Include a basket of crackers and bowl of fruit…maybe some salami. Wine glasses, utensils and Cascading Lines plates will finish off the setup and make your easy evening in feel like a night out.
Whether you're hosting a casual get-together, an elegant evening or an outdoor event for the ages, versatile CORELLE® SQUARE™ CASCADING LINES upgrades any occasion. For more on-trend patterns that inspire, check out these Corelle dinnerware favorites.
EXPERT TIPS
YOUR TURN: What fun fall ideas do you bring to the table? We'd love to see your inspiring tablescapes. Share a photo and tag #Corelle.