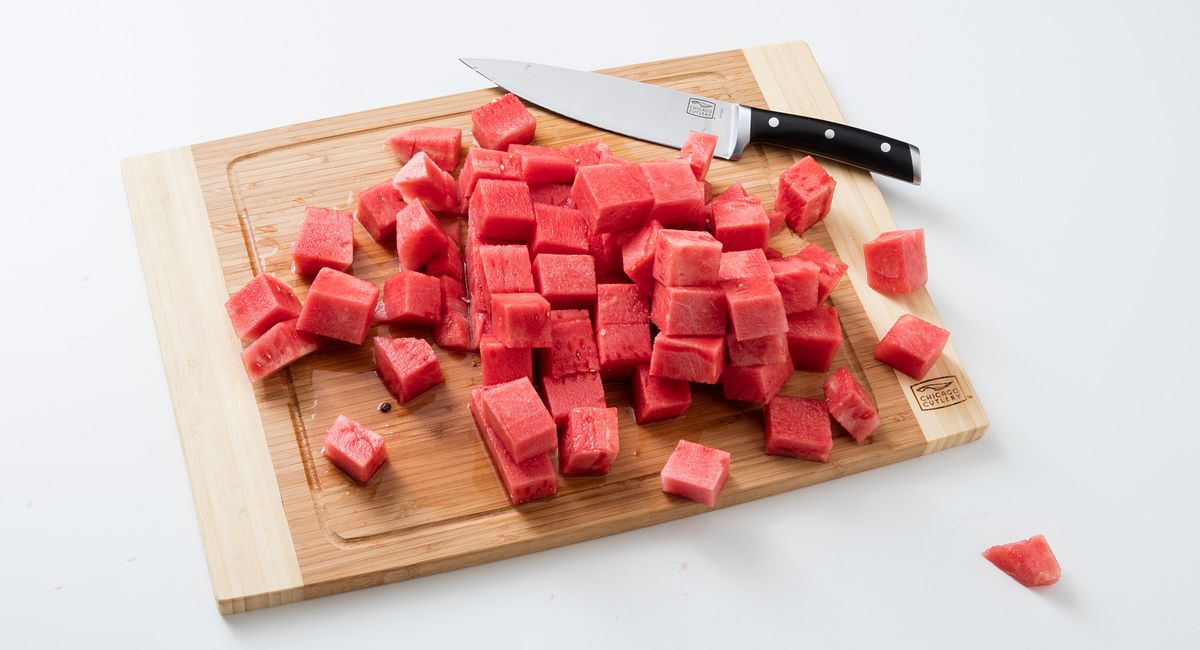 Cutting Class: 3 Essential Knife Skills
Highlights
Slice meats, veggies, produce and more with a slicer or chef's knife.
Batonnet is the French term for "baton" or "stick".
Dice fruits, veggies and meat easily with a chef's knife.
Sure, cooking with quality ingredients is key to making a delicious meal. But it's equally important to prepare those dishes with proper technique. Becoming a confident and skilled user of arguably the most important tool in your kitchen—the knife—not only saves you prep time but also rewards you with ingredients that are prepped to perfection.
There are several culinary cuts to choose from, but all you need to become a knife-wielding master of your kitchen domain is a few of the most fundamental—the slice, the batonnet and the dice.
THE SLICE
What It's For: Use this simple cut to prep meats, fruits and vegetables like onions, cabbage, lemons and tomatoes into thin, uniform and relatively broad slices.
How to Master: With a versatile knife like a chef's knife, santoku or for smaller items like lemons and limes a CHICAGO CUTLERY® FUSION® 5″ PARTOKU KNIFE, grip the food firmly in your hand, rest the tip of the knife on the cutting board. Using your other hand, secure the food that is to be cut (curl your fingers in a bit so they're out of the way). Bring the knife back slightly before simultaneously cutting forward and down, as you make a clean cut through the food item.
Slicing Tip: If slicing something round and slippery, cut it in half lengthwise first. Then place it flat side down on the cutting board before continuing to slice.
THE BATONNET
What It's For: A fancy French word for "baton," this elegant cut produces long thin strips that can be tossed into salads and stir-fries. It's also used to make French fries.
How to Master: Cut off both ends of the item you wish to prepare (if cutting vegetables, peel first) using a chef or santoku knife, such as the CHICAGO CUTLERY® AVONDALE™ 6.75″ SANTOKU KNIFE. Slice off the sides of the object, forming it into a rectangle. Then cut into 1/4-inch-wide slices. Next, stack slices and cut into 1/4-inch-wide strips. If making a true batonnet, cut the length to 2-1/2 to 3 inches long.
Batonnet Tip: Now that you know the basic batonnet cut, you can julienne foods (cut them into matchsticks) just by cutting your "batons" into thinner slices and strips.
THE DICE / CUBE
What It's For: Use this technique to cut any ingredient into uniform cubes that cook quicker and more evenly.
How to Master: With a CHICAGO CUTLERY® DAMEN™ 7.75" CHEF KNIFE, make batonnets as described above. Gather strips into a neat pile and cut crosswise into cubes.
For meats, place widest side of meat on cutting board before cutting into 1-inch slices. Then continue with aforementioned steps before finally cutting it into 1-inch cubes.
Dicing Tip: From here, you can make any size dice you want. Large dice = 1- to 3/4-inch cubes, medium dice = 1/2-inch cubes and small dice = 1/4-inch cubes.
EXPERT TIPS
KNOW HOW TO HOLD YOUR KNIFE. The blade grip offers more control, making it the grip of choice for most cooks. Your thumb and pointer finger should rest just in front of the handle on the blade (past the bolster, the thick bit between the handle and the blade).
KEEP ALL OF YOUR CUTLERY SHARP. Sharpen and hone knives regularly. Use the CHICAGO CUTLERY® DUAL SHARPENER for great results. If you're not sure how to hone a knife, which balances the blade, take it to an expert. Also, running them through the dishwasher dulls blades quickly, so hand-wash instead.
SECURE SLIPPERY CUTTING BOARDS. Simply place a damp dish towel underneath so your cutting board doesn't slide across the countertop.
YOUR TURN: What other cut is an essential kitchen skill worth knowing?
Highlights
Slice meats, veggies, produce and more with a slicer or chef's knife.
Batonnet is the French term for "baton" or "stick".
Dice fruits, veggies and meat easily with a chef's knife.