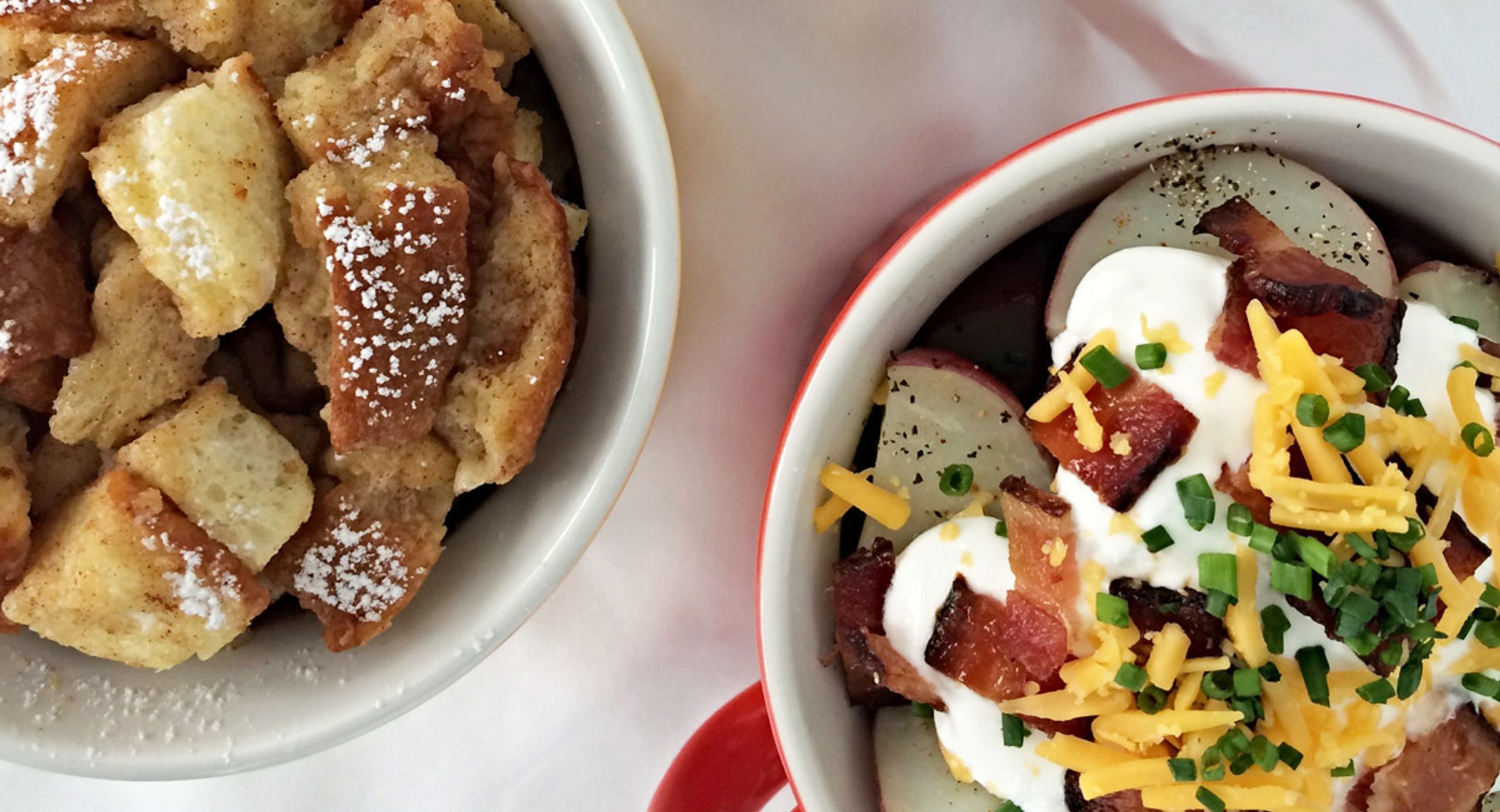 Zap Time: Five Easy Microwave Meals
Microwaves come in handy for reheating yesterday's leftovers, or steaming up a store-bought cup-o-noodles, but did you know that you can make a delicious and satisfying meal in one? And the best part is, it's ready in a matter of minutes with minimal cleanup. All you need are a few versatile ingredients, a microwave and a large microwave-safe mug, like the CorningWare® Pop-Ins® 20-ounce mug. Durable and versatile, they're available in a variety of fun, modern colors and come with a handy plastic lid that vents for safe heating. From breakfast to dinner, here are five delicious and super-speedy microwave recipes:
FRENCH TOAST IN A MUG

Oo-la-la! After you whip up this simple six-ingredient French toast recipe up in a mug, you'll wonder why you ever used a frying pan or griddle in the first place. Bon appétit! GET THE RECIPE
REAL MAC & CHEESE IN A MUG

For little kids and college students alike, macaroni and cheese tops the list as a yummy lunchtime staple. Did you know it's just as simple to make it homemade? With this recipe, you can make it your own by adding your favorite savory cheese blends. GET THE RECIPE
FULLY LOADED MUG-BAKED POTATO

You probably already know how quick it is to nuke one, but now you can make it even easier by quartering smaller potatoes before you cook them. Great for a quick lunch or a midnight snack. GET THE RECIPE
QUICK AND EASY QUESO DIP

This one's a game-day changer! Heat things up with our quick-as-a-flash queso dip. This spicy snack packs a serious kick, and with a few optional ingredient add-ins, the flavor possibilities are endless. GET THE RECIPE
MAMA'S MEAT LOAF IN A MUG

A serving (or two) of this warm and comforting meat loaf will hit the spot for anyone craving a little taste of home. And the best part is, it only requires six ingredients. GET THE RECIPE There are plenty of times when we need a satisfying single-serving meal on the double. Make the most of that handy small appliance and use your microwave for more than popping popcorn or warming up your coffee. With these easy recipes, a tasty snack or meal is just minutes away. YOUR TURN: What are your favorite quick meals you can make in a microwave?