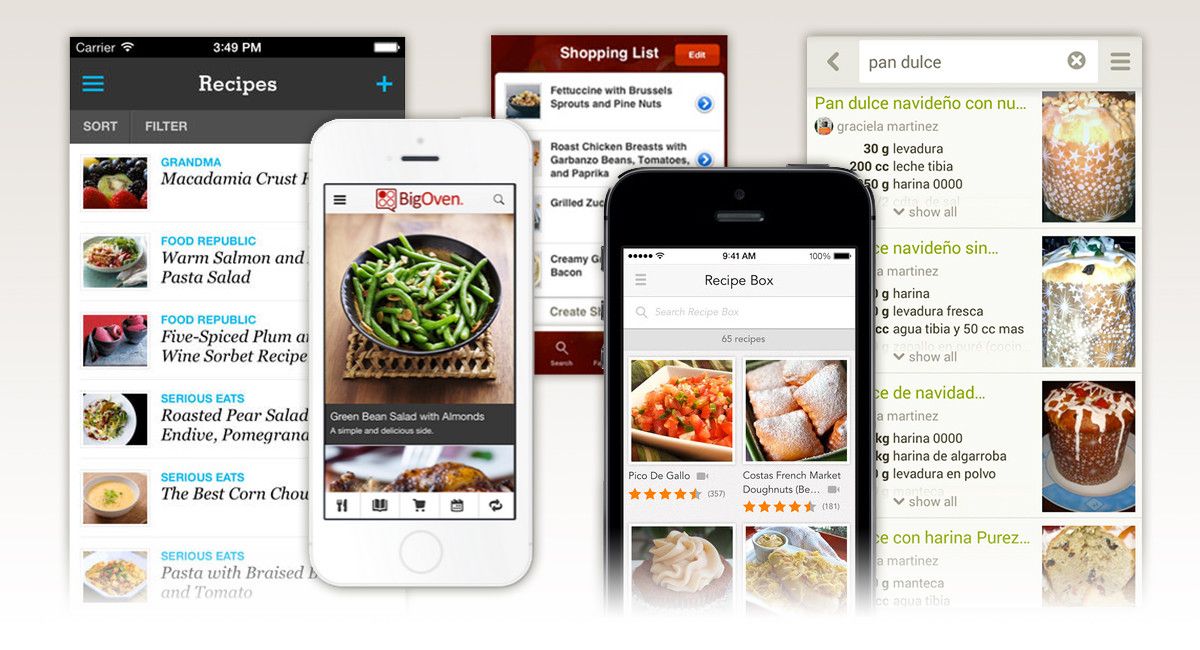 5 Amazing Free Kitchen Apps
Every part of life is touched by the tech revolution. The kitchen, well, that's no different. Want to prepare shopping lists like a pro? Whip up chef-approved meals in a snap? Instagram your followers another culinary masterpiece? All you need is an app!
With hundreds of mobile apps designed to save you time and money, cooking is easier than ever before. Really! And Chicago Cutlery® has jumped on the tech rocket ship, creating products that simplify your high-tech life. While swiping, scrolling and snapping your way through the culinary cloud, we're keeping your cooking world organized with the new West Town 6-piece Prep Set . A knife block designed with the high-tech chef in mind, it holds both mini and full-size tablets and smartphones of all sizes. Prop them up for hands-free viewing. No other kitchen product makes it so easy to access your app as you cook.
Now, onto the best of the best cooking apps that are so valuable in the kitchen, you can give that disorganized recipe box and space-hogging cookbook cabinet a rest. Each of these apps passed our test—they're sleek, simple and free!
iOS, Android, Kindle Fire, NOOK, Windows Phone
Whether you need a simple recipe management tool, grocery-list keeper or menu maker, BigOven delivers big time. With a RecipeScan option, which lets you upload your own handwritten recipes, plus over 350,000 recipes searchable by dozens of different categories, the app offers intuitive solutions for every style of home chef. One of the most unique (and useful) features is the "leftover" function, which allows users to type in up to 10 ingredients, then delivers a list of matching recipes.
Android, iOS, Windows, Nook, Amazon
With clean, simple design, Pepperplate makes meal planning easy. Recipes can be manually inputted, or imported from favorite websites, then seamlessly incorporated into grocery lists and weekly menu plans. The app makes party and event planning a snap by allowing users to combine several recipes into a custom menu. Select appetizer, entrée and dessert, generate a shopping list for all, then sync across devices so you always have access to the menu, ingredient list and recipe instructions. No sweat!
Android, iOS
Recently rebranded from AllTheCooks, Cookpad recipes are crowdsourced, combining thousands of recipes from users, how-to tutorials and social networks. Recipes range from everyday casual to elegantly formal, with searchable categories for appetizers, main courses, soups, desserts and variants. Optional filters for ingredients, prep time and dietary restrictions make this app applicable to everyone.
Android, iOS
Epicurious has long been devoted to delivering top-notch new recipes that are easy to make, but at the cutting edge of cooking trends. This app makes it easy to access all of the website's archives and also lets you save favorite recipes from other websites straight to your digital recipe box. With a "discovery" tool that offers new recipe ideas and a no-hands-needed voice command setting, this app has been thoughtfully designed for the busy kitchen.
Android, iOS, Windows
If you've already saved hundreds of delicious recipes from the AllRecipes community in your online recipe box, the app version of this popular website makes it easy to access all the community perks without ever sitting down at your computer. AllRecipes Dinner Spinner app gives instant access to millions of recipes created and uploaded by home cooks. It syncs with the online recipe box and offers powerful customizable search for diet type, cooking time, specific courses and more. With video tutorials and social integration, you'll never feel alone in the kitchen again!