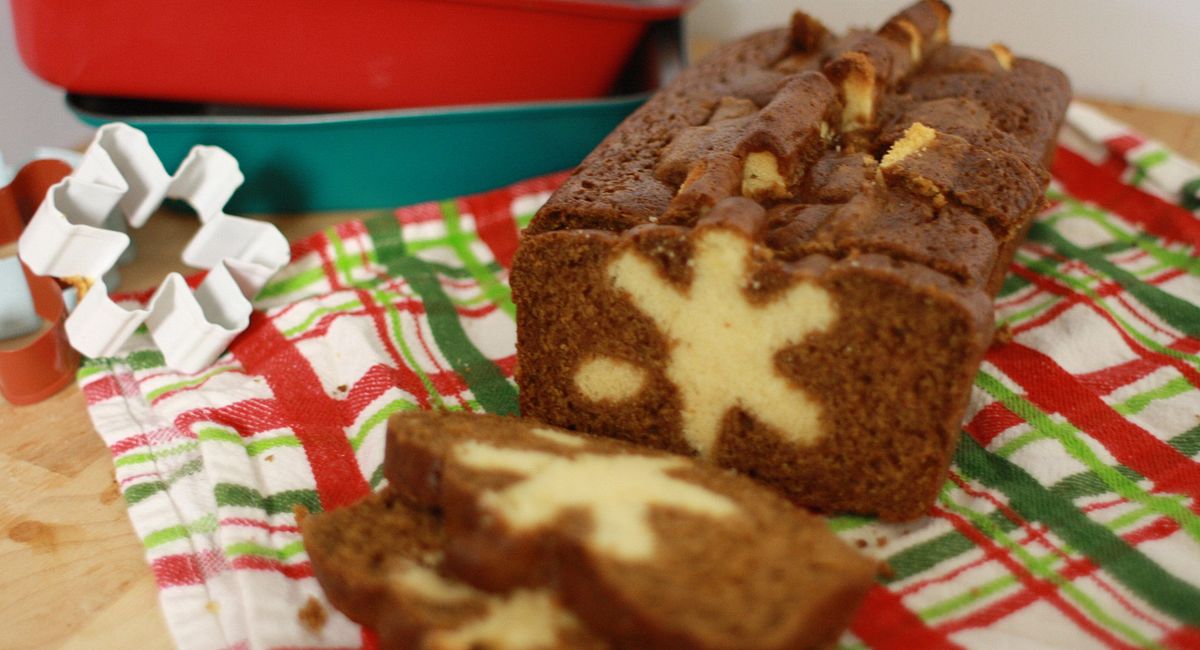 Day 11 of 12 Days of Holiday Baking
The main dish is always delicious, but holiday desserts often are the stars of the show. Add some cheer to your festive dinner by including non-traditional holiday recipes guaranteed to have your guests asking for more.
We asked some of our favorite bloggers to create holiday recipes using Baker's Secret® new colored metal bakeware. They whipped up 12 tasty treats, some sweet and some savory, that you and your guests will love to try this holiday season! From a fun twist on cinnamon rolls to a holiday bread with a surprise inside, these festive recipes are easy. Best of all, each can go from oven to table, no additional serving platter necessary. Happy Holiday Baking!
DAY 1
Cranberry French Toast Casserole
Cranberries and nutmeg make this perfect for Christmas morning breakfast. Prepare this casserole the night before so you can simply roll out of bed, bake and enjoy! Blogger Shelby B. from OC Mom Blog shares a Cranberry French Toast Casserole that's easy and a time-saver.
GET THE RECIPE
DAY 2
Gingerbread Cinnamon Rolls with Speculoos Icing
Gingerbread and Speculoos add a fun twist to traditional cinnamon rolls. Blogger Erin V. from The Spiffy Cookie shares Gingerbread Cinnamon Rolls with Speculoos Icing, and includes time-saving tips for the night-before prep.
GET THE RECIPE
DAY 3
Candy Cane Brownies
Blogger Felicita M. of Casa Moncada created brownies with a special bottom layer made from crushed candy canes. For a holiday party or a quick treat for your family, it's sure to be a hit for the holidays!
GET THE RECIPE
Day 4
Crispy Brown Sugar Sweet Potatoes
Savory and sweet make a perfect pair for Christmas dinner. Blogger Jill P. of Sandy Toes and Popsicles shares her recipe for Crispy Brown Sugar Sweet Potatoes that are a delicious side dish for any holiday table.
GET THE RECIPE
Day 5
Mocha Icebox Cake
With layers of mocha whipped cream and chocolate chip cookies, this dessert can be enjoyed any time of year. Blogger Ben M. of B-Side Blog decorated this Mocha Icebox Cake with holiday candies, making it festive and fun!
GET THE RECIPE
Day 6
Candy Cane Brownies
Mint and chocolate are two flavors that were meant to be together. Blogger Jenn F. of Just Jenn Recipes made Candy Cane Brownies that get a boost of peppermint from both peppermint extract and crushed candy cane sprinkles.
GET THE RECIPE
Day 7
Banana Cake
Blogger Cris Z. of My Fashion Juice made her tried-and-true Banana Cake recipe with a special ingredient—raisins. Prefer nuts in your cake? It's an easy swap.
GET THE RECIPE
Day 8
Sweet Chocolate Rolls
Chocolate chips give this morning treat a little extra sweetness, and the cream cheese frosting is the ideal topper. Blogger Cam B. of Growing Up Goofy makes these Sweet Chocolate Rolls as a special treat for her kids and never has leftovers.
GET THE RECIPE
Day 9
Easy Holiday Breakfast Bake
Filled with eggs, potatoes, cheese, sausage and lots of spices, this Easy Holiday Breakfast Bake is sure to please everyone at home for the holidays. Connie O. of Baby to Boomer knows that time is at a premium during these bustling times, so her simple make-ahead breakfast bake allows her to spend less time in the kitchen, and more time with her family.
GET THE RECIPE
Day 10
Pumpkin Bread
Blogger Lisa S. of Life with Lisa made a no-fuss Pumpkin Bread loaf that is a great hostess gift. Wrap with plastic wrap, add a bow, attach a recipe…and the lucky recipient will have a tasty ready-to-eat treat, along with the bakeware needed to re-create the recipe herself.
Day 11
Surprise Holiday Bread
Take boxed cake mixes to the next level by adding a secret surprise. Blogger Kerri J. from I Am the Maven used gingerbread cake and pound cake to make a Surprise Holiday Bread. We won't give away the surprise!
GET THE RECIPE