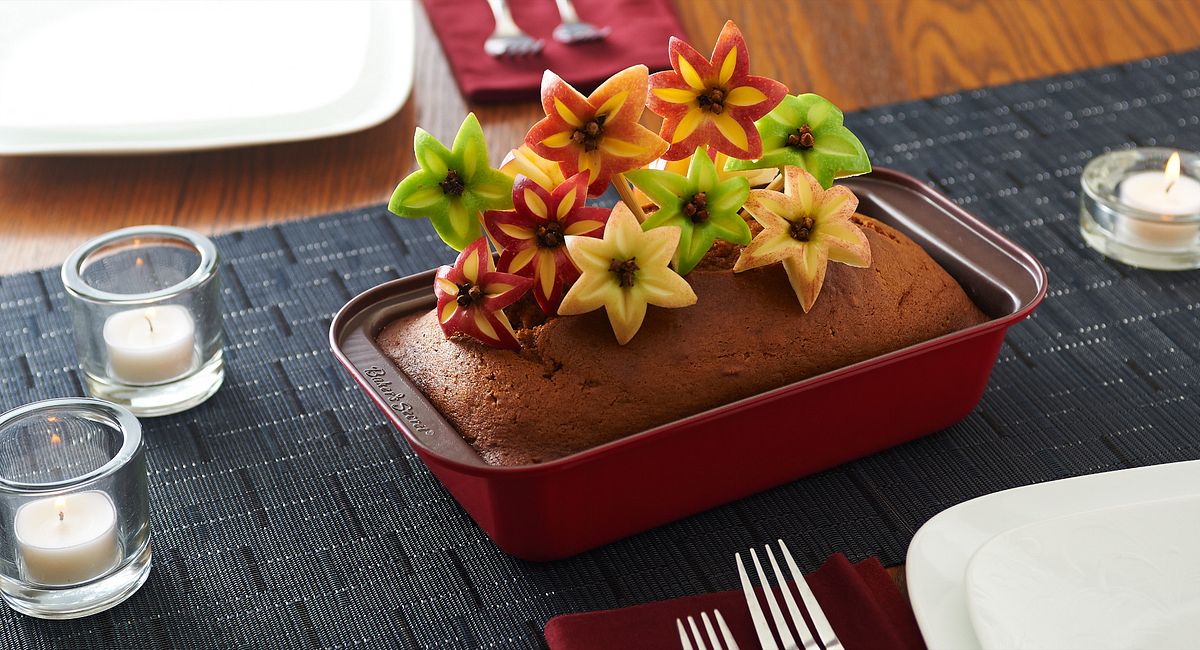 Edible Centerpieces: Double Duty and Delish!
Although we can get caught up in planning and preparing the perfect holiday dinner, hosting a brunch instead can be just as special and delicious, and often more relaxing. With a late-morning start and open-ended finish, brunch feels laid-back and indulgent at the same time.
An ideal brunch menu is a good mix of sweet and savory, so play off the menu and make one of your dishes into a complementary and delicious centerpiece. It'll add to your casual vibe, and guests will have fun admiring and nibbling simultaneously. Simply grab a handful of toothpicks or wooden skewers and craft foam shapes, and get ready to make some edible works of art. Here are some of our favorite ideas:
IN FAUX BLOOM
Fan of all things floral? All you need is a paring knife and cookie cutters! Simply cut shapes out of soft fruits—try cantaloupe, pineapple and watermelon for the petals or whole blossoms. Grapes and smaller berries are just right for the centers. Soak your skewers in green food coloring, twist green pipe cleaners around the "stems" and top with a bloom. Arrange your bouquet in a vase, or stick each "flower" into half of a melon placed cut side down on a plate or platter. Or why not use your favorite seasonal pumpkin-, zucchini- or spice-cake for a base? Give ours a try with these instructions:
INGREDIENTS/SUPPLIES
5 apples of different varieties
30 cloves
variety of skewers and or toothpicks
1/2 cup lemon juice
sharp paring knife
loaf or cake of your choice

Slice through the entire apple about 1 inch from each end. This should leave you with 3 cross sections of apple. Keep the tip and bottom, and discard or eat the middle section.
Dip the cut sides of each apple end in lemon juice to prevent browning.
Lay the apple slices on a cutting board cut side down. Using a sharp paring knife carefully cut out petal shapes cutting through to the cutting board and leaving plenty of room around the core of the apple. Work your way around the core until you have a complete set of petals.
Then carefully cut out the inner piece of the petal by carving out a small wedge in the center of the petal, making sure to leave a decorative edge of skin all the way around the wedge and only cutting half way through the apple.
Dip the entire apple in lemon juice again ensuring all cut sides have been submerged.
Using 3 cloves gently press them into the skin side of the apple at the core. Carefully insert tooth picks or skewers into each of your "apple flowers" near the core on the cut side, being cautious to avoid poking through to the skin side of the apple.
Gently press your skewered flowers into the center of your favorite spice cake or quick bread baked in a Baker's Secret pan to create your desired flower arrangement. Don't have a favorite? Try this delicious and healthy Zucchini Banana Bread for your base!

GET IN SCHEME WITH THE SEASON
Take your cue from the colors of fall or winter and create delicious sculptures using nature's palette.
Create an autumn-hued arrangement using yellow, orange and red bell peppers as the leaves on a tree.
Concoct Christmassy caprese skewers made with grape tomatoes, mini fresh mozzarella balls and a basil leaf, and organize in a wreath shape.
Decorate a pyramid of scarlet strawberries with emerald mint springs.
Sprinkle sparkly sugar on candied fruits and make your own glittering New Year's ball.
ANTIPASTI IN THE MIDDLE
Mix assorted olives and cornichons with cubes of firm cheeses and cured meats, and anchor them into a crusty loaf of bread.
CALL IN THE KIDS
Sometimes intricate confections are best left to adult dexterity; other times, little fingers are just right for assembling little works of art. They'll love to be involved, and they'll add a sweet charm we detail-happy grown-ups can't touch. Here's how to make a forest of tasty little trees:
Bake a batch of star- or flower-shaped cutout cookies in assorted sizes.
Have kids stack several cookies going from large to small, slightly turning each cookie to form an evergreen tree.
Lightly frost sugar cookies with green icing or sprinkle with green sugar, or try gingerbread dusted with powdered sugar, if it's already snowed where you live.
Use a thin layer of frosting or glaze as the "glue" between each cookie.
STICK WITH THE SWEETS
Put your pastry tray on display. Pop skewers through a variety of donut holes and mini muffins, and arrange the cute kabobs in a colorful vase or holiday cake.
EXPERT TIPS
Choose simple foods over fussy or exotic; you want your guests to feel free to sample the goods!
Use a raised platter or vase to give your centerpiece height.
If you want to keep the creative juices flowing, make edible place card stands to go with your display.
Almost any bite-size or finger food can be made into an edible centerpiece, so once you've chosen the food or flavor, the real fun comes in letting your artistic talents shine as you arrange them into cool shapes and "accessorize" the displays. And if a leisurely late-morning meal sounds like an appealing option for your holiday entertaining, check out more tips and ideas for how to host a breathe-easy brunch.
YOUR TURN: What would you use to create the ultimate edible centerpiece?