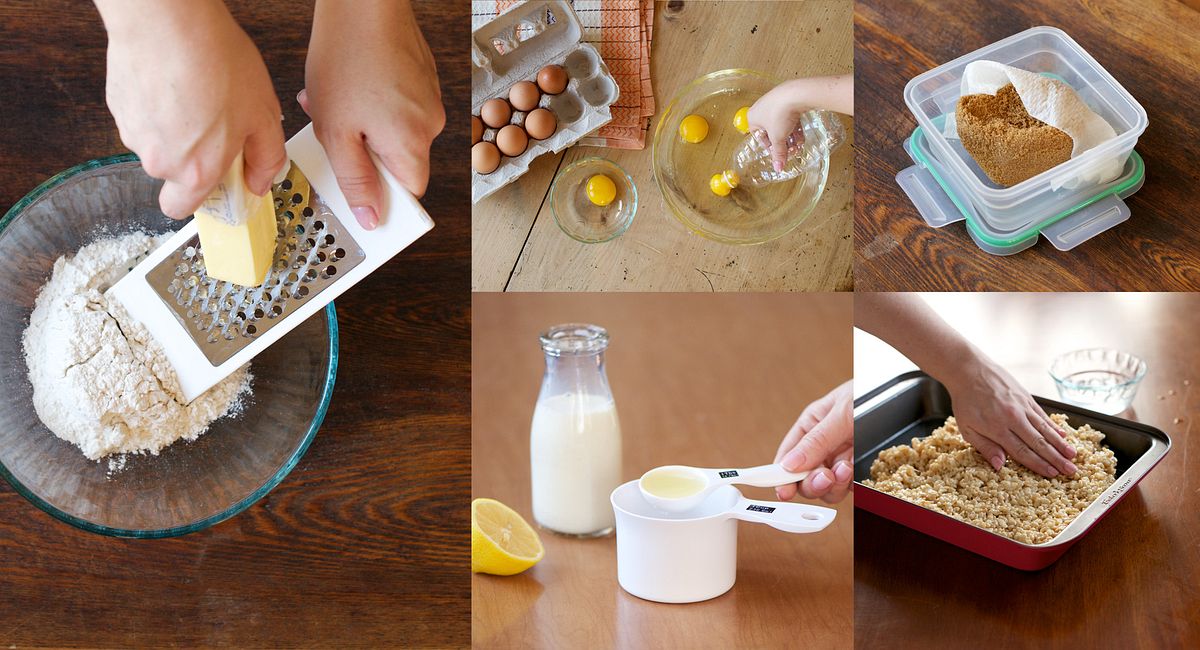 Secret Baking Hacks: The Basics
Almost 50 years ago, the words "Cooking is an art, baking is a science" were first printed in a King Arthur Flour catalog. Since its appearance in 1967, the phrase has become a mantra of cooks and bakers alike. For those of us who are baffled by the science of baking, it's time to take control.
While there are hard-and-fast rules that you'll never be able to escape (sorry, baking soda can never be used in place of baking powder), there are also clever shortcuts to make baking easier. From rolling out pie crust without a rolling pin to softening butter in a flash, these handy baking hacks will help you master the science of baking.
GREENHOUSE EFFECT
When the recipe calls for softened butter but it's still chilling in the fridge, portion out as much as the recipe calls for and put it on a plate. Then fill a drinking glass with as hot-as-you-can-handle water. Let the water sit in the glass for a minute or two, quickly empty it, dry it and then flip it over and cover the butter. The warm dome-like glass will quickly soften the butter in minutes. For physics-related reasons (and the circumference of most glasses), this trick is most effective (and least messy) with half-stick portions or smaller.
IN GRATE HASTE
You could also skip the softening step and try this trick for using butter straight from the fridge: Evenly distribute cold butter into a batter or dough by simply grating a frozen stick into the mix. Pesky clumps won't slow you down ever again.
ROLL WITH YOUR ROSÉ
Did you know that a wine bottle can double as a rolling pin? Baking bonus: A chilled bottle will help keep the dough cold, and cold dough makes for a great crust. Just make sure to wash the bottle well before using it, and then prepare yourself for picture-perfect pie crust!
BREAD CRED
Separate and soften clumped brown sugar by tucking a slice of sandwich bread into the bag and sealing it shut—or place the sugar and the bread in an airtight container. But don't leave it in there for more than a few days!
IT'S THE HUMIDITY…
Uh-oh…did you go from a few hard lumps to a solid mass? Put the brown sugar in a microwave-safe container, place a clean, damp microwavable paper towel in the container, top it with a lid or plate and microwave it for about 20 seconds. Your brick of sugar will be soft and pliable again.
SLICK SUCTION ACTION
Need a neat way to separate yolk from white? Grab your egg, a bowl and a clean, empty water bottle, and watch this video from Handimania to see the trick in action. Little eggshell intruders floating around? Use one of the larger eggshell halves to scoop 'em up and away.
LEMON AID
Make DIY buttermilk with just two basic ingredients and two simple steps. For 1 cup of "buttermilk", pour 1 tablespoon of lemon juice (or vinegar) into a BAKER'S SECRET ESSENTIALS 4-cup measuring cup and then add plain milk to the 1-cup line. (For 2 cups of buttermilk, start with 2 tablespoons of lemon juice and then fill to the 2-cup line, and so on.) After sitting for about 5 minutes, you'll have homemade buttermilk.
BANISH THE BRRR
When room-temp eggs are needed for a recipe and yours have been chilling in the fridge, gently bring them to room temperature in just a few minutes. Place eggs in a glass or ceramic bowl, fill the bowl with warm (but not hot) water and in about 5 minutes, your eggs will be the perfect temp.
EXFOLIATE THE ROUGH STUFF
Cookies spend a few too many minutes in the oven? Lightly scrape away the burnt bottoms with a cheese grater. After a few passes, your cookies will look as good as they taste.
SLICK AND SLIDE
Mold and shape sticky treats like Rice Krispy bars, fudge or granola bars without getting covered in gooey ingredients by wetting your hands before handling the mix. The food will stick to itself, instead of you, so you can quickly press, mix or mold the ingredients.
Beyond these science-approved shortcuts, it helps to have some commonsense know-how in your arsenal, too. Check out our feature on 8 Secrets to Fail-Proof Baking for a few more smart and simple tips to bake by.
YOUR TURN: What are your go-to baking hacks? Please share! (Have any funny baking fails due to a hack gone wrong? Share those, too!)