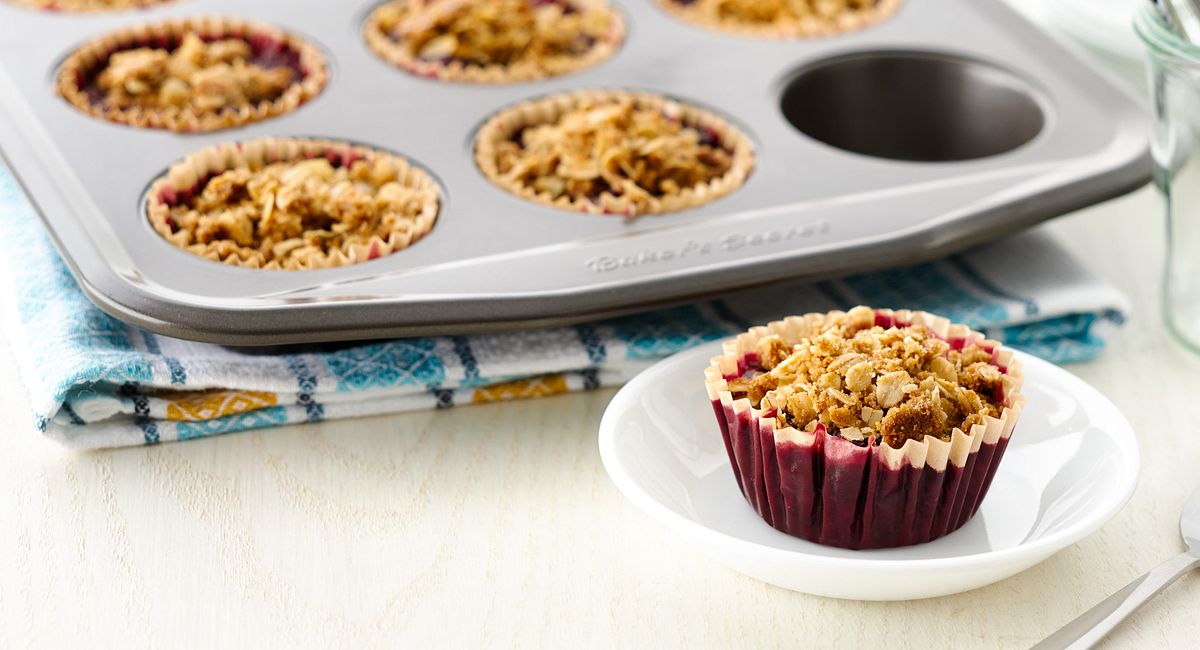 Sweet Resolutions for Slimmed-Down Desserts
The New Year is here and the pants are once again a little snug. Time to shed those holiday pounds! Uh-oh, is your sweet tooth sobbing? Make that weight-loss resolution something you can stick with by not banishing your treats this time around.
Instead, modify your favorite temptations so you can give in without the guilt. Simple swaps can lead to lower-calorie desserts that let you have your cake and eat it too. We've put together some of our favorite tips and tricks to help you slim down your sweets, plus we created a delicious new dessert that tastes more decadent than it really is.
Let's kick off with the good stuff! You'll want to savor every last crumb of this irresistible concoction, so grab a BAKER'S SECRET® SIGNATURETM 12 CUP MUFFIN PAN for superior nonstick performance.
MIXED BERRY-CHOCOLATE CRISP CUPS
With a tempting trifecta of sweet, gooey and chewy, this treat hits the healthy mark with the goodness of oats and whole wheat flour, and scores flavor points with a fantastic filling of mixed berries and chocolate.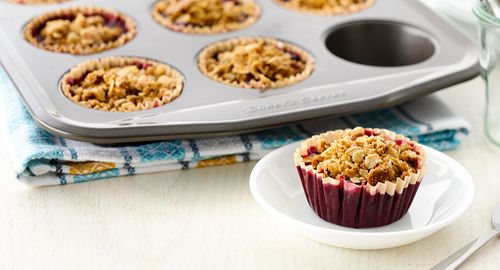 GET THE RECIPE
Whoops, did we lose you? Guess that's why you're supposed to serve dessert last! On to the tips:
STELLAR SUGAR SUBS
Applesauce: If you're making a cake or other baked goods, you can easily reduce your called-for sugar amount by using applesauce. To start, cut the sugar in half, then add the same amount of applesauce plus about one-third more. Keep in mind that you'll want to hold back a bit on the liquids. Rule of thumb: Reduce the main liquid in the recipe by a quarter for every cup of applesauce added.
Vanilla Extract: For many baked goods, you can cut up to half the sugar and add a teaspoon of vanilla extract instead. You'll get the sweetness without all the calories!
Stevia: This plant-based sweetener is not only all natural, but it also has zero calories! The stuff is super sweet, though, so make sure to sample recipes as you go to avoid adding too much. In general, 1 teaspoon of powdered extract or liquid concentrate is equal to the sweetness of 1 cup of sugar.
BETTER THAN BUTTER
Avocado: Replacing butter with mashed avocado will give you a great boost of vitamins and minerals. This is an even swap, so no math needed, but be sure to reduce your oven temp by 25% and increase baking time when you're working with cakes. Keep in mind that the avocado will naturally tint your dough a bit green!
Banana: Using an even amount of mashed banana instead of butter will give a rich, dense texture to cakes, cookies, muffins and breads. Keep an eye on your oven because this swap can reduce your baking time by up to 25%.
CHANGE OUT THE CHOCOLATE
Cacao Nibs: In raw form, cacao contains no sugar and very little fat. Avoid processed chocolate and add cacao nibs to any recipe that calls for chocolate chips. This "super food" is packed full of good stuff like polyphenols and antioxidants.
Carob Powder: Naturally sweet and with far fewer calories and fat, use carob powder to replace chocolate or cocoa in any recipe. A chocolate baking square equals about 3 tablespoons of carob powder.
RESEARCH TO THE RESCUE
No time for experimenting with the subbing and swapping? Chances are someone out there has already perfected a fit-focused version of your fave dessert. Do some research and find recipes that are just right for what you're craving.
PAY ATTENTION TO PROPORTIONS
And before you start baking, remember that how much you eat is just as important as what you're eating. Use BAKER'S SECRET® MUFFIN AND CUPCAKE PANS to keep snacks appropriately sized.
YOUR TURN: How do you make those tempting sweet more diet-friendly?