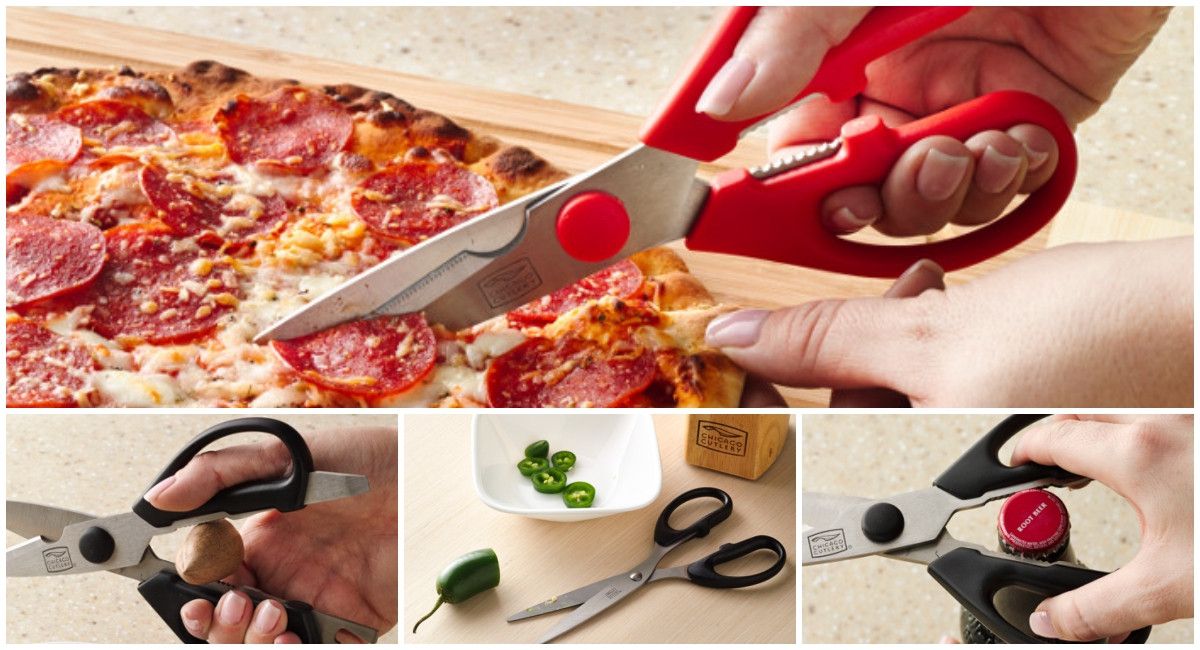 25 Clever Uses For Kitchen Scissors
Maybe they came with your knife-block set. Or you got them as a wedding gift. Either way, consider yourself blessed by the cooking gods if you own a good pair of kitchen scissors. Often one of the most underrated tools in your kitchen arsenal, they are absolutely indispensable. Not only does using them regularly help keep your expensive knife set sharp, but they make short work out of a multitude of mundane tasks.
Wait! Still don't own a pair? Do all of the following and more with the CHICAGO CUTLERY® 4-PC. SCISSOR BLOCK SET. The set includes an herb snipper, general-purpose scissors and large kitchen scissors. Everything you need to make quick work of all sorts of kitchen tasks.
Here are 25 clever ways uses for kitchen shears. We think this list makes it clear why a pair of scissors almost always accompanies a good knife set!
Cut uncooked bacon into pieces. Make a messy task less so with a few simple snips. Or use scissors to quickly crumble cooked whole bacon strips over salads or soups.
Make quick work out of tender herbs. Grab a handful of chives and snip from top to bottom. Stack basil leaves, roll tightly, then cut into ribbons—now you know how to chiffonade like a pro.
Break down a bird. Prep a whole chicken and save a bundle. In just a couple of minutes, you can have wings, thighs, breasts and more ready for roasting, braising or frying. Get even more specifics with 3 Easy Ways to Cut a Chicken.
Cut whole canned tomatoes. Recipe calls for chopped tomatoes? Keep your countertops clean by cutting them into bite-size pieces right in the can. (Pssst…this works for canned pineapple, too.)
Shred roast chicken and other meats. Making chicken salad and pulled pork is a snap. Simply roast meat until tender and then slice away!
Take veggies from tough to tender. Cut the woody ends off asparagus, the chewy stems off mushroom caps and the tough stalks from broccoli florets.
Snip the perfect stir-fry. Cut snow peas, baby corn, chicken breasts and mushrooms into uniform pieces so they cook in a flash.
Cut lettuce or cabbage leaves into shreds. Stack and snip to your heart's content. Top a couple of tacos, toss together a single serving of salad or whip up a side of creamy coleslaw.
Make food safe for little ones. Cut cooked carrot coins, pasta or grapes into bite-size pieces that babies eating solid food can enjoy without a mama's worry.
Trim tortillas into strips or chips. Use up leftover tortillas after taco night by making your own chips at home. Simply cut corn or flour tortillas into triangles, then fry or bake.
Achieve pie perfection. Trim overhanging dough edges, carve venting slits into fruit pies so steam can escape or make gorgeous pie crust designs by cutting out decorative shapes from dough.
Crumble cheese like queso fresco or feta. Keep your cutting board clean and cut blocks right over salads, soups or other cheese-me-please entrées.
Safely open food packages. That's right, put the knife down. Avoid cuts or worse by opening food packages—the plastic or foil film on sour cream or yogurt, tubes of refrigerator biscuits, shrink-wrapped cheese—with kitchen scissors instead.
Protect hands from strong-scented aromatics. Fresh garlic and ginger add flavor to food, but they can leave hands smelling less than appetizing. Hold one end with a paper towel and snip what you need from the other. Problem solved!
Make your own croutons. Cut refrigerated bread dough or biscuits into big bits for monkey bread or stale bread into bite-size cubes for croutons.
Lose the leafy tops from fresh carrots and beets. Or cut the toxic leaves off of rhubarb stalks. You can also use scissors to cut edible chard leaves from their tougher ribs.
Guarantee same-size pizza pieces. Don't have a pizza wheel? With kitchen scissors, you can get a clean cut all the way through the crust without crushing all your tasty toppings. The same idea applies to quesadillas.
Trim the fat. Cut excess fat, skin or sinewy bits from raw chicken, steak or pork. Or use scissors to portion out slabs of ribs or beef tenderloin.
Cut food sheets. Nori (edible seaweed) wrappers, phyllo sheets, puff pastry or fresh sheets of pasta. Life just got a little easier, didn't it?
Slice and dice sticky dried fruit. Cut apricots, apples, mangoes and dates into smaller pieces perfect for trail mix, green salads or yogurt. The CHICAGO CUTLERY® CENTURION™ SCISSORS are the perfect choice for this simple task.
Ban the burn. The oil from fresh chile peppers can linger on fingers hours after handling. Now imagine taking out your contacts. Ouch! Keep hands at a safe distance by using scissors to snip jalapeños and serranos into pieces.
Peel and devein shrimp. It's a messy job, but someone has to do it. Simply cut a slit down the shrimp's back lengthwise, remove the peel and pull out the dark vein (which should be exposed).
Harvest garden herbs in a hurry. Cut the mature outer leaves off a bunch of parsley or cilantro, gather a few rosemary or thyme sprigs as you need them, or snip clean a small handful of chives in a snap.
Make perfect-size dumplings. Cuddle up to the ultimate comfort food by using scissors to cut bits of prepared dough into a creamy pot of chicken goodness to cook until tender.
And, finally, what are those teeth are for? Take a look! Many kitchen scissors have toothed grips near the handle that can be used for unscrewing bottle caps or cracking shellfish, nuts and bones. The CHICAGO CUTLERY® DELUXE SCISSORS even boast a flathead screwdriver!
EXPERT TIPS
Learn how to chop like a chef with our Chicago Cutlery® Master the Cut tutorials. Each feature in this series covers a variety of top-notch tricks from the pros. Learn new skills instantly, become a chopping champion in minutes. Here are a few of our favorite lessons:
Sound Like a Pro. Learn how to cut onions without crying and get the Perfect Restaurant Dice.
Chop Smart and Fast. Ever wanted to chop like a ninja? Here's how.
Anatomy of the Knife. Learn the lingo and discover the science behind every knife in your collection with this quick-reference infographic.