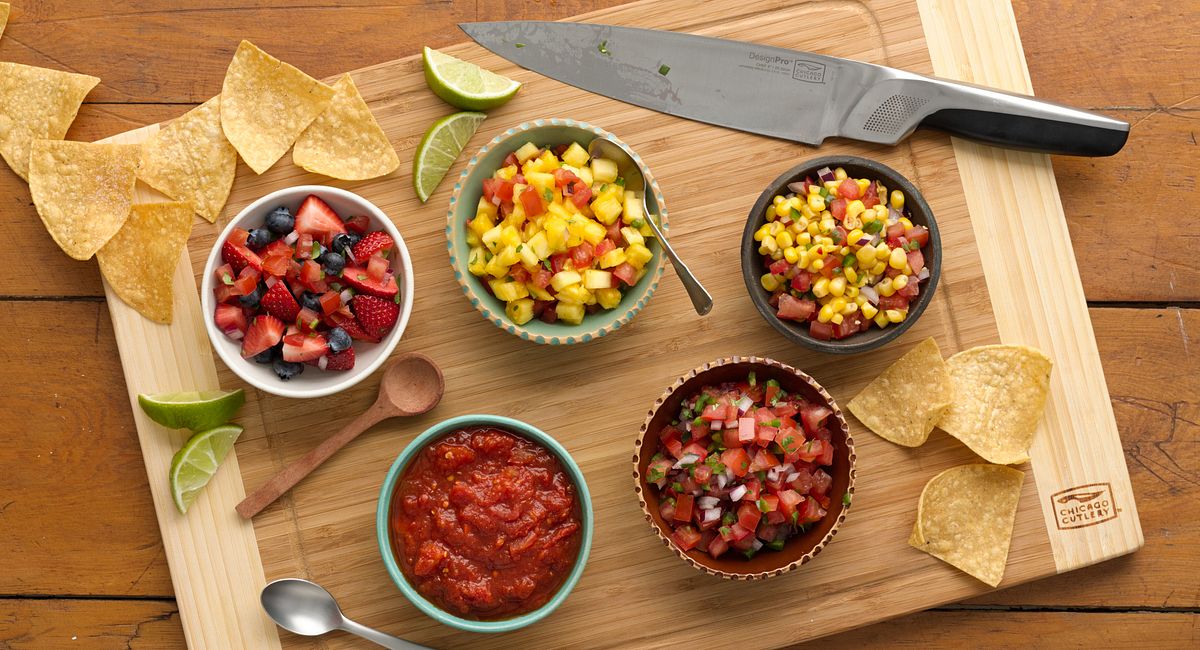 Cinco de Salsa
To celebrate Cinco de Mayo, make this the year you master the ultimate condiment: salsa! More than just a dip for chips, salsa is a Mexican cooking staple that can single-handedly take your meal from bueno to excelente!
A memorable salsa has sweet, spicy and savory notes, along with a juicy texture and bright, zesty finish. Get inspired by these 5 kinds of salsa (that, excluding salt and pepper, happen to have just 5 ingredients or less!), then mix and match your favorite components to make your own custom version. Ready to create a fiesta of flavor? Grab a well-sharpened CHICAGO CUTLERY® CHEF'S KNIFE and get chopping!
PILE ON THE PICO DE GALLO
This classic version, made with red, green and white produce, mimics the colors of the Mexican flag. The key components are a chunky texture (as opposed to smooth or "soupy") and fresh produce. For a good starting point, chop half a small white onion, one jalapeño, half a bunch of cilantro leaves and five small plum tomatoes together, then season to taste with salt, pepper and lime juice. Use it anytime to punch up your snack or meal with a bit of crunch and a dose of zing.
ROCK A RED TOMATO SALSA
What most of us think of as "restaurant-style" red salsa is usually made with stewed canned tomatoes, not fresh. Next time you're craving some, skip the trip to the taqueria and make your own version at home. Drain a 14-ounce can of diced tomatoes (we like the fire-roasted kind for a smoky flavor) and reserve the juice. Chop half a medium white onion, mince a jalapeño and a few cloves of
garlic, and tear up a fistful of cilantro leaves. Mix together, then play around with the flavor and consistency by adding the reserved tomato juice, and season to taste (optional) with salt, pepper, lime juice and a bit of ground cumin until you achieve your ideal sauce.
MAKE IT POP
Crunchy sweet corn is another summertime vegetable that deserves a place on your salsa ingredient roster. We like to top our tortillas with a pared-down mixture that uses a heaping cup of fresh or frozen corn*, a seeded jalapeño, a quarter of a small red onion, a half cup of cilantro leaves and fresh lime juice to taste. Dice the larger ingredients and mix everything together by hand, then sprinkle with salt and pepper as desired. (*If using frozen corn, cook, drain and cool it before adding to the other ingredients.)
BRING ON THE BERRIES
Fresh seasonal fruits lend sweetness to salsas, providing a nice counterpoint to the heat of the chile peppers. They also pair nicely with a range of other fresh herbs, so try swapping out cilantro for mint, basil or even tarragon. Blogger Susan Anderson of We Are Not Martha spoons her Strawberry-Mint Salsa over grilled steak tacos to give 'em a little sweet heat.
CHOP A TROPICAL TREAT
For a nice balance of acidity and sweetness, take inspiration from Marcie Robinson of Simply Real Moms and try mixing in an island-inspired taste. Her simple Pineapple-Tomato Salsa combines ripe tomatoes and juicy pineapple chunks with freshly squeezed lemon juice and a chiffonade of fresh Italian basil. A good one for kids or those who like their salsa flavor more mild than wild.
EXPERT TIPS FOR CREATING HOMEMADE SALSAS
Use salsa recipes as inspiration, but don't feel compelled to follow ingredient measurements to the letter. Instead, taste as you incorporate ingredients, as your preferred ratios may vary based on the sweetness of your produce and the heat level of your chiles.
Firm, pungent ingredients, like onions, garlic and chile peppers, should always be finely chopped or minced; softer elements, such as strawberries or tomatoes, can be left on the coarse side for a chunky consistency.
Play around with different types of chiles for varying levels of heat. Roasted poblanos or seeded jalapeños are nice for a milder salsa; opt for serranos or even habaneros for something heavy on the heat.
If possible, chill your salsa for at least half an hour in a sealed container before serving to allow components to meld together and flavors to blend.
If you prefer salsa with a smoother texture, simply pulse in a food processor.
Still hungry? We've got more tips on making fresh homemade salsa that'll help spice up your Cinco de Mayo party—or any get-together!
YOUR TURN: What are your favorite salsa combinations? What about your preferred chip shape?