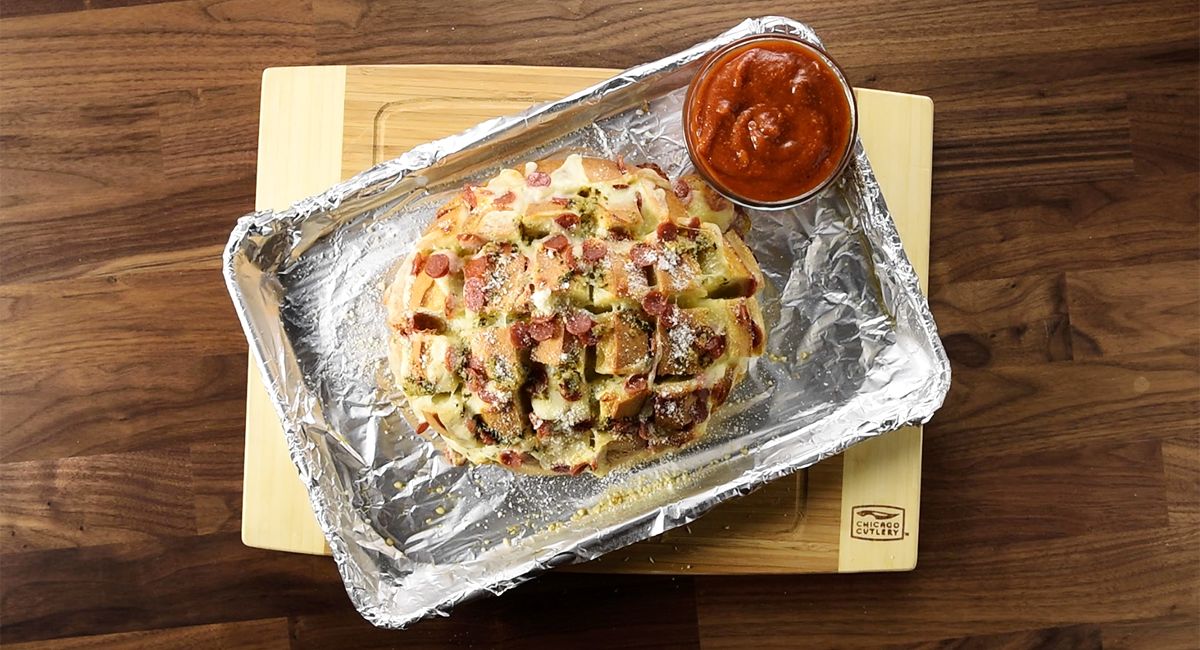 Here's How to Make Bloomin' Bread
If you love bloomin' onions, you haven't lived until you've done the same to bread! Grab a round of baked sourdough or shepherd's bread and use our step-by-step guide to cut it "bloomin' onion" style. Then, fill with any one of our three cheesy flavor combos, bake and serve. This may be the single greatest thing to happen to bread since…well, sliced bread!
PREP YOUR LOAF WITH 3 EASY STEPS
Heat oven to 350°F. Cut a round loaf of sourdough or shepherd's bread lengthwise and widthwise (making a checkerboard pattern) with a CHICAGO CUTLERY® UPTOWN® BREAD KNIFE. Be sure to avoid cutting through the bottom crust.
Place loaf on a foil-lined cookie sheet. Insert slices of cheese and other toppings between cuts. Drizzle with melted butter (or one of our spiced butter mixtures, see below). Wrap foil around the loaf. Bake 15 minutes.
Unwrap loaf; bake 10 minutes longer or until cheese is melted.
UPGRADE YOUR FLAVORS
Turn a basic loaf of bloomin' bread into a fully loaded side dish. These 3 ideas are some of our favorites.
Bloomin' Pizza Bread.
Every night feels like Friday night with this easy-to-share, pizzeria-inspired twist. Great as a late-night snack or pregame appetizer, this bread can even be enjoyed as a stand-alone dinner. Prep tip: Mix the butter, garlic powder, Italian seasoning and Parmesan cheese together before drizzling.
What you'll need:
1 unsliced round bread loaf
12 to 16 oz mozzarella or provolone cheese, thinly sliced
1 package (3.5 oz) pepperoni, slices cut in half
3 tablespoons butter, melted
1/2 teaspoon garlic powder
1/2 teaspoon Italian seasoning
2 tablespoons grated Parmesan cheese
Pizza or marinara sauce, warmed for dipping
Bloomin' Garlic-Cheese Bread
You can't go wrong with this classic flavor combo. Garlic and cheese might be basic, but that doesn't make it any less mouthwatering. Not to mention, this simple side tastes great with just about everything. Prep this recipe by mixing the melted butter, garlic and Italian seasoning together before drizzling.
What you'll need:
1 unsliced round bread loaf
1-1/2 cups shredded Parmesan cheese
1/4 cup butter, melted
1 clove garlic, chopped
2 teaspoons Italian seasoning
Bloomin' Cheddar-Bacon-Ranch Bread
This full-of-flavor combo really packs a punch. The deliciously crispy bacon paired with melted Cheddar and zingy ranch will have everyone begging for more. For best results, sprinkle the ranch dressing mix into the melted butter before drizzling.
What you'll need:
1 unsliced round bread loaf
8 to 12 oz Cheddar cheese, thinly sliced
8 slices bacon, cooked, crumbled (about 1 cup)
6 tablespoons butter, melted
1 rounded tablespoon dry ranch dressing mix
2 tablespoons sliced green onions
Ranch dressing for dipping
Don't make bread the backup. Put your loaf front and center when you serve it smothered in one of these gooey flavor combinations.
EXPERT TIPS