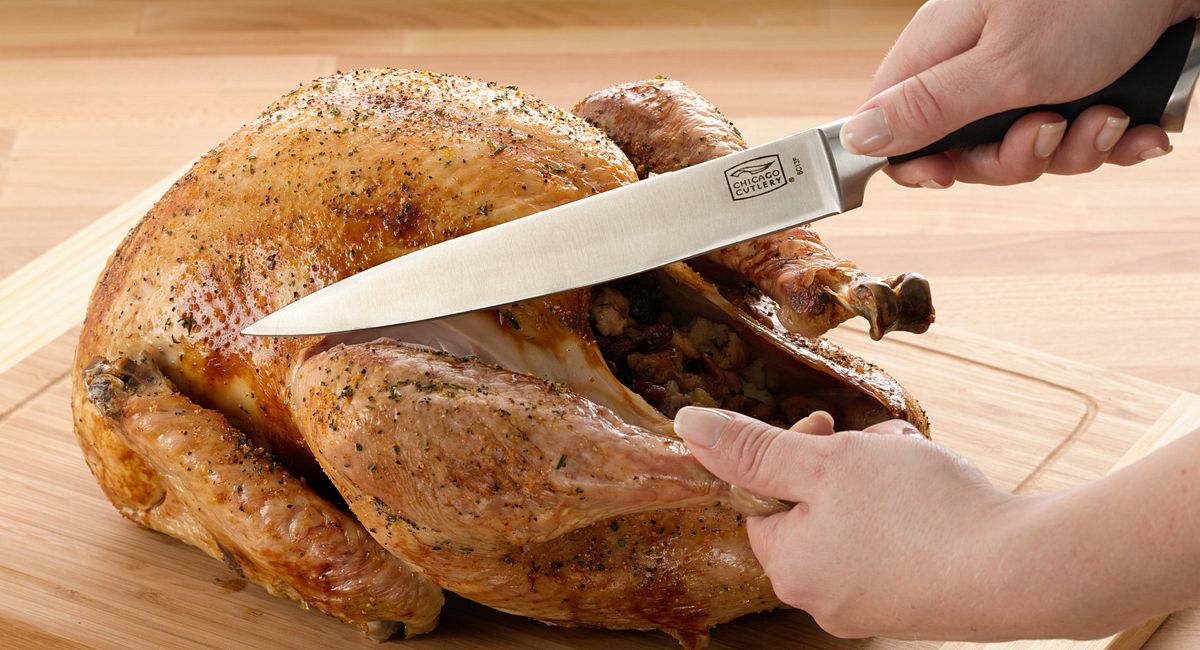 How to Rock (and not be) That Turkey
Hosting your first Thanksgiving? One thing's certain: Most menus have a whole lotta food that revolves around a big, juicy turkey. And you probably have a whole lotta questions.
Though this holiday is a biggie and you've got your work cut out for you, it'll all be worth it. We'll walk you through some helpful dos and don'ts to make sure your bird and its trimmings are tip-top, and you won't end up looking like a turkey!
DON'T GET OVERWHELMED. Everyone who has hosted has had a first time. Read through the rest of our tips, but also lean on family and friends for advice.
DO ERR ON THE SIDE OF EXTRA. Don't skimp and cheat yourself (or your guests) out of second helpings or yummy leftover turkey sammies! A good rule of thumb is to buy as many pounds of turkey as you have guests, which will ensure that there's plenty to go around.
DON'T SKIP THE THAW. Do take enough time to properly (and slowly) allow a frozen bird to thaw. We recommend the refrigerator: Set the turkey in a shallow pan and allow 24 hours for every 5 pounds. Your other option is thawing in cold water with a minimum time of 30 minutes per pound. Place turkey, breast side down, still in its unopened wrapper, with enough cold water to cover the turkey completely. Replace water every 30 minutes to keep it chilled.
DO YOUR MATH. Don't guess or "eyeball" it—allow enough time for your turkey to cook properly. Your bird is cooked once the thigh has reached 180°F, and the internal temperature (of breast or stuffing) is at 165°F. A simple formula is often written on the bag (or available online), but a 10-pound bird will roast for about 3 hours, and a 25-pounder can take 5 or more hours to fully cook. As far as when to pop it in the oven, you should first decide when you'll serve dinner, then work your way backward, allowing about 15 minutes for the turkey to rest and another 10 minutes for carving. Note that a stuffed turkey will take anywhere from 15 minutes to an hour longer than an unstuffed turkey, depending on its size.
DON'T OVERBOOK. Your oven, that is. Most likely, you only have one, and your turkey will be taking up most of it! Do create a schedule of what can go in and when, and when temps have to change. After the turkey comes out, you'll have roughly 30 minutes worth of oven space to reheat dishes such as stuffing and rolls. The trick is to mix in dishes that can be made on the stove, reheated in the microwave, or better yet, don't require any cooking at all. Need ideas? Check out our terrific Thanksgiving sides.
DO LEARN TO CARVE. Don't present your perfectly roasted bird with no clue about what to do next. Carving the turkey is one of the most rewarding parts of hosting Thanksgiving, and you can actually learn how to carve in 3 easy steps. Use a CHICAGO CUTLERY® FUSION™ 8″ SLICER / CARVER KNIFE for precision and ease.
DON'T LOSE YOUR LIQUID. Do use a cutting board with drainage wells, like the generously sized CHICAGO CUTLERY®WOODWORKS® 19.5″ X 13.5″ CUTTING BOARD to catch all that turkey juice!
DO DELEGATE. Don't take everything upon yourself, because you'll likely have to forgo sleep or fun. Make a game plan and assign tasks. The turkey, gravy and stuffing are already a lot of work, and usually end up on the host's plate. Whether you want someone to bring the sweet potatoes or the pie, or you need extra hands to set the table, let your friends and family join in the prep. A group effort makes Thanksgiving more special, and you'll have more time to enjoy their company.
DON'T HOARD THE EXTRAS. Do share the wealth. No matter how much you'd love to keep eating, you're bound to reach your limit at some point. And almost everyone loves Thanksgiving leftovers!
DO MAKE IT YOUR OWN. Don't be afraid to get creative. Hang on to a few traditions and favorites, but also mix in something different. Whether you introduce a new side or experiment with alternative ways to cook your turkey (like grilling or deep-frying), it'll be the special something about this year's celebration, and maybe even the start of a brand-new tradition.
EXPERT TIPS
DO A BUFFET EITHER WAY: Even if you're passing everything around your table(s), it's helpful to have a buffet or side table nearby to set serving dishes on while you're eating (and in between helpings!).
PACK SMART: Save leftovers for later, but don't ruin your hard work—learn the best ways to store your holiday leftovers.
BONE UP: After you've picked the carcass clean, place it in a stockpot filled with water and add chopped onion, carrots, celery and seasonings. Simmer for 2 hours, then strain and use the rich stock to make a savory soup for the weekend or to freeze.
One last tip: If you're pulling the wishbone, first make sure it's perfectly dry, then be aware that whoever gets the bigger side gets the wish, but the one with the smaller piece gets the last slice of pie!
YOUR TURN: If this is your first time making Thanksgiving turkey dinner, what tips have you learned from family or friends?