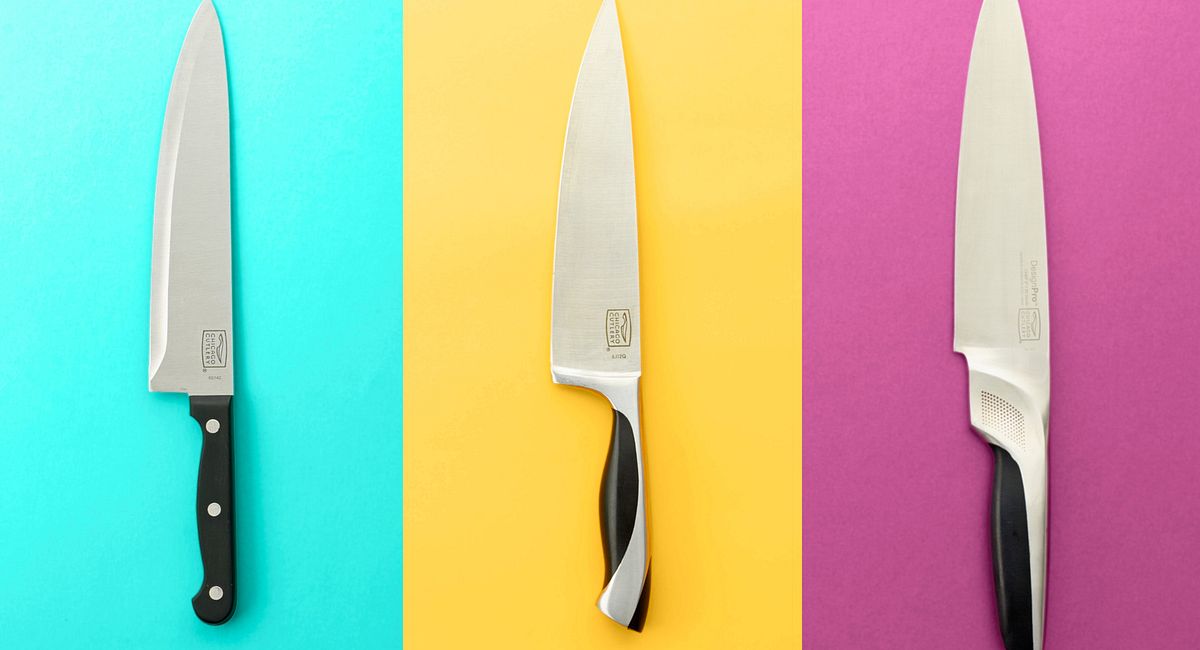 Kitchen Tools to Last a Knifetime
Eons ago, in the years WBCC (Way Before Chicago Cutlery), early man invented the knife, and it was good. Not great, but let's face it: The bar was set pretty low some 2.6 million years ago when cavemen first fashioned knives out of stone or bone. In the ensuing ages, knife technology, like mankind, evolved.
A SLICE OF HISTORY
Through the millennia, knives were made from copper, bronze and iron. But technology really took a quantum leap in the early 1900s, when the first stainless-steel knives appeared on the scene in England. In 1930, Chicago Cutlery began to make its mark on the burgeoning knife industry in the United States. And by 1969, the company was making professional-grade knives for everyday use by a wide range of consumers.
Today, the company offers a wide assortment of knife product lines that are either stamped (precision cut from large sheets of metal) or forged (hammered out individually from metal blanks, under extreme temperatures). With different lines that cater to various price points, Chicago Cutlery products enable cooking enthusiasts—from enthusiastic beginners to full-fledged chefs with mad chiffonade skills—to cook more confidently and efficiently.
Let's delve into some of Chicago Cutlery's primary product lines, all of which come with lifetime guarantees.
GOOD: For price-conscious cooks looking for great value without sacrificing quality, look no further than the CHICAGO CUTLERY® ESSENTIALS™ KNIVES, which offers the following features:
Stamped, high-carbon stainless-steel blades, which offer strength and durability and resist stains, rust and pitting.
A full tang (the shank that protrudes back from the blade, to which the handle is attached) for added strength, balance and control.
Triple rivets that securely fasten the handle to the tang.
Polymer handles for added comfort.
BETTER: If your existing cutlery is worn out and you're ready to graduate to a higher-level toolset, we suggest you check out the CHICAGO CUTLERY® FULLERTON™ KNIVES —high-carbon stainless-steel knives that rank a cut above the Essentials line and feature:
A dual-material handle (polymer and stainless steel) with sleek, contemporary styling.
Forged bolster that offers increased weight and balance and enhances safety by keeping fingers from running up the blade.
Full tang for added strength, balance and control.
BEST: Maybe you're ready to take your cooking game to the next level. Or perhaps you're an Iron Chef wannabe who'd feel more comfortable and confident using top-of-the-line kitchen cutlery. If so, consider the CHICAGO CUTLERY® DESIGNPRO™ KNIVES, sleekly forged knives with contemporary styling. Features include:
Highest-quality, ultra-sharp Japanese stainless-steel blades, which provide effortless cutting and control and make prep work fast and easy.
Stylish, dual-material handle (polymer and stainless steel) that's as comfortable as it is eye-catching.
Innovative grip that guides your hand right to the correct spot for superior cutting and control. Etched dots indicate proper finger placement.
Full tang for added strength and balance.
EXPERT TIPS
Sharpen knives frequently; a dull knife is dangerous and makes cutting much more difficult. For more information, check out THE SCIENCE OF MAINTAINING SHARP KNIVES.
For safer cutting, choke up! This means to move your hand up the grip so your hand straddles the bolster and your index finger and thumb grasp the blade.
For hard-to-cut items, use the heel, or rear, of the blade; this boosts leverage.
For more delicate cutting, use the tip of the blade, not the center.
To hold food down while cutting, tuck your fingers under your knuckles; it decreases the chance of cutting your fingers.
Whether you're a novice cook, auditioning for a Food Network show or merely looking to replace old knives, Chicago Cutlery offers a full range of quality knives to match your budget, ability and style. And every one features a lifetime guarantee. Cavemen WBCC should've had it this good.
YOUR TURN: On a weekly basis, how often do you reach for your knives?