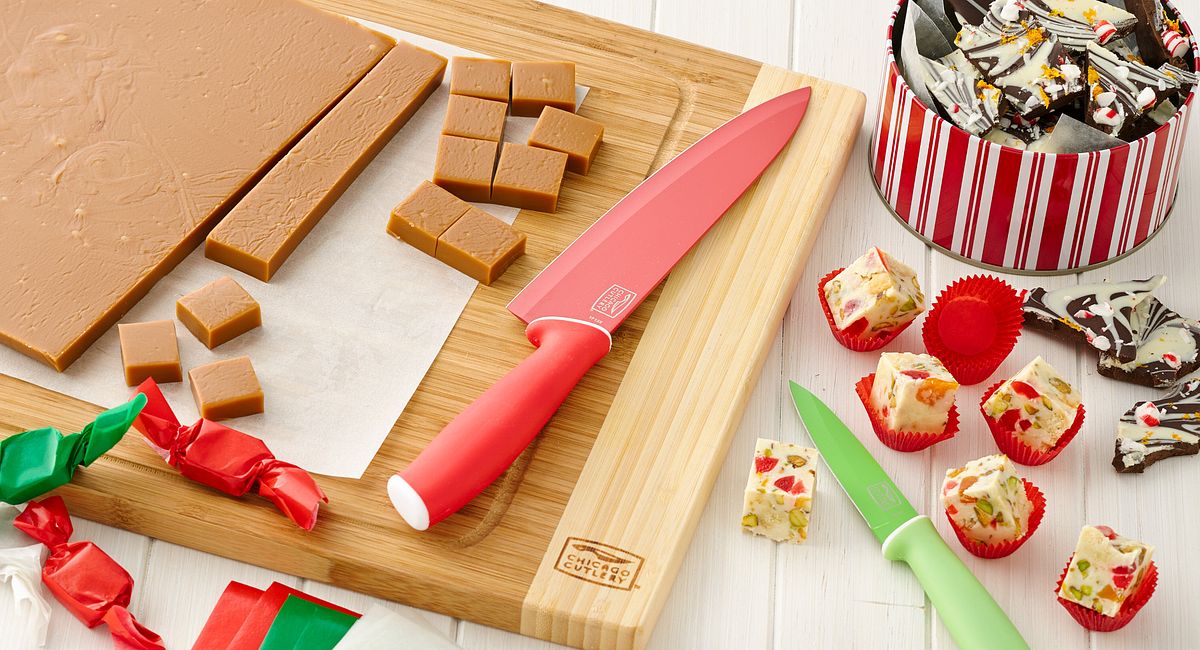 Make Your Own Stocking-Stuffer Candies
Skip the crowded malls and long lines this year by whipping up a batch of edible gifts that make the perfect stocking stuffers. You'll fall in love at first bite with these sweet homemade candies that are great for anyone on your "nice" list, plus you can always snack on leftovers while you're listening to Christmas tunes by the fireplace.
Homemade candy is actually quite easy to make, and the best part is you get to customize it with any flavors that fit your fancy. Plus, with a ton of pretty ways to wrap up and display your candies, they make gorgeous gifts that your friends and family will remember forever.
With chocolates, fudges and barks, try wrapping them up in small gift boxes lined with parchment paper, or use clear cellophane bags and tie them off with pretty ribbons. Caramels and other sticky sweets require a little extra attention. Individually wrap up each piece of candy with a small square of waxed paper, and then use a small square of wrapping paper to hide the surprise.
If you're making individual chocolate bars, wrap them in gold or silver foil before adding a plain paper wrapper that you can decorate with festive designs.
To get started, here are a few great candy recipes that are perfect for this holiday season!
Easy Caramels
Caramel may seem complicated, but all it takes is a little patience and a candy thermometer. With just a few simple ingredients, a little heat and a lot of time, it's really easy to whip up a batch of these satisfying bites. Try topping them with your favorite crushed nuts, a little bit of sea salt, crumbled pretzels or crushed Oreos!
GET THE RECIPE
White Chocolate Christmas Fudge
Nothing says the holidays like a sweet square of fudge. This version is perfectly dressed up for Yuletide fun with bright pops of color, thanks to a ton of pretty fruits and nuts. Your friends will fall in love instantly once they take their first bite.
GET THE RECIPE
Dark Chocolate-Orange Peppermint Bark
Chocolate bark is an easy way to get into making candy. Just melt chocolate, pour onto a parchment paper-lined baking sheet, sprinkle with fruit, nuts and candy, and let it harden. That's it! Then you can cut your bark into fun shapes or bars that are packed with flavor.
GET THE RECIPE
EXPERT TIPS
If you're making chocolates or other candies that are best kept a little cold, be sure to refrigerate them before giving them as gifts.
Cutting through sticky candies is sometimes a little tricky. Turn your tap to hot, and run a chef knife or utility knife, like those in the CHICAGO CUTLERY® VIVID™ 3-PC KNIFE SET, through the water to heat up the blade before making a slice. Or you can rub it down with just a little bit of oil or butter to make it easier to use. Coconut oil will add a nice sweet flavor!
Caramels, fruit jellies and other sticky candies need to be individually wrapped. It takes a little bit of extra work, but it's well worth the effort.