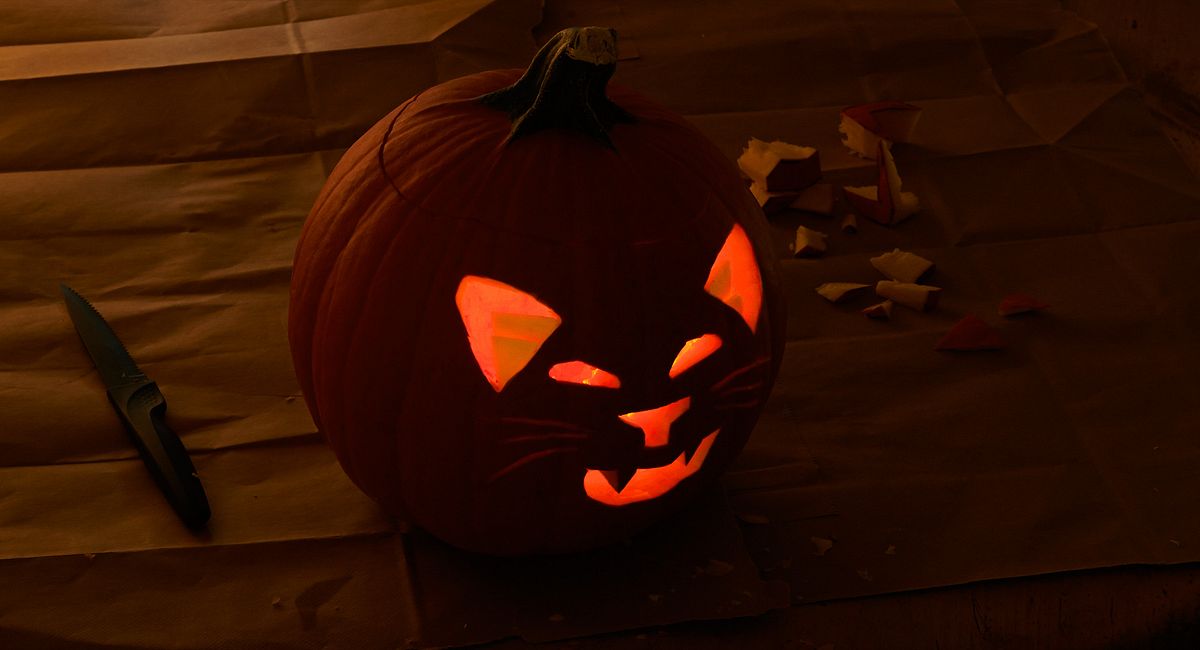 Pumpkin Carving Tips for Jazzy Jack-o'-Lanterns
They glow from front steps and twinkle from windows, warmly greeting trick-or-treaters and their protective entourages. Carving smiling (or scary!) jack-o'-lanterns for Halloween is one of those long-standing traditions that never gets old.
But to make the cut as the neighborhood pumpkin-carving Michelangelo (or Edward Scissorhands), you need more than just a sharp knife; a bit of how-to common sense and carving acumen helps, too. With that in mind, here are some tips that'll make pumpkin carving safer and more fun for all.
1. USE YOUR GOURD AND PICK WISELY
Look for an unbruised fruit with a flat base so it can't roll. Check out the bottom, too; soft spots or punctures will lead to rot.
Another clue to a healthy pumpkin—a sturdy stem. (But never use the stem to lift a pumpkin!)
Also keep in mind that larger pumpkins are easier to carve. Smaller ones are better suited for cooking because their flesh is more tender and flavorful.
2. GET THE INSIDES OUTTA THERE
Use a CHICAGO CUTLERY® WEST TOWN™ 5-INCH UTILITY KNIFE to cut a round hole in the top around the stem. Shoot for a 45-degree inward angle so it can't fall into the pumpkin. At some point, carve a small notch in the circle; this will take the guesswork out of how the top fits back on when you're finished carving. (If you like to leave the top of the pumpkin intact for design purposes, carve a hole in the back or bottom instead.)
To slow down the rotting process, cut an inch or so of flesh off the bottom of the lid.
Scrape along the sides and bottom to remove the stringy membrane and seeds. An ice-cream scoop or stainless steel measuring cup both have the strength and sharp edges needed for this task. (Reserve the seeds and roast for a yummy and nutritious snack. Get tips on how to do it in Save Your Seeds.)
If you use a candle to light your jack-o'-lantern, take your CHICAGO CUTLERY® PAIRING KNIFE or a small hole saw to cut a hole in the lid or in the back of the pumpkin. This acts as a vent to let heat escape.
3. PLAN AND PREP FOR PEACE OF MIND
Dry-erase markers work great for drawing a face or design for a carving pattern. If you don't like what you see, just erase it for a fast and easy reset. Grease pencils work well, too. (FYI, permanent markers and pencils won't rub off.)
For a totally different look, scrap the traditional face design in favor of something more decorative. For example, press flower- or star-shaped cookie cutters into the flesh, then cut out the resulting design; the effect is dramatic when backlit by a candle. Scope out other design ideas and templates online. For some, an EXACTO knife will be a true friend!
Look at your pumpkin a little differently. Try turning the pumpkin on its side and using the stem as a nose for your jack-o'-lantern's face. (You may want to shave down the side and let it become the bottom to give it a steady base.) Use balloon animals as inspiration. How about a pumpkin snowman? Or grab a pair of mini pumpkins or gourds and attach them as ears, arms or legs. Pumpkin puppy? Why not!
4. CARVE AWAY!
As you carve the jack-o'-lantern's face with a CHICAGO CUTLERY® PAIRING KNIFE, always cut away from your body, not toward it. (Here are some ideas for simple carving patterns.)
And you don't have to cut all the way through the shell; think outside the pumpkin and just carve in halfway, which creates a multidimensional and two-toned effect.
If your budding li'l carver is too young to handle a knife, consider making your kitchen table a no-carving zone and instead decorate pumpkins with paint, glitter or whatever else tickles your tot.
Remember, your next jack-o'-lantern's appearance is limited only by your imagination, dexterity and the sharpness of your knife blade!
BONUS IDEAS AND EXPERT TIPS:
Morph your pumpkin into a room deodorizer by sprinkling some cinnamon or pumpkin pie spice on the inside of the lid; heat from the candle will activate a pleasant autumn aroma.
Spread petroleum jelly on the interior walls and carved-out surfaces of the pumpkin. This will seal the rind and minimize moisture loss, which is what makes pumpkins shrivel.
To keep bugs and mold away—and animals interested in a midnight snack—spray your pumpkin with a bathroom cleaner that includes bleach. Or soak the pumpkin in a solution of 1 teaspoon of bleach to 1 gallon of water.
To better preserve your jack-o'-lantern, some experts recommend soaking it in cold water for at least an hour to firm up the flesh.
Whether you like a minimalist grin or an elaborate grimace, remember, there are only two non-negotiable rules to jack-o'-lantern carving: Be safe and have fun!
YOUR TURN: Do you have any out-of-the-ordinary tips or tricks for a better jack-o'-lantern? Please share!