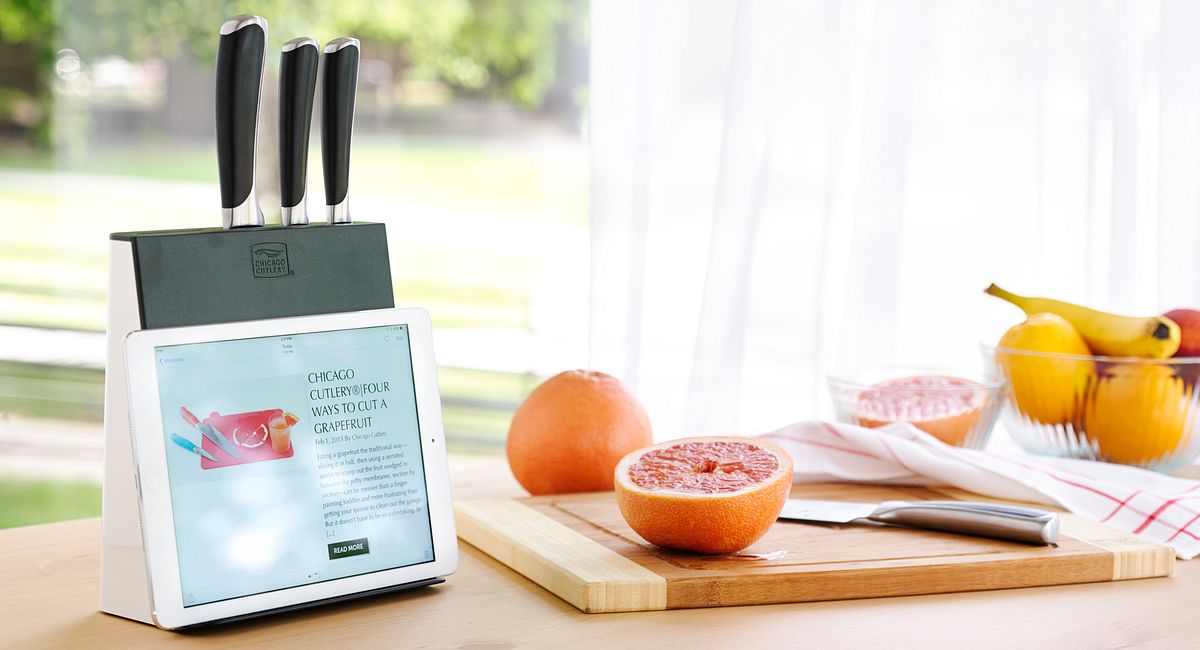 Trending Now: 5 Hot New Knife Sets
Trends are born out of creative thinking, innovation and thinking outside of the box. Just as cooks in their kitchens work their creative juices to serve up new foodie flavors, Chicago Cutlery® designers challenge their ingenuity to introduce tools to meet their changing needs.
And at Chicago Cutlery, knife designers hate being dull. That means a win for you! These five new trend-forward cutlery sets suit a variety of cooks' hopes and needs.
THE CONNECTED PREP SET
Perfect for compact kitchens, as well as multitaskers who need the best-of-the-best tools at their fingertips, the CHICAGO CUTLERY® WEST TOWN 6-PIECE PREP SET offers the most essential go-to knives in a small-footprint block. It is truly a multitasker, holding your tablet, smartphone or small recipe book. The versatile knife block fits tight against the wall, saving valuable counter space. And, the West Town Prep Set allows you to display your favorite cooking apps, recipe sites or foodie blogs for easy viewing while you cook, creating a more connected experience in the kitchen.
What's inside the 6-piece West Town set?
8″ serrated bread knife
6-3/4″ santoku knife
5″ utility knife
3-1/2″ paring knife
Knife sharpener
Space-saving knife block—just add a tablet, smartphone or cookbook!
2-PIECE "SHIFT" BLOCKS
Knife blocks that separate into multiple pieces are on the forefront of knife-block design. The best part? These contemporary blocks can stand perfectly together, fit flush against the wall, and make it convenient and safe to carry your steak knives to the table, deck or patio.

The CHICAGO CUTLERY® KINZIE 14-PIECE BLOCK SET
The CHICAGO CUTLERY® KINZIE 14-PIECE BLOCK SET features professional-quality, stainless steel blades with soft, curved, nonslip handles that provide a comfortable and secure grip. You'll love how the contemporary two-toned blocks nest within each other and then separate, giving you easy access to different knives. Plus, the smaller block is ideal for the dining table.
What's inside the Kinzie 14-piece block set?
7-3/4″ chef knife
7-3/4″ serrated bread knife
4-3/4″ utility knife
Two 3-1/4″ paring knives
2-3/4″ Peeler
Six 4-1/2″ steak knives
Two contemporary and contrasting wood blocks
Streamlined and efficient, the CHICAGO CUTLERY® UPTOWN 12-PIECE BLOCK SET features your go-to knives in a small-footprint two-block set. The professional-quality, high-carbon stainless steel blades feature ergonomic stainless steel handles with a sleek, satin finish. They're as comfortable as they are safe and stylish.
Each Uptown set includes:
7-3/4″ chef knife
4-3/4″ utility knife
3-1/2″ paring knife
Kitchen shears
Six 4″ steak knives
Two sleek, matching, vertical wood blocks
BUILT-IN SHARPENING POWER
The grand poobah of knife block sets, the CHICAGO CUTLERY® INSIGNIA2 18-PIECE BLOCK SET has everything but the kitchen sink! With 16 knives, a shears and built-in sharpener, you'll have everything you need within reach. It's all safely organized in an 18-slot, natural maple-colored wood block. The classy and traditional triple-rivet knife handles securely fasten to the full tang blade, which extends the entire length of the knife, providing strength and balance. BAM! How's that for power?

Each Insignia2 set includes:
8″ chef knife
7″ serrated bread knife
8″ slicer
7″ santoku knife
5-1/2″ utility knife
5″ boning knife
3-1/2″ paring knife
3″ paring knife
Eight 4-1/2″ steak knives
Kitchen shears
18-slot block with in-block sharpener
IN LIVING COLOR
Let the CHICAGO CUTLERY® KINZIE COLORS™ 9-PC KNIFE BLOCK SET help you get creative in your kitchen! This set features the same professional stainless steel Kinzie blades as the divided block set, now with colorful, vibrant handles. More than just knives, this set also comes with a sharpening steel and two colorful poly cutting boards that fit snugly into the bamboo storage block. Its small footprint design slides tight against the wall, saving valuable countertop space.
Kinzie Colors set includes:
7-3/4″ chef knife
7-3/4″ serrated bread knife
4-3/4″ utility knife
Two 3-1/43″ paring knives
Sharpening steel
Two poly cutting boards
Space-saving bamboo knife block
Whether your kitchen is small, or a chef's dream, these cutlery sets are designed to inspire your cooking as you master mincing, dicing…and maybe even the julienne! As always, Chicago Cutlery knives are covered by a full lifetime warranty to keep you chopping with each new kitchen trend.