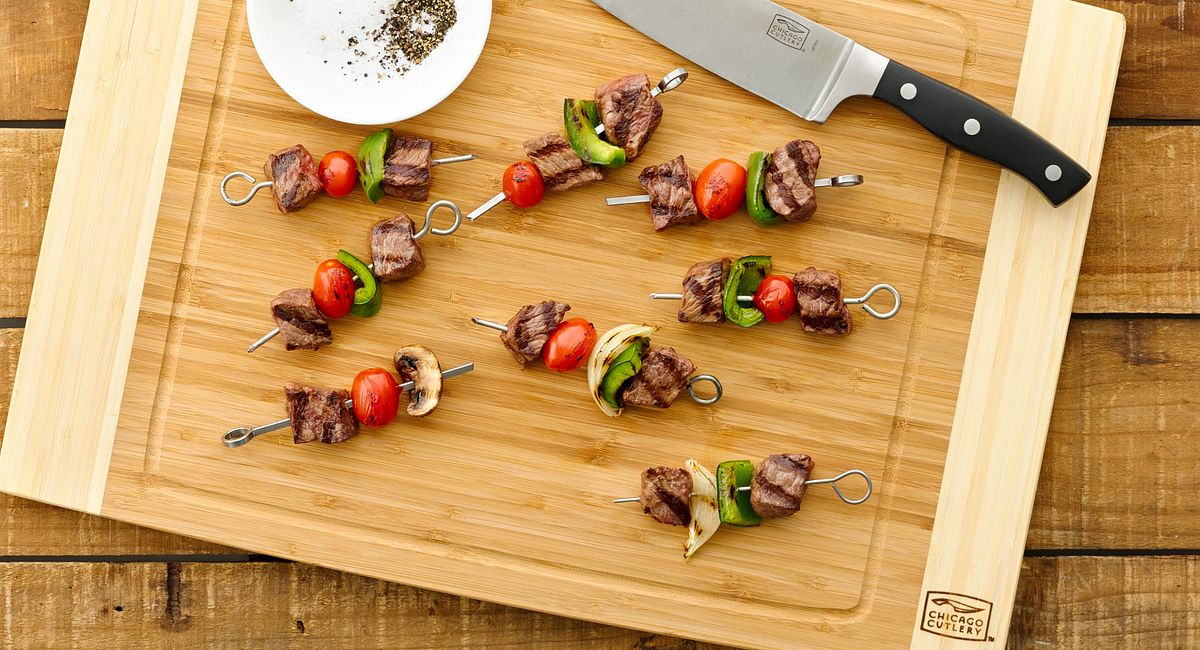 Turn That Meal into an App
Whether you're hosting an elegant dinner party or throwing a family-friendly shindig, chances are you're focused on one thing: the food! And it's likely you'll have guests who are thinking about the same thing. But while you've been working, they've been waiting all day to dig in…and they'll arrive hungry!
Take the edge off their appetites with mouthwatering starters to keep them satisfied while they mix and mingle. Looking for some fresh ways to wow the crowd? Here's a guide on how to portion favorite entrées into bite-size appetizers.
GET NEAT AND GO MINI
A surefire way to neatly serve a deliciously messy main dish to a crowd is by divvying it up into single-bite servings. Believe it or not, even mac 'n cheese can be made to fit parties of all sizes. Give our EASY TRUFFLE MAC 'N CHEESE CUPCAKES a try, and pull out your mini muffin pan to keep portions small. Find more cute little appetizer ideas using muffin pans HERE.
WRAP IT UP, SLICE IT DOWN
No matter the party theme, you can whip up wraps with fillings to match. The key to making these tidbits more tempting is slicing them down to size. Divide your rolls with precision and style using a CHICAGO CUTLERY® KINZIE COLORS™ 6.75" BLUE SANTOKU KNIFE. Go with about a 1-inch slice—any bigger and guests will look like chipmunks, any smaller and you'll lose your yummy fillings. Offer an assortment, as these will go fast! Start with our fresh CAPRESE ROLL-UPS, then get creative with ingredients like thinly sliced meats, shredded veggies, avocado, hummus or soft cheeses.
CUT TO RAISE THE STEAKS
If you're not serving steak as the main attraction, you can still impress guests with your favorite cut. Simply grill whole steaks and slice or cut into bite-size pieces. Or cube raw steaks, then marinate and cook 'em up kabob-style. Serve with skewers and dipping sauces like horseradish, aioli or chimichurri. The length and heft of a CHICAGO CUTLERY®DESIGN PRO™ 8" CHEF KNIFE will make it a cinch to easily cut the steak to size before or after grilling. Not a fan of red meat? Try chicken or pork!
TOSS IN ITSY-BITSY PIZZAS
You can transform a hefty pizza into mouthwatering morsels with the zip of a pizza wheel, but we recommend starting out small from the get-go. This will allow you to give your guests more variety. Go kid-friendly with meat and cheese, or spruce 'em up to impress sophisticated palates. Use our HAWAIIAN DEEP-DISH PIZZA BITES as inspiration, but don't stop there. Try combinations like spinach and feta or artichoke hearts and prosciutto to kick things up a notch. Add a salty splash of flavor with capers or olives, or top with a little pile of fresh, flavorful greens like arugula or baby kale.
HOT PASTA POPPERS
Tortellini and ravioli are already perfectly bite-size so they make a super-easy appetizer. All you need to do is coat them with regular bread crumbs or panko crumbs and fry them up. Make your own or take a shortcut and buy them premade from the refrigerated section of your grocery store. Choose a few different fillings, and serve hot and lightly crispy with bowls of marinara or pesto sauce and freshly grated Parmesan.
HINT: Use fresh rather than dry pasta to keep this from getting messy.
EXPERT TIPS
MAKE THE CUT WISELY. Not quite sure which kind of steak will make the best appetizer? Get tips on choosing the right cut HERE.

DO THE MATH. You want to make sure that there is plenty for everyone, but you don't want a ton of leftovers or people that are too full for dinner! Figure on three to four pieces per person before a full dinner, and six pieces before a lighter meal. A cocktail party is a different story—plan on 10-12 pieces for each guest if the party is earlier in the day, and if it takes the place of dinner, go with 15-18.

CONSIDER YOUR OPTIONS. For small gatherings, you only need three different appetizers, so choose carefully. If you're entertaining a bigger crowd, say 20 people or so, you can bump it up to four or five different choices. Thinking big? If you have 50 or more people attending, you'll want to give them about eight options to choose from.
Making amazing appetizers by using main-dish meals as inspiration is especially helpful when you can't decide what to serve. Now your guests—and you—can enjoy a little bit of just about anything!
YOUR TURN: Which favorite entrée would you most like to shrink down to size?