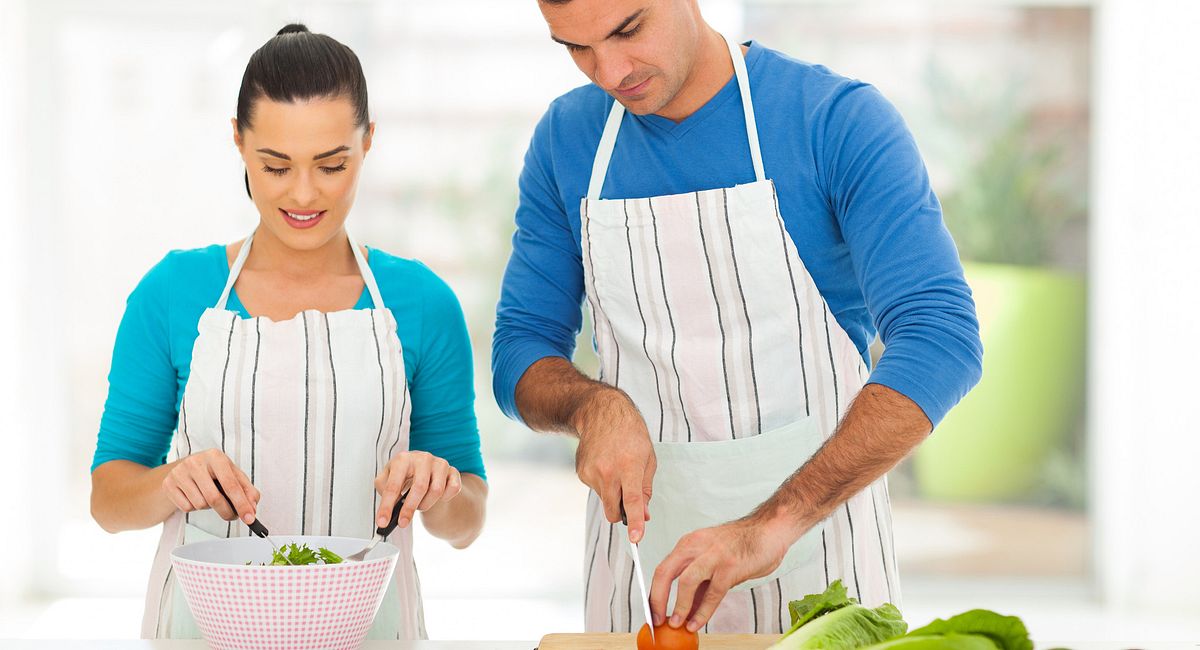 You Chop, I'll Cook
No matter who's responsible for dinner duty in your home, tackling that daily task every day in the same way can make the whole meal a bit, well, bland.
Spice up the supper hour by cooking the meal together with your better half. Not only do many hands make light work, but cooking together can bring you closer as a couple. Here's how:
COUPLES THAT COOK TOGETHER…
MAKE A BETTER TEAM. Working together toward a common, albeit delicious, goal builds camaraderie and trust. It also hones those communication skills that are so vital to a healthy relationship.
LEARN SOMETHING NEW. Maybe it's grabbing your CHICAGO CUTLERY® CHEF OR SANTOKU KNIFE and learning how to chiffonade basil. Or figuring out how to properly caramelize an onion. Whatever the task, trying new things together—and learning from each other—bonds couples through shared experiences.
TURN UP THE HEAT. Food is inherently sensual, and cooking together in close quarters is sure to invite the occasional come-hither look, touch or kiss. Take turns giving each other tastes of what's cooking, or take a couple minutes to enjoy a slow dance around the kitchen. No worries…no one's watching.
START OFF RIGHT BY…
HAVING A PLAN. Scour the Internet, your favorite food magazine or cookbook for recipes. Choose a dish that challenges your cooking skills or invites you to try a new ingredient or cuisine. (A bit of adventure can keep things interesting!) A word of warning: Don't be overzealous and bite off more than you can chew. An uber-complex recipe with hard-to-find ingredients or difficult preparation can create stress instead of solidarity.
STAYING AHEAD OF THE CURVE. Prep what you can ahead of time to allow for a little more fun and a little less "work" while you cook.
ROLE-PLAYING! Delegation is good, so assign a "head chef" and a "sous chef." The head chef reads the recipe, takes a look at what's coming next, assigns tasks and works the stovetop. The sous chef helps with the prep work and whatever else the head chef decides to send his/her way. Switch roles in the middle of cooking or the next time you make a dish together.
SET IT IN MOTION AND…
TAKE A DIP. Making fondue is both fun and romantic, and you really can't do this one alone! Prepare a cheese fondue with cubed crusty bread and chopped vegetables as an appetizer. Or cook your favorite cubed meats—steak, chicken, swordfish—tableside in hot oil or broth. One of you can chop and arrange all the goodies on a platter (TIP: Use firm-fleshed meats and cut into uniformly sized chunks), while the other prepares a few sauces for dipping. And don't forget about dessert! Chocolate-dipped strawberries and nuggets of angel food cake are a sweet way to end the night.
CREATE A STIR. Stir-fry, that is. With so many options, this dinner idea can be suited to anyone's tastes. Follow a spicy kung pao or tangy sweet-and-sour recipe, or choose your favorite ingredients and experiment. Pork tenderloin, beef rib-eye, snow peas, pineapple, carrots, mushrooms, bell peppers and green onions all complement many Asian-inspired or classic recipes and sauces. The cooking part is super quick, but there's a fair amount of knife work to share, so divide up the labor as you cut meats and veggies into bite-size pieces, then place in prep bowls. (TIP: Cut veggies on the diagonal to exposes more surface area for faster cooking and for sauces to adhere to. )
ROLL WITH IT. While you may not have the artistic touch of a dedicated sushi chef, it's easier than you might think to whip up a delicious dinner of rainbow rolls and salmon nigiri. Get ready to exercise your cutting skills, because you'll be slicing fish and julienning veggies till you can't take another bite. Check out how fun (and easy!) the MINIMALIST BAKER makes it look!
EXPERT TIPS
HONE YOUR CHOPS. Figuring out the best way to cut up certain foods, like HOW TO SLICE A PINEAPPLE, can be a challenge. Refer to our easy guide, and your partner will be duly impressed with your newly acquired skills!
SET IT UP. Choose your tools wisely and the prep will be easy. Need some sharp new gear? Refer to our ROUNDUP OF RECOMMENDED KNIFE SETS AND OTHER ACCESSORIES for novices and confident chefs alike.
AMPLIFY YOUR MOOD. Enhance your night with the right music. Sultry salsa, smooth jazz, mellow acoustic…whatever you're feeling, there's a soundtrack or playlist to intensify it.
Sharing your meal doesn't have to start when you take a seat. Instead, work up an appetite for dinner and each other as you turn that daily duty into a designated date night!
YOUR TURN: Would you rather give or take orders in the kitchen?