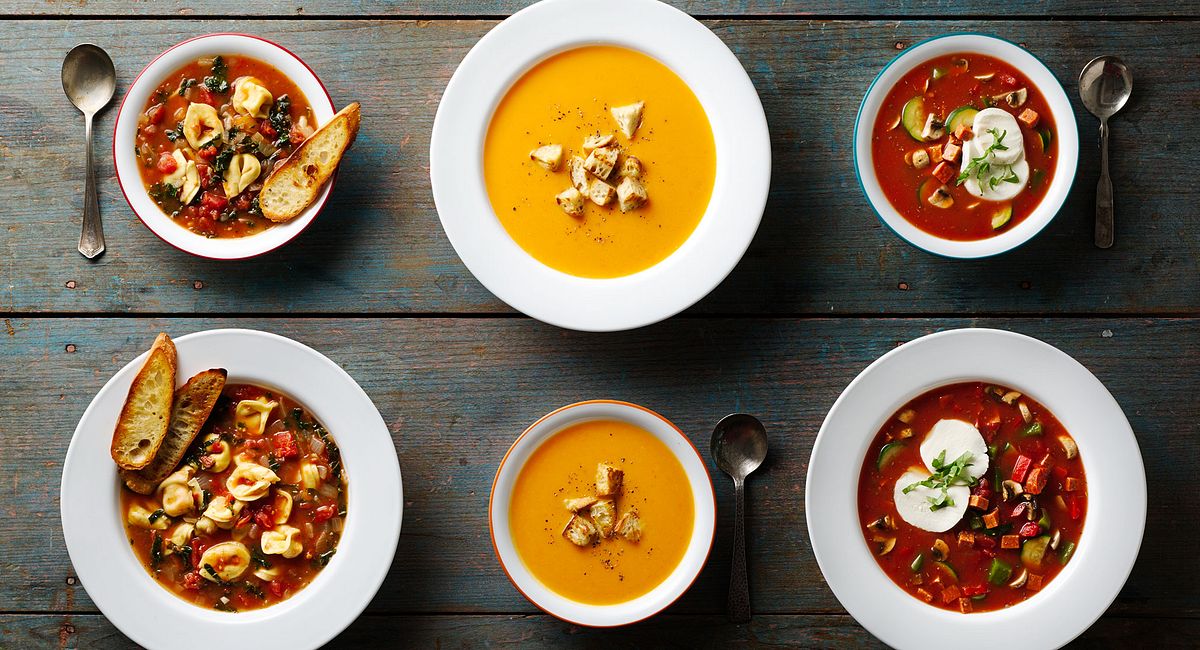 3 Ridiculously Easy Healthy Winter Soups
Does your pantry have what it takes to soothe the soul? Are you stocked and ready to cook up hot, spicy spoonfuls of America's most unsung comfort food? If not, get ready, because the soup's on!
For our third feature in a special series to celebrate National Soup Month, we've cooked up a trio of new soup recipes to dip your spoons into. We also have some fresh ideas for upgrading every kind of soup (even the canned stuff!) to make it hearty enough for dinner. Best of all? Every one of these delicious ideas is as easy as 1, 2, 3.
ON THE MENU
Cook up pots full of warm, comforting soup with these three all-new recipes. Simple, healthy and super quick, these ideas are so good, everyone in your family will love 'em!
Spiced-Up Butternut Squash Soup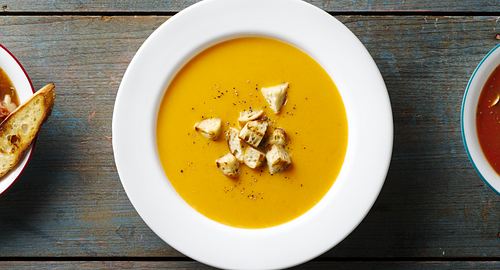 Creamy with a kick, this velvety-rich soup is a hot commodity during the winter months when squash is abundant. If cutting up gourds isn't your thing, you can easily opt for frozen cubed winter squash instead. Once it's cooked, ladle into colorful
CORELLE® BOUTIQUE™ BRUSHED ORANGE BOWLS
and you'll feel like you're serving sunshine for dinner!
GET THE RECIPE
Easier-Than-Takeout Tortellini Soup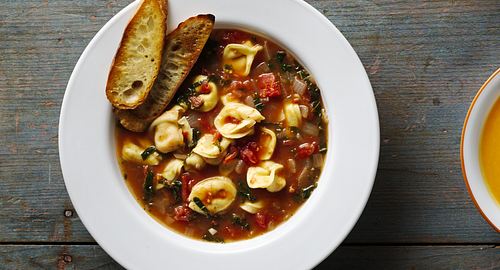 For a one-pot dinner entrée, this soup has it all. Make it vegetarian by using cheese tortellini. If you don't have kale, any leafy green will do. When it's time to call the troops in to dinner, transform your kitchen table into a welcoming Italian-inspired eatery with
CORELLE® BOUTIQUE™ BRUSHED RED BOWLS
. This splendid soup looks extra scrumptious when framed with the bold pattern of this dinnerware set.
GET THE RECIPE
Pizza Night Soup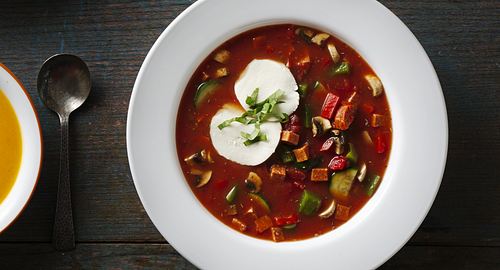 No need for delivery! This quick pantry dish is a great way to give everyone what they really want…pizza for dinner. Even busy weeknight meals feel fun with this recipe on the table, especially when you let your crew build their own bowls of soup, adding toppings in brightly colored
CORELLE® BOUTIQUE™ BRUSHED TURQUOISE BOWLS
. The playful pattern on the rim of these bowls lends a fun, relaxed flair to every meal.
GET THE RECIPE
DOCTOR, DOCTOR
When you're feeling under the weather, your souper-hero might come in a can…but that doesn't mean it has to be bland! Here's how we like to doctor up canned soup for an instant upgrade.
For tomato-based soups: stir in pesto, sautéed onions, leftover pasta or roasted chicken
For chicken noodle: add hot sauce, freshly grated ginger or soy sauce and wasabi
For cream-based soups: add leftover grains (rice, quinoa, barley) and a bunch of leafy greens
TOP IT OFF
Even the most basic soups can turn into a hearty, satisfying dish when loaded with toppings.
To garnish any soup, consider the flavor profile and texture. Fresh herbs and chives can complement the ingredients in a soup while adding aromatics and color. If you need a little crunch, try toasted nuts (pistachios and cashews are two of our favorites), Parmesan crackers…even popcorn!
For a more elegant approach, a small dollop of ricotta cheese topped with bruschetta makes an irresistible centerpiece in any Italian soup. Willing to go all out? Whip up a vibrant vegetable purée to contrast the color of your soup—a pea or carrot purée swirled over a butternut squash soup, for example.
Bottom's Up! Because what's underneath counts, before you dish up, think of some fun ways to serve your soup.
If it's meant to be a side dish, 11- or 12-oz CORELLE® MUGS are just the right size. To round out entrée soups, everybody loves an edible vessel, right? Simply hollow out large crusty rolls and place each one in a standard CORELLE® 18-OZ SOUP BOWL, or for larger portions try a stylish and functional CORELLE® VIVE™ DAZZLING WHITE 28-OZ WIDE-RIM BOWL, then fill with soup.
Alternatively, cooked acorn squash halves are a "gourdgeous" choice, especially for Spiced-Up Butternut Squash Soup (hint, hint). For less fuss, simply serve your soup over a bed of roasted vegetables or rice. Mmm, mmm! With all of these great tips in hand, now all you need is a spoon. Wishing you a souper National Soup Month, from our kitchen to yours.