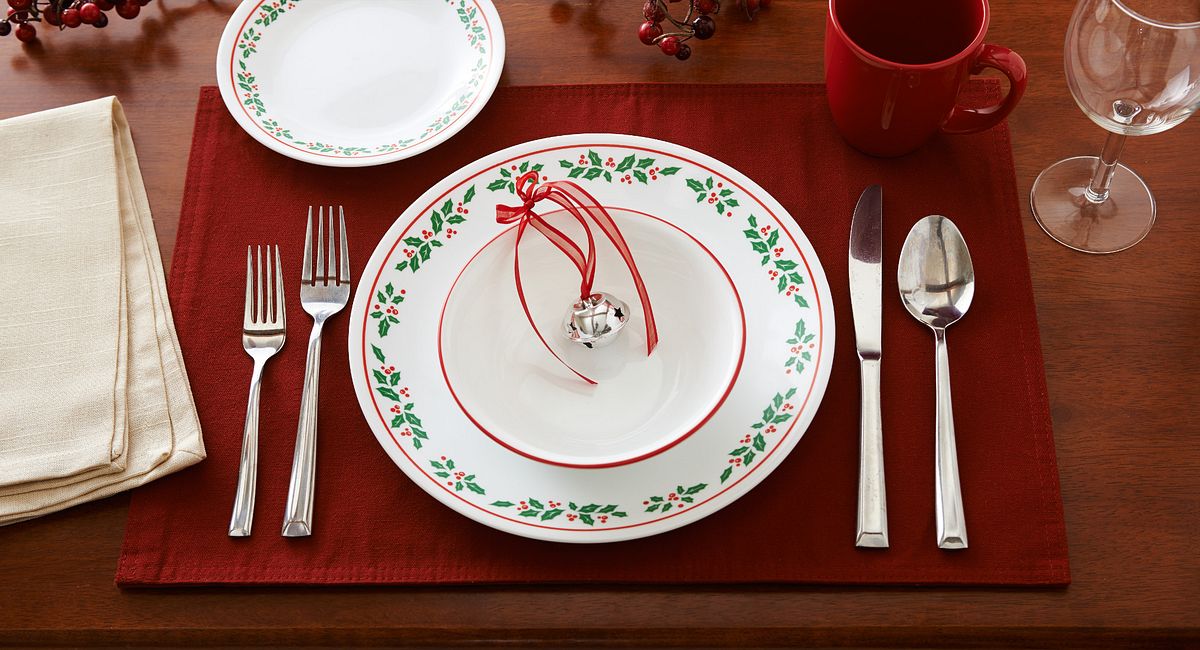 3 Ways to Set Your Holiday Table
From a Thanksgiving turkey feast to a kicked-back chili night, enjoying a meal together over the holidays is a special tradition for many of us. Your focus may be on simply spending time with family and friends, or you might use the occasion as a reason to indulge your creativity in setting a stylish table. But whether you prefer an elaborate "tablescape" and formal places when hosting a dinner, or you like the relaxed feel of a casually set table or serve-yourself buffet, balancing your chosen decor with the basics of setting a table will help the evening flow more smoothly and guests feel more comfortable.
'Tis the season for entertaining, so we've put together some tips and guidelines for how (and why) to set a formal or casual table, as well as using a buffet for serving.
ALL DRESSED UP
First, use your decor to set the mood. Linens lay the foundation of your look. Play around with textures and color combinations, or go monochromatic for a simple but strong statement. Centerpieces bring a festive element to a set table, whether formal or casual. No hard and fast rules here, other than to be sure the arrangement isn't so tall that guests are peering through them to talk across the table to each other. Try creating one larger centerpiece for the tabletop with smaller complementary arrangements on either side, or for a more modern look, place a slim, long and low arrangement along the length of the table. Candles always add ambiance, but be sure they are unscented.
FOR THOSE WHO FANCY A FORMAL SETTING
A beautifully set formal table can be as intimidating as it is attractive, but the guidelines are easy and straightforward. Etiquette sticklers aside, once you know the proper place for each piece in a formal place setting, you can use or omit as necessary. For example, if you're not serving a shellfish appetizer, you certainly don't need to set your table with cocktail or oyster forks just for the look!
Dress up a simple dinnerware pattern with more elaborate decor and let an intricate design be the focal point. The white Corelle Boutique™ Cherish dinnerware collection has a sophisticated embossed design and a modern squared shape, lending itself to a variety of decor and linen ideas.
The dinner plate should be placed with the bottom edge of the plate an inch from the table's edge, and centered in front of the chair.
From left to right, place a napkin, salad fork, dinner fork and dessert fork. Space evenly, about a half inch apart, and make sure they line up along the bottom, corresponding to the edge of the dinner plate.
The salad plate goes above the forks, while the bread plate with butter knife is placed above and to the right of the salad plate.
From the right side of dinner plate, going from left to right, place a dinner knife, teaspoon, soup spoon and cocktail fork.
A water glass goes above the tip of the dinner knife, and wine glasses are set to the right and slightly down from the water glass, forming a triangle of stemware.
The napkin can be folded in a simple rectangle or triangle, but fancier folds are impressive and often fairly easy to master. (If you're up for it, refer to Napkin Folding Guide for ideas and instructions.) Either way, it should be placed to the left of the forks or in the center of the plate.
TIP: A optional charger plate can hold a spot for the dinner plate, and should be removed after the salad course.
FOR WHEN YOU CRAVE A CASUAL FEEL
Oftentimes dinners during the holidays are shared between family and close friends, and are most enjoyed in a relaxed atmosphere. Flexible and comfortable, a casually set table will work well with any serving method. Use this basic setting if you want to serve a salad, bread, main course and beverage(s):
Choose casual holiday- or winter-themed dinnerware to reflect the season, like the Corelle Winter Holly dinnerware collection or the Corelle Birds and Boughs dinnerware collection.
Place a dinner plate approximately 1 inch from the table's edge.
Forks go on the left of the dinner plate with the salad fork on the outside; the knife and spoons go on the right with the knife on the inside. The knife edge should always face the dinner plate. The bottom edges of the flatware make a straight line with the bottom edge of the dinner plate. Butter knives should be laid flat on the bread plate with the cutting edge facing in.
Place the salad plate above the forks to the left side of the dinner plate, and put the bread plate slightly above and to the right of the salad plate. Omit either (or both) if you need more room on the table, and serve everything on the dinner plate.
The water glass sits above the dinner knife, and the wine glass sits to the right of the water glass.
A folded napkin goes on the left of the forks or in the center of the plate.
TIP: If you're serving soup, place the bowl on the dinner plate and the spoon on the outermost right side of the flatware.
THE BREATHE-EASIER BUFFET
Easy and practical, a buffet lets guests take what they like when they want, can allow for more room on the table and works especially well for larger groups. Whether guests end up sitting at the table or scattered around the living and dining areas, you'll still want to create a clear "traffic" line to and from the buffet table. Here are a few tips to make this choice work even better:
Kick things off with a stack of easy-to-grip plates. The Corelle Impressions™ Splendor dinnerware collection is a festive choice that can be dressed up or down, depending on your chosen decor.
Silverware, napkins and beverages are last in line to make it easier for guests to fill their plates. If possible, use a different table or space for drinks; guests can set their plates down and gather their drinks separately.
Place main dishes first with their corresponding sauces or condiments next to them. Place other condiments toward the end of the table. Sides should go next, and desserts last (or on a separate table, if possible).
All dishes should have serving utensils.
Leave a little space so guests can set down their plate or drink down as they serve themselves.
Create visual appeal and vary the height of your dishes to add interest and ease. For stands, use everyday items in your home, such as bowls or baskets turned upside down, large books, or even a box covered with a coordinating fabric or napkin.
If space allows, position the table so guests will have access from either side.
EXPERT TIPS FOR SETTING YOUR TABLE
For a formal setting with place cards (like a dinner party), put thought into assigning seats. Place your most lively and talkative guests in the middle to help with conversation. Seat spouses and best pals apart from one another. As the host, you'll want to be on an end where you can easily get up and move around if needed. You should also have any shy guests near you.
For a casual sit-down meal, consider going "family style" and passing serving dishes around the table.
For a buffet for a crowd, wrap silverware and napkins together so they can be easily carried.
For coffee and dessert, place all necessary items on the table after the dinner dishes are cleared.
However you choose to set your table and serve your meal, be sure that your guests are comfortable before, during and after. Give options to those with special needs and try to ask about restrictions ahead of time. Time things right so you aren't stuck in the kitchen and you can make introductions or simply enjoy talking with everyone. And remember, when someone offers to help, say yes if you need it!
YOUR TURN: What's your signature way to set your holiday dinner table?