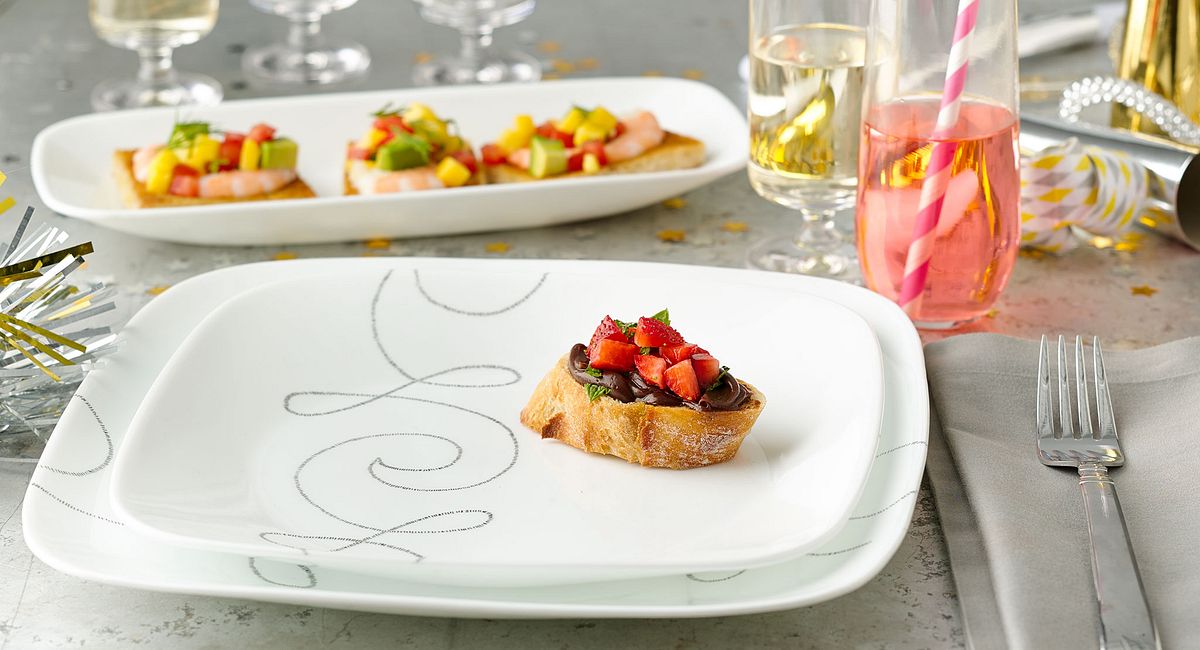 A Family-Friendly New Year's Countdown
Holiday poll: What's your favorite venue for ringing in the New Year? Club? Restaurant? Party at a friend's? How about someplace close and comfortable? Even though "Oh, we're just hanging out at home" sounds like an excuse to blow off the festivities, this choice lets you decide exactly how lively or low-key you'd like the night to be.
Staying in to say "so long!" to 2015 means a night of quality time with the family and celebrating with a cool combo of old and new. Here's an easy checklist for planning a fun and memorable night together. We've included suggestions for on-trend appetizers, DIY drinks and great ways to peek into the past as you pass the time 'til midnight.
SHINE UP YOUR SPACE
You can dress up almost anything in glittery gold or sparkly silver, from tabletops to doorways to windows. Hang metallic streamers and balloons for an instant party atmosphere, or try:
Setting table with festive pieces from the Corelle® Endless Thread Dinnerware Set or try the Corelle® Splendor pattern, which comes in both square and round shapes, to add whimsy or drama.
Gathering the kids to whip up easy and inexpensive party props and decorations. With tons of great ideas online, it might be hard to choose! We especially like the party hats from the blog Studio DIY, kid-friendly noisemaker shakers from The Centsible Life and the colorful confetti poppers from Ruffled.
Grabbing a couple of cans of spray paint to coat objects with a celebratory sparkle. Try spraying number cutouts to make a bunting of 2016s or giving old glassware a shimmery makeover.
AIM FOR FUN, NOT FORMAL
You're at home for a reason, so hang loose with easy-to-grab foods and fun-to-make drinks.
Finger food rules when it comes to your menu. Assemble a mix of light and hearty appetizers on Corelle® Serveware. Set it all out on the dining room table or kitchen island, and encourage casual nibbling throughout the night.
Encourage creativity by setting up a DIY drink stand with an assortment of fruit juices, sparkling water and sodas. Bubbles, bright colors and garnishes are all you need take a drink from basic to brilliant! Offer colorful straws and a variety of "swizzle sticks," like rock candy, lollipops or licorice for stirring up the one-of-a-kind concoctions. (Parents can get in on the fun, too: Even grown-up bubbly is more fun all dressed up!)
KEEP THE CLASSICS, TOAST THE TRENDS
New Year's Eve is a balance between the here and now and the remember when, so try to capture that vibe with your food, too. Include perennial faves, like saucy meatballs and cheesy dips, and sprinkle in some of the year's tastiest trends and of-the-moment flavors like these:
Quick, easy and cheap (who didn't eat these in college?), ramen noodles got a lot of play this past year. For an addictively salty snack, fry 'em up like they did in Oh, Bite It.
Call it crostini or bruschetta, but you're basically talking about toast. And toast is hot. Or cool, when you top it with this fresh and zesty shrimp cocktail salsa from Honest Cooking. Or sweet, when you pile on strawberries, mascarpone and Nutella, another ingredient that's in right now, as shown on Floating Kitchen.
Two more tasty trends, tacos and food trucks, come together in this sweet and spicy pulled pork phenomenon from Everyday Tastes.
WEAR IT WITH FLAIR
Sure, you're at home and it would be easy to just keep on whatever you wear that day. Or, you could make things a little more fun by suggesting a "dress code" or theme.
Get in character. Channel your favorites, from animated to athletic, or pick a show or video game and re-create the cast.
Pajama-rama! It's dark, it's winter, you're staying up late…why not get cozy in flannel or footies?
Find your own fancy. Glitz and glamour might be more suited to the girls in the family, but we're willing to bet the guys can come up with some pretty creative duds, as long as they know there are no constraints.
PLAY CAPTURE THE CALENDAR
The night is just as much about reflection as it is about celebration, and the perfect time to replay the most memorable moments of the year.
Hold a family film festival and bring out those home movies you hardly ever watch. Enjoy a montage of your lives to date, from the new houses and first steps to old friends and the last days of summer.
Rewind to simpler times and break out the old school games, like Life, Sorry or Twister.
Digitize your time capsule and record video snippets summarizing the best, silliest and strangest trends and events you'll want to remember. Save on a memory card or flash drive, or upload to a video sharing site with strict orders not to view until the agreed-upon future date.
EXPERT TIPS FOR ADDED FUN
Put together a party playlist and have every family member add a couple of their favorite songs.
Get creative with your toasts: Instead of making resolutions, share hopes and dreams for each other for the future.
Little ones too little to stay up 'til midnight? Turn on the TV or go online for a livestream of the countdown in an earlier time zone.
Above all, be in the moment and enjoy a fun night creating new memories together as you say good-bye, 2015 and hello, 2016!