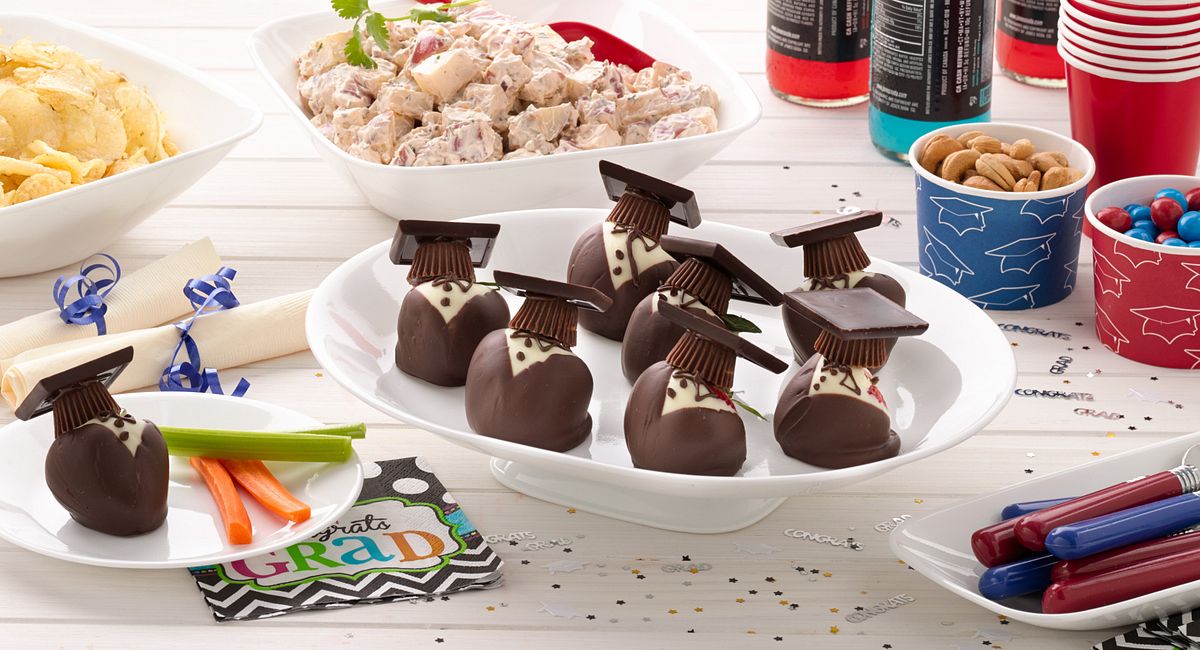 Ace Your Grad Party
In the blink of an eye, your baby went from gurgling to graduating. Hats off to a job well done and the new opportunities to come!
Instead of treating your party like one last exam to ace, we'll help you plan accordingly so you can enjoy the festivities and play the part of the proud parent (instead of harried host!). Get ready to give your grad the party he or she has earned.
LOCK DOWN THE DATE
Choosing the day and time is one of the first tasks in party planning, especially during graduation season. Stay ahead of the curve and set your date early, but check with close friends and relatives to make sure that your party doesn't overlap with theirs. Send invitations to local friends and family 3 to 4 weeks in advance, but give out-of-town guests a little extra time and send theirs at least 6 weeks in advance. (For those unfamiliar with your area, be sure to include a map along with local hotel suggestions.)
HAVE A PLAN B
June weather lends itself to taking the party outside. June weather can also be unpredictable. Not that it's going to storm—that will absolutely NOT happen on the day of your party. But in case gray skies throw you a curveball, have an idea for how you'd set up food and decorations in the house or garage. Or consider renting tents to keep your tables and chairs safe from the elements—even if it's a beautiful sunny day, you might need the shade.
MASTER MENU 101
Three tips to keep in mind:
Choose items according to convenience. Sandwiches are easy to make, serve and replenish. (Figure on 1 to 2 per person.) "Walking tacos" are fun and customizable. Salads can either be sides or mains, if you add protein. Round out with fresh fruit platters and veggie trays, as well as items like chips, pretzels, snack mixes, nuts and other easy-to-grab munchies.
Disposable plates and platters might seem like a smart shortcut, but Corelle® dishware is lightweight and super durable, plus the white collections go with any school color combo! Pick up a stack of CORELLE LIVINGWARE WINTER FROST WHITE DIVIDED DINNER PLATES or CORELLE SQUARE PURE WHITE DINNER PLATES and you'll use 'em again and again!
Ask a couple of friends or family members to take on buffet duty. They'll be responsible for refills and requests, and you can return the favor for their grad party!
TIP: Pad your head count. A little too much is always better than not quite enough.
KEEP COOL TO STAY SAFE
On warm spring days, food safety is key. Make sure you have enough refrigeration space and coolers for the types and quantity of food you'll be serving. You'll also need to have plenty of clean ice to keep salads, fresh fruit and vegetables, and meat and cheese trays properly chilled. An alternate idea is to fill a shallow plastic container with ice and set serving bowls on top. Be sure to use smaller serving bowls and replace when empty rather than adding fresh food to the dish that's been sitting out. Perishable foods should be left out no longer than 2 hours; 1 or less on hot days.
SUPPLY A BEVY OF BEVERAGES
Hydrated guests are happy guests, so make sure you've got plenty for your guests to drink—especially on a hot day. Assume up to 3 beverages per person, and provide cool options like water, iced tea, lemonade, punch and soda. If you're serving alcoholic drinks like beer and wine, keep pitchers or coolers of water nearby. And be sure to have coffee available, too! On the off chance your big day is cool and rainy, you'll want to make sure everyone stays warm.
LET THEM EAT CAKE (AND THEN SOME)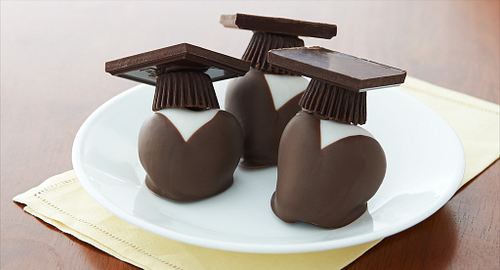 Especially at high school grad parties, there are bound to be a lot of teens dropping by. While they may not all sit down to eat, there's a good chance they'll make an appearance at the dessert table. The celebratory cake (or cupcakes) is a grad party prerequisite, but offering bars, cookies or other fun and creative options will earn you high marks with many.
We found lots of inspiration on Pinterest and love the idea of cap-and-gown themed chocolate-covered strawberries. You'll need strawberries, white and dark chocolate (broken-up baking bars or chips), mini peanut butter cups and small chocolate squares.
Here are simple step-by-step directions:
Wash and dry the berries.
Melt white chocolate in a double boiler or microwave.

Dip each strawberry in white chocolate and let stand on waxed paper until set.

After all berries are dipped and set, melt dark chocolate.
Dip the berries at a 45-degree angle, leaving a white triangle. Your berries should now be wearing "gowns" with "dress shirts" underneath.

Trim stems and use melted dark chocolate to glue a peanut butter cup to the top of each berry, then glue a chocolate square on top to complete the cap.
As a finishing touch, place two chocolate dots in the middle of the white triangle to look like shirt buttons. You can even add tassels to match your school colors by cutting small pieces of colored licorice or dried fruit strips!
TIP: Set out a few of these at a time and keep them cool, or their cute outfits might melt!
HIGHLIGHT THEIR EFFORTS
Get your grad involved by asking them to help create a display that'll share years of memories and accomplishments with your guests. Think photo boards, scrapbooks, trophies, awards, certificates and other meaningful memorabilia.
CAPTURE THE MEMORIES
After all the planning, you'll want to enjoy the big day, rather than get stuck documenting it. Ask someone else to take on that responsibility—or better yet, ask everyone else. Smartphones have made it easy to snap anything anytime, so create a hashtag (i.e. #AnnaGradParty) and ask guests to use it when posting photos on social media. By the end of the party, you should have a well-rounded collection of photos and you won't have taken them all—which also means you'll actually be in some!
EXPERT TIPS
GO ON LOCATION. If opening your home won't work, consider renting space in a public building like a community center, VFW or church. Or take it outside and gather in a park or even at the beach.
SHOW SCHOOL SPIRIT. From tablecloths, plates and utensils to customized desserts and party favors, your decor can give colorful credit to their alma mater.
DISPLAY THE GOOD OLD DAYS. Photo boards and crafty scrapbooks are fun ways to show off your grad's growth through the years, but you could also put together a running slide show (with soundtrack!) or set out a few digital picture frames.
All the years of writing papers, assembling projects, tackling math problems and attending school events have brought both your graduate and you to this milestone achievement. Though you're honoring a single graduate, once you've been through it, you realize it's a team effort. Congratulations to all!
YOUR TURN: How will you make your party fun and successful for both your grad and you, the hosts?