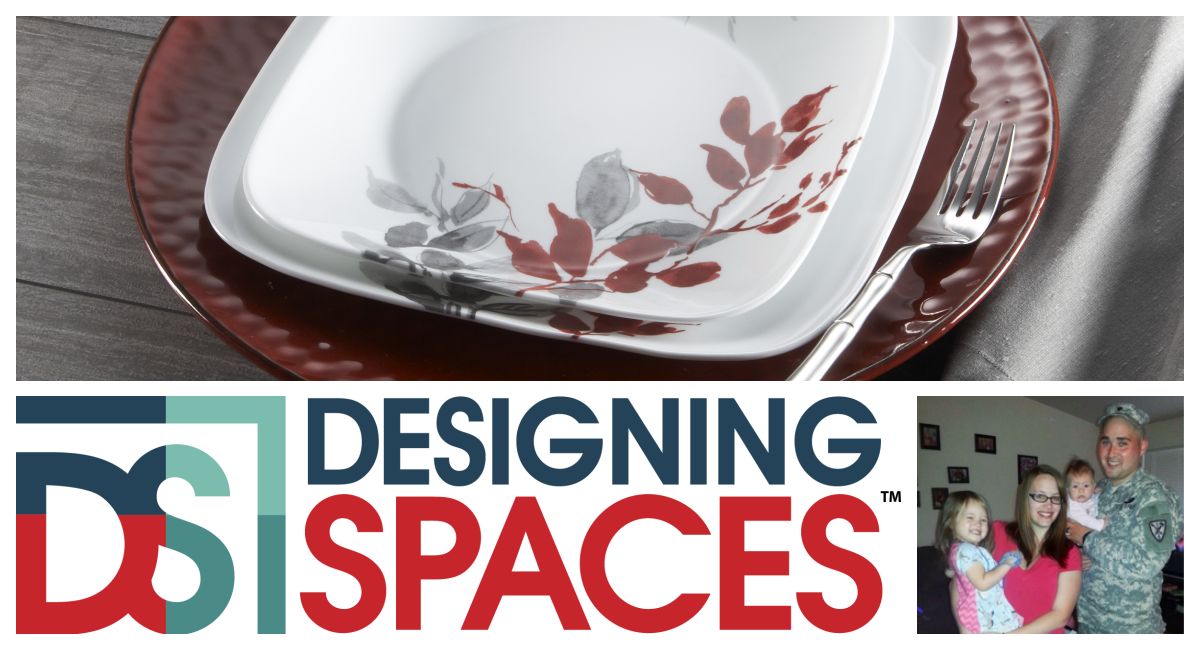 Designing Spaces Military Makeover: Honored to Serve the Travis Family
Corelle® brands salutes Army veteran Thomas "Tommy" Travis for his service to our country, and to his supportive family, including wife Bethany and two young daughters. Corelle® dinnerware is honored to be a part of your new home.
Corelle® dinnerware has teamed up with "Designing Spaces Military Makeover," the hit Lifetime television home-improvement series that travels around the country to renovate and redesign homes for veterans and their families rebuilding their lives. The massive home-renovation project is a daunting 1-week makeover from top to bottom, with the goal of giving military families a fast start in beginning their next chapter.
The Travis family will receive a three-bedroom home, complete with swimming pool, in Eustis, Florida. The home was donated by 85-year-old Wilma "Tinky" Stuart, who also knows the ultimate cost of military combat after losing a loved one in service. It's the first time in the show's history that someone donated a property for a family.
"I have two other homes and decided I don't need these properties and that I should give them to someone who could really appreciate them," she said in a recent interview. "The servicemen and servicewomen have sure done a lot for us. It's time we start giving back to them."
Tommy suffers from post-traumatic stress disorder (PTSD) and brain trauma from injuries sustained from a Humvee attack while in Iraq. He is in line to receive a Purple Heart. The gift of a mortgage-free home will help immensely, as will the complete renovation from Designing Spaces. The house is completely redone, with help and donations from local and national companies, brand sponsors, their employees as well as many local volunteers.
KITCHEN STYLE: MADE IN THE USA
When it came to furnishing the kitchen and dining areas with stylish and versatile dinnerware, Corelle dinnerware was a natural fit. Made in the USA since 1970, Corelle dinnerware has stocked military base kitchens with durable, lightweight and chip-resistant dishware.
Corelle brand manager Lindsay Ryg was on hand to help set up the formal dining room, providing dinnerware from the CORELLE® BOUTIQUE™ KYOTO LEAVES SQUARE 16-PC DINNERWARE SET, and for more casual dining CORELLE® LIVINGWARE™ SOUTH BEACH 16-PC DINNERWARE SET (perfect for around the new pool!). Also included was flatware from the BOUTIQUE BY CORELLE™ COLLECTION. Lindsay didn't stop there. She also incorporated pieces from the new CORNINGWARE® FRENCH WHITE® CAST ALUMINUM™ BAKEWARE line, setting the Travises up for many family dinners to come.
PEEK BEHIND THE SCENES
This renovation wasn't about just painting walls and setting tables. The house was fully refurnished and made ready for the family to begin living in from the moment they walked through the door. No detail was overlooked. Lindsay shared that one volunteer was even walking around with a paint can in hand, doing last-minute touch-ups just hours before the big on-air reveal.
"The entire experience was incredible! You show up and there are busy bodies doing a million different things to transform this house in a week," Lindsay says. "The local involvement was amazing and the energy level was so high. It was exciting and gratifying to see how everything comes together so quickly."
This has become quite the hometown feel-good story, as local news teams have been covering this event from the day Tinky donated the house.
The four-part "Designing Spaces Military Makeover" on Lifetime begins airing October 2 at 7 a.m. ET/PT, with the Travis Family reveal episode scheduled for October 23 at 7 a.m. ET/PT. Then, the entire country will get a chance to see the entire home makeover process for this deserving military family, and all the people who made it possible.