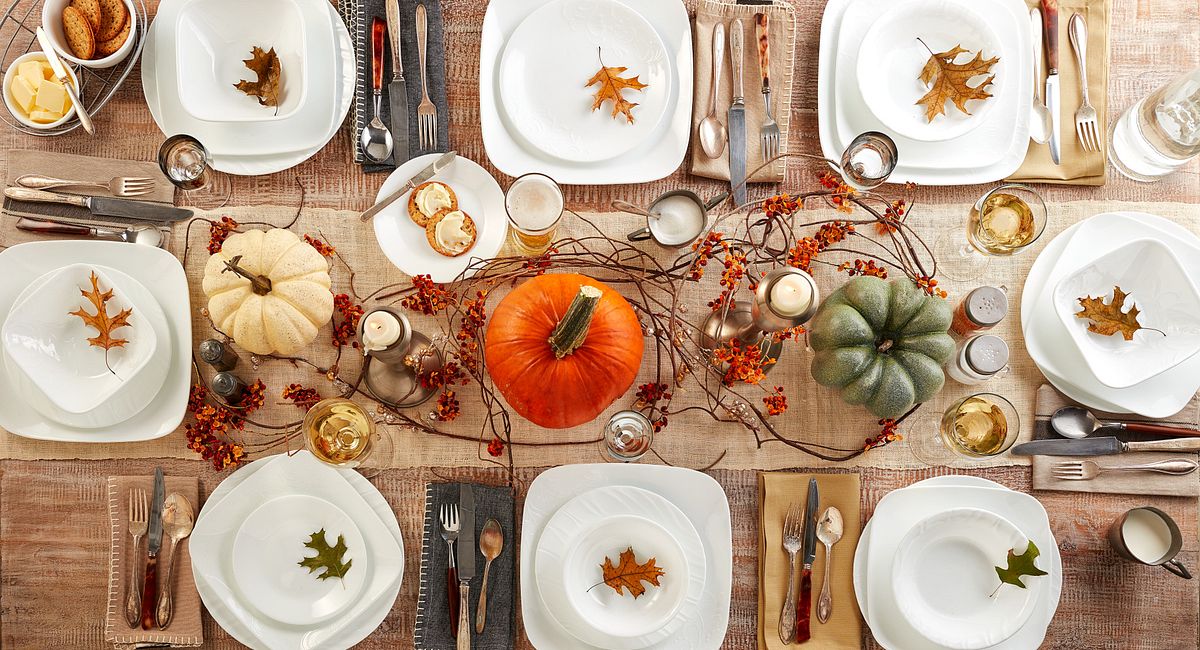 Farm-to-Table Fall Harvest Dinner
Hello, autumn! 'Tis the season of warm days and crisp nights, fiery displays of foliage and a bounty of fresh produce ready to harvest and share with friends.
A farm-to-table gathering is a great way to celebrate the shift in seasons, and hosting one is easier than you think. From seasonal produce-packed menus to gorgeous nature-inspired centerpieces, these ideas capture the essence of the plot-to-plate trend that's sweeping the country.
SHOP LIKE A LOCAVORE
When planning a menu around produce, selecting seasonal fruits and veggies is key. Farmers markets and grocery store shelves are bursting with the season's finest this time of year: apples, pumpkins, figs, squash, mushrooms, kale, pears, sweet potatoes, Brussels sprouts and more. A few tips while shopping…
When browsing your local farmers market, take some time to get to know the vendors. Talk to them about what grows well in your area, how they care for their produce and what will be coming to market in the upcoming weeks.
For the best selection, shop your farmers market early. It's how many restaurateurs get their pick of the produce. Plus, if you go too late, you may miss out on popular items.
The best deals are when buying in bulk (you'll enjoy the best flavors, too, since this produce is at its peak). Plan a menu around sweet corn, heirloom tomatoes or pumpkin. Preserve whatever you don't use up by freezing or canning.
A FARMERS MARKET MENU
Fall is an especially easy time to plan a produce-centered menu since so much is ripe and ready for the picking. Your only problem may be narrowing down what you plan to serve! A few ideas:
Easy appetizers like this Roasted Red Pepper and Kale Artichoke Dip or Arugula-Feta Stuffed Mushrooms.
Simple soups like Tomato-Sweet Potato Soup with Kale or Spiced-Up Butternut Squash Soup.
Fast-fix sides such as Baked Tomato-Zuchinni Blossoms, Roasted Brussels Sprouts and Carrot Gratin and Ultimate Fresh Green Bean and Mushroom Casserole
Meatless mains like Butternut Squash-Bacon Bechamel Pasta Sauce or Eat-Your-Veggies Noodle Pie.
FRIENDLY & FARM-INSPIRED
Preparing the food for a fall feast is only half the fun. Creating a warm and wonderful setting that welcomes family and friends to gather around a table full of home-cooked dishes is the other half. And you don't have to live in wide-open spaces to create a friendly farm-inspired feel.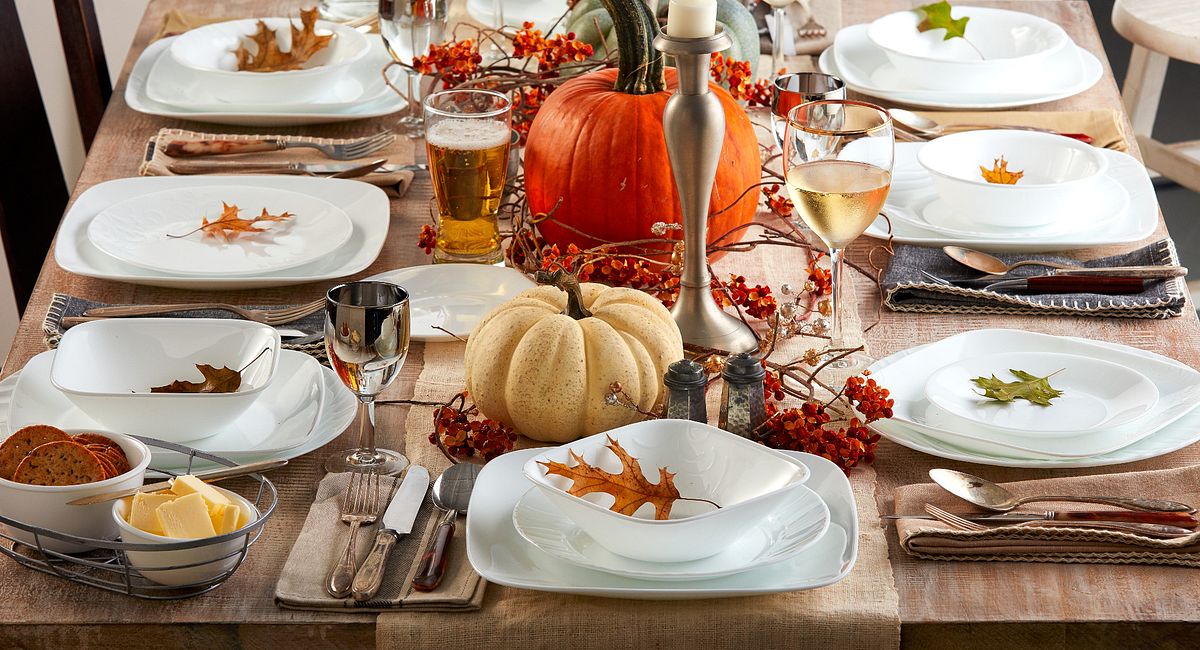 Start with a centerpiece. Keep the look casual, rustic and plentiful. Use a burlap runner down the center of the table (preferably something rustic like a wooden picnic table). Set out mason jars filled with fresh herbs or loosely gathered wildflowers, and provide ambient lighting with glass lanterns filled with white pillar candles. Fill in the gaps with mini pumpkins, artichokes and gourds.
Set a pretty table. Once the centerpiece is in place, set individual spots with simple dinnerware that lets your home-cooked food shine. All-white plates and platters set a casual, friendly and easy, breezy tone. Mix-and-match dinnerware is even more down-home. Select from the CORELLE® BOUTIQUE™ CHERISH COLLECTION, CORELLE® LIVINGWARE™ WINTER FROST WHITE SET and CORELLE® BOUTIQUE™ SWEPT EMBOSSED DINNERWARE SET. Place vintage-inspired cloth napkins tied with raffia or gingham ribbon for a splash of color, and set platters on rustic wood tree slice trivets or wooden boards.
Other pretty touches. A handwritten menu on a chalkboard, string lights swaying overhead, and plant containers showcased on wooden ladders or set on top of wood produce crates are added touches that go a long way in the ambience department. And forget about place cards—invite guests to mix and mingle like your dinneware.
YOUR TURN: Tell us about the farm-to-table faves and trends in your city. Share some of your dishes created with farmer's market ingredients and served on Corelle, on Twitter and Instagram, and don't forget the hashtag: #corelle!