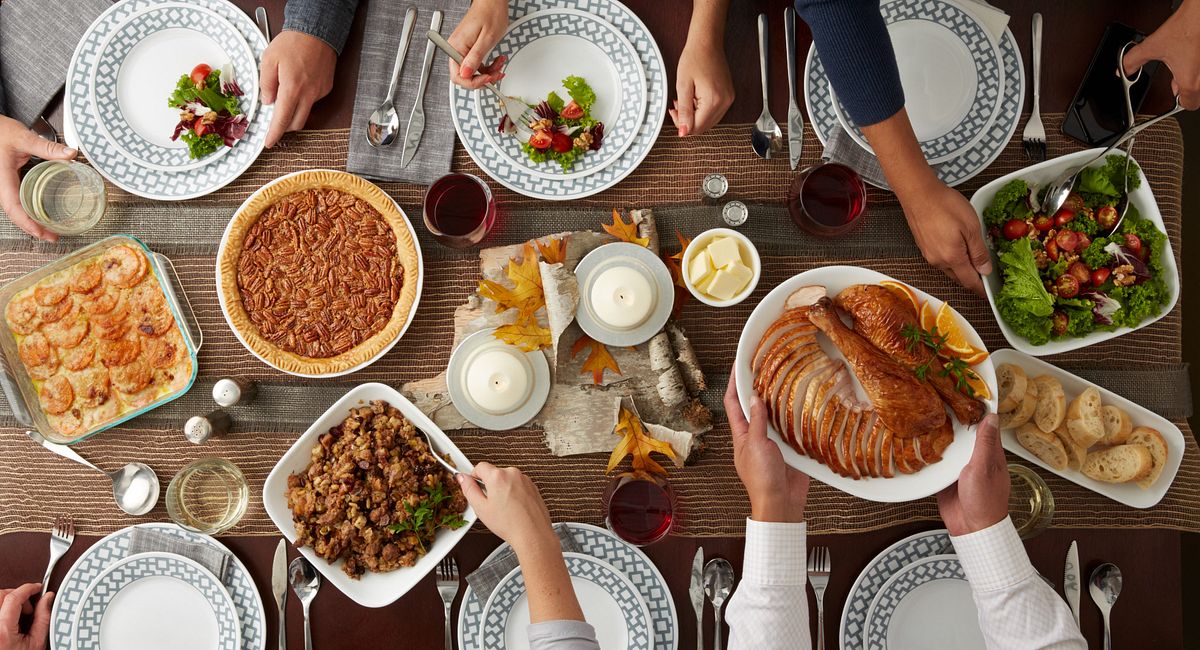 Friendsgiving Celebration
If travel isn't in your plans this Thanksgiving, create a new tradition with "Friendsgiving." Amid the hustle and bustle of everyday life, Friendsgiving is a simple way to slow down, celebrate your besties and reflect on what you're thankful for. With a little planning and a few expert tips, you'll find it's also a fun and stress-free way to enjoy the holiday.
Follow these 6 tips to create your own memorable Friendsgiving celebration:
1. Send Invites. Get the word out via snail mail, evite or Facebook. Remember to include the date, time and location. If guests are requested to bring food or party supplies, be sure to include those details in your invite as well.
Party Tracker. If you're inviting more than four guests, create a shared Google doc so everyone can see what others are bringing. Facebook invites also offer an easy way for partygoers to connect and communicate.
2. Plan the Menu. There's no need to take on every task yourself. Enlist friends to bring dishes and assign them categories. The host traditionally roasts a turkey, and everyone else provides a salad, side or dessert. Coordinating and delegating is key to having a nice balance of food on the table—you don't want to end up with five bowls of cranberry sauce! Make sure to include some traditional favorites like stuffing, potatoes and pie. Here are a few favorite recipes to get you started:
3. Keep Décor Simple. It's easier than you think to create a holiday-themed table. Lay out neutral table linens and let your Corelle® chip-resistant tableware take center stage. Layer a silver or gold table runner over a tablecloth and dot the runner with white mini squash. To create a beautiful dinnertime glow, group candles in glass votives along the center of the table. Feeling creative? Put a place card at each seat with "I'm thankful for" and a blank space for friends to fill in when they sit down. For the final festive touch, set your table with Corelle® holiday-themed chip-resistant tableware.
4. Serve Quick Cocktails. Now's not the time to play bartender. After all, you want to spend as much time with friends as possible. Whip up a batch of champagne punch or sangria in a glass bowl and let guests serve themselves. Encourage mingling by creating a drink station using a side table or small buffet.
5. Set the Mood. Care for some post-feast disco? A good playlist can set the stage for relaxing and reconnecting with friends. Everybody has a friend with amazing taste in music, so don't be afraid to ask someone to create a custom Friendsgiving playlist.
Just Push Play. Spotify has hundreds of free, premade playlists to choose from, and we bet there's one that's just right for your gathering.
6. Send Home a Little Something. Don't send your BFFs home empty-handed! Now's the time to share your favorite family recipe, be it stuffing, candied potatoes or an incredible pie. As the evening wraps up, say good-bye to guests with a printed copy of your recipe rolled up and tied with baker's twine.
Be Thankful. As a special gesture, pile leftovers high on a chip-resistant CORELLE® EMBOSSED™ BELLA PLATE and send them home with guests. Who wouldn't want some tasty turkey and stuffing to enjoy the next day?