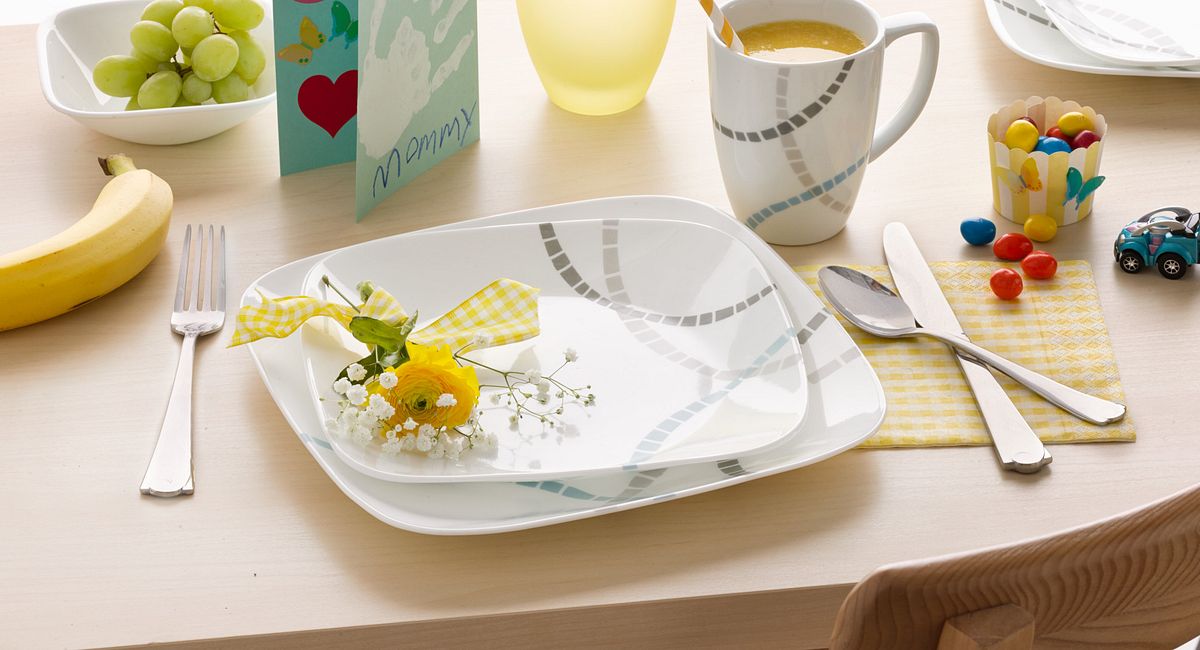 Fuss-Free Mother's Day Brunch
She's our one-and-only, and we know she'd do anything for us. So we try to show how much we appreciate her year-round, often falling short. But we can make up for it on Mother's Day, the second Sunday in May, the glowing highlight of spring. This is our chance to shower her with affection and demonstrate our full devotion. Or it used to be.
Why has this golden opportunity to fete Mom become more of an action item to check off on our endless weekend to-do list? Let's face it—it can be hard to make the time for a leisurely celebration in the semi-controlled chaos of spring busyness. Sure, going out is an option. Long buffet lines, inflated prices, overwhelmed servers. Sounds like a good idea until we're in the thick of it. And a little innocent voice pipes up: "This would have been more fun at home!" Now there's an idea…but who has the time to shop, clean, devise, prepare and host a special brunch worthy of your family's maternal VIP?
With shortcuts and delegation, we all do. The keys to pulling off a fuss-free special-occasion brunch are simple: Make dishes ahead time, make things easy and make everyone help out. Here's how:
SLEEP ON IT: Go for easy oven eats like egg bakes or French toast casseroles. Assemble the night before and refrigerate 'til morning. On our menu this year: a Spicy Asparagus-Bacon Strata and a decadent Banana-Chocolate Stuffed French Toast.
RISE AND SHINE: Young or, ah, not so young, we all look forward to the platter of freshly baked breads and pastries that traditionally kicks off brunch. Your timesaving options? 1) Head to your local bakery or grocery store, or 2) Whip up a quick batch of yummy sweet rolls. (Hint: Check out our feature Roll Out of Bed for tips and ideas!
SET AND FORGET: You have a slow cooker, right? Good news: It's not just for pulled pork and chili! Check blogs and other sites for tempting toss-'em-in and let-'em-cook recipes. We like the looks (and simple instructions) of the Brown Eyed Baker's Sausage, Hash Brown and Cheddar Casserole and Maple French Toast found on Mom's Kitchen Handbook.
GET FRESH: Most moms we know will welcome the addition of a fruit plate and/or simple salad. Save time by buying precut produce, and make it pretty by garnishing or arranging artistically. (Don't overthink it…she loved the preschool macaroni masterpieces, too.)
LAY IT OUT: Whether you go with a buffet or serve up each plate, you'll still appreciate having the table set beforehand. Spice up your everyday plates with a pretty tablecloth or printed paper napkins, or make new dishware part of your gift. If her style is more traditional, the softly pretty CORELLE® LIVINGWARE™ COUNTRY COTTAGE COLLECTION makes a sweet statement. For a modern aesthetic, the fresh design of the CORELLE® SQUARE™ SIMPLE LINES COLLECTION is as versatile as it is contemporary.
Tip: This is a great task for others in the family. Keep duties age appropriate and remind them to take special care designating (and even decorating) the seat of honor for Mom!
CUE HER IN: Seems obvious, but make sure she knows that you're in charge of this one and can handle it from start to finish. Whether she has a hard time letting others take care of her, or you're the type to ask advice and locations of essential items, make sure she's comfortably in her favorite chair with a drink in hand and something to read. And admonish her to stay until called!
Expert Tips
TAKE THE TIME TO TOAST: Pretty, fruity and best of all, fast! Sunrise Mimosas make a festive statement and take 5 minutes to put together. (Hint: They can be made without alcohol so anyone can clink glasses.)
FIND YOUR CENTER: A centerpiece for the table might seem like too much to think about when you're trying to keep things fuss-free, but all you need is a few minutes and the extra effort will be noticed, we promise! Mini potted plants, a bouquet, the gifts (!) or even something from your menu (see our feature on Edible Centerpieces for ideas).
CLEANUP COUNTS: Whatever you do, do not pile dishes in the sink (or worse, leave them on the table) until later. Mom will inevitably find herself taking care of the mess on her day. Make it a team effort and get it done before you head off to the next event on your calendar. This "gift" will possibly be more appreciated than any other!
YOUR TURN: How will you take the time to show Mom she means the world to you…and still fit in all your other weekend activities?