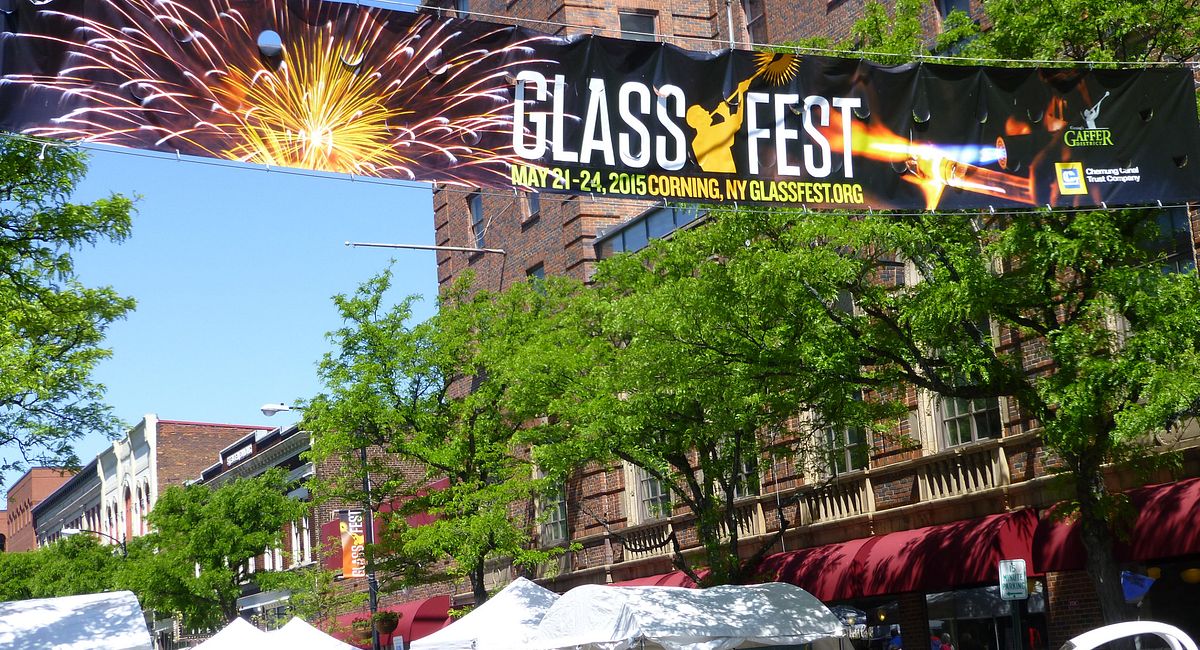 GlassFest: A White-Hot Celebration of All Things Glass
In picturesque Corning, N.Y., glass is always cool. But things heat up for GlassFest, held Memorial Day weekend each year. Visitors who love the art of glass find their way "upstate" to the 4-day celebration of all things glass held in the Gaffer District of downtown Corning.
With glassmaking demonstrations, artist displays, free concerts and more, the family-friendly event draws locals and folks from way out of town. Artists, collectors, families, babies in strollers, artistic teens—all were fired up about the glassmaking heritage of the quaint little town of Corning. Intricate objets d'art, dinnerware, bakeware, Gorilla Glass touch screens and space shuttle windows, the glass products created in Corning are the epitome of glass artistry meeting high tech. Artists and employees of the Corning Museum of Glass and Corning, Inc. pride themselves on their locally made products and cutting-edge reputation.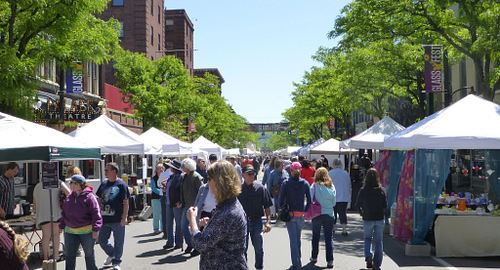 LET THE CELEBRATION BEGIN
This year, GlassFest kicked off on Thursday, May 21, at The Corning Museum of Glass with a glass ribbon cutting. This was literally a specially made glass ribbon that was heated until pliable, then ceremoniously cut. It was as beautiful and amazing as it sounds! Immediately following was a special edition of the 2300˚F Celebration (a free monthly series that features glassmaking demonstrations by guest artists), live music, appetizers and drinks. Visitors were able to tour the newly opened Contemporary Art + Design wing of the museum, explore the galleries and learn about glass innovations in the science and technology area. There was even a fun workshop where kids could make their own glass. Throughout the sunny 70-degree weekend, the festivities also included wine and craft beer tastings, artist demos, fireworks, face painting and the GlassFest 8K run/walk. Antique stores displayed vintage glass pieces, food vendors showcased their regional specialties, and artists sold delicate jewelry, distinctive home décor and sparkling garden art.
CORELLE RIGHT AT HOME
World Kitchen, the parent company of CorningWare bakeware, Corelle dinnerware and Pyrex glassware, was title sponsor of the 2010 inaugural GlassFest and has been heavily involved ever since. The three popular brands were all developed in Corning. One of them reaches an exciting milestone this year: Pyrex glass bakeware is celebrating its 100th anniversary. In honor of the centennial celebration, a limited number of GlassFest event attendees who visited the CorningWare, Corelle and More Store on Saturday received special limited-edition Pyrex 100 pie plates. And GlassFest is always a highlight for the Corelle design team. They not only spearhead the volunteer efforts at their event booth and the Pine Street store, but they also participate in the festivities with family and friends.
Through it all, you could feel the pride and enthusiasm for the town's glassmaking heritage. Of all the stories shared and overheard throughout the celebration, two stood out.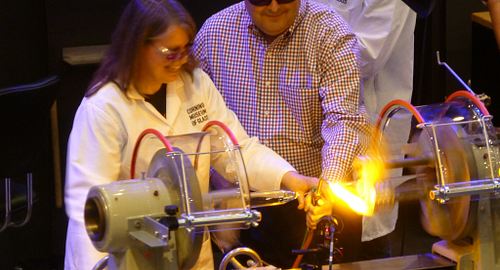 The Artist: At one of the live glass demos, gaffer Heather Spiewak shared how she discovered glassmaking and made it her passion. As a student at Illinois State University, she was studying to be an architect but needed a few more fine arts credits. On a whim, she took a glassblowing class. She was hooked, revised her career plan and now works at The Corning Museum of Glass, where she never stops learning about her craft.
The Aficionado: A visitor from Fort Wayne, Ind., who came for the first time last year to celebrate a 10th wedding anniversary and her love of glass, was in attendance again. She now calls it an annual tradition: Destination GlassFest!
We can see the connection. Glassmaking can be life changing…and a bit like falling in love. Mysterious and mesmerizing, as raw materials are transformed into a beautiful piece of art that can last forever.
GLASSFEST FACTS & FUN
Corning, N.Y. is known as Crystal City because of its glassmaking heritage.
The Corning Museum of Glass (CMOG) has the largest collection of glass in the world, with pieces dating back 3,500 years.
Glassblowing furnaces must heat to approximately 2300°F—hence the name for the monthly 2300°F Celebration at CMOG.
A master glassblower is called a gaffer, which is why Corning's downtown shopping district is called the Gaffer District.
In 2013, Rand McNally's list of best small towns in America named Corning, N.Y. the "Most Fun" town.
Corning, N.Y. is a short distance to the Finger Lakes region, a vacation paradise with 11 lakes and over 100 wineries that draw visitors to the area.