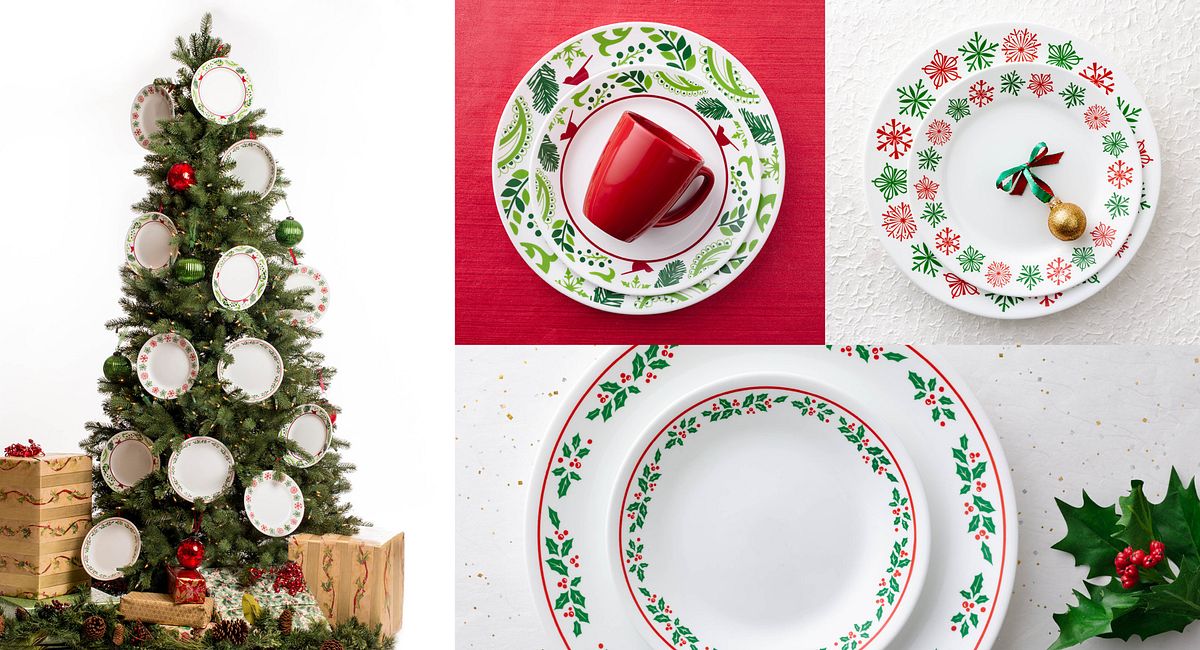 Host a Christmas Tree-Trimming Party
Lights, ornaments, action! Decorating the Christmas tree is one of our favorite traditions for kicking off the holiday season. This activity can be traced back to 16th-century Germany, where evergreen trees were garnished with apples and left up throughout the winter. However, it didn't catch on until the 1800s, when the popular Queen Victoria had her German husband, Prince Albert, re-create his childhood tradition and adorn an evergreen tree with candles and sweets.
In modern times, we've imagined countless ways to interpret the simple custom, but adding more friends and family to the mix is a great way to both uphold and reinvent the tradition. If you've never hosted a tree-trimming party, we have some fun ideas for an easy celebration that's sure to make everyone a little more merry!
THE BIG PICTURE: DECIDE AND DIVIDE
You may want to decorate just as you do every year (which makes things easy), or you might be changing things up with a star theme or red-and-white color combination. Or you could ask guests to add a personal touch. No matter what you choose, you'll need everyone to be on the same page, so make a game plan and share it with the group. Organize everything ahead of time and assign lights duty, designate a lower area for the younger kids (which can be changed later…or not) and choose a height-blessed guest (or duo of small and tall) to place the tree topper.
DIY DECORATIONS
You'll most likely pull out some family heirlooms and mix them with a few new things you picked up over the year, but one way to make this party last is by having friends and family make a selection of ornaments to commemorate the night and the year. Make a trip to your local craft store or check out blogs and Pinterest for fun and easy ideas that even the littlest hands can handle.
MERRY MUNCHING
Of course, the tree trimming is the main event, but let's discuss the other reason everyone is coming to your party: the food! Get creative and spruce up your table with some holiday-inspired décor and festive snacks.
THAT'S THE SPIRIT
Sometimes the meaning of the season gets lost in all the hustle and bustle. If you want to ensure healthy levels of holiday spirit, plan your party around giving. As you trim your own tree, set up a "giving tree" alongside it, which you will decorate and donate to a local church or charity to then pass along to a family that wouldn't otherwise have their own tree. Another idea is to partner with a service agency and collect wish lists from children. Decorate and hang cards from ribbons on the boughs that list the child's name, age and gift request. Bring it to your office, church or a local business, and post a sign describing your mission and asking for donations.
TIPS FROM THE EXPERTS
Before guests arrive, have your tree set up in its base and placed in the center of the room so that people can move around easily.
Save time by putting lights up before the party. Remember to start from the top and nest them deep between branches.
Make sure little ones feel welcome at your party, too. Yummy holiday drinks are just as fun for kids as they are for adults, and always include a platter of cookies and other sweet treats!
Thank your guests for coming by giving them an ornament to hang on their own tree, or if you've chosen to do an ornament-making activity, have them make a second one to take home.
You could host this fun event on Thanksgiving weekend or later in December, but one thing is certain: It'll be a cozy celebration that will bring friends and family together, filling everyone with good cheer and good food!
YOUR TURN: What is the special decoration that makes your tree complete?